KF CX-5 with Cylinder Deactivation appears only for Europe and only in 2.5, EU offers 3 engines 2.0,2.5,2.2D.
Engine is called Skyactiv-G1+ only with Auto Trans , in light cruising mode 2 cylinders are deactivated...save fuel.
Available only with automatic transmission
and all-wheel drive, the SKYACTIV-G1+ 2.5
petrol engine incorporates new technology
to enhance driving performance and lower
fuel consumption, including a cylinder deactivation
system that shuts down two of the
engines four cylinders under light loads,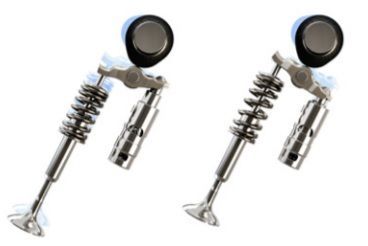 SKYACTIV-G1+ 2.5 PETROL
ENGINE WITH CYLINDER
DEACTIVATION
With an aluminium block and other lightweight
components, a balance shaft that reduces
low frequency booming noise and a 13:1
compression ratio, the 2,488 cc SKYACTIVG1+
naturally-aspirated direct injection petrol
engine delivers excellent dynamic performance
and fuel economy, combined with a
notably quiet drive.
For installation in the all-new CX-5, the engine
benefits from a new cylinder deactivation
system for significant improvements in fuel
economy. It also adopts several combustion
enhancing measures, and new innovations to
further lower friction and noise, and increase
fuel efficiency.
The upgraded engine develops 194 PS at
6,000 rpm and 258 Nm of torque at 4,000
rpm. Equipped with automatic transmission
and i-ACTIV AWD all-wheel drive, it returns
combined cycle fuel economy figures of 7.1
l/100 km and generates CO2 emissions of
162 g/km.
CYLINDER DEACTIVATION SYSTEM
The SKYACTIV-G1+ 2.5-litre petrol engine
adopts a cylinder deactivation system that
shuts down two of the engines four cylinders
under light loads, such as when cruising at a
constant speed.
This is achieved via a switching mechanism
in the hydraulic lash adjusters of the first
and fourth cylinders. When running on all
four cylinders, these serve as the pivot point
for each rocker and the arms operate the
intake and exhaust valves. Applying hydraulic
pressure to the lash adjusters switches the
fulcrum to the valve side, stopping valve movement
to deactivate the two outer cylinders.
Because the firing interval is doubled when
running on two cylinders, engine vibration
is more likely, and the SKYACTIV-DRIVE
automatic transmission is equipped with a
centrifugal pendulum damper to compensate
for this.
Airflow intake volume, fuel injection rates
and ignition timing are all precisely controlled
to allow for the barely-perceptible switch
between two and four cylinders.
Cylinder deactivation is more effective at low
speeds, improving fuel economy by some
20% when driving at a constant 40 km/h, and
by about 5% at a constant 80 km/h.
ENHANCED COMBUSTION
The intake ports have been reshaped to generate
a stronger tumble flow during intake.
Reducing the height of the piston crowns and
optimising their shape also strengthens tumble
flow during compression and increases
the turbulent energy at ignition timing.
These factors cause faster flame spread when
the spark plug fires, and quicker combustion
completion, generating 2% more torque at
low- to mid-range rpm and a 3% improvement
in fuel economy at higher revs.
The tip of the multi-hole fuel injector has
been redesigned and fuel pressure increased
from 20 to 30 MPa, creating a faster and
more broadly dispersed spray, ensuring thorough
vaporisation and efficient, waste-free
combustion.
Three stage fuel injection is used when the
engine is cold and more likely to produce
particulates. This improves the vaporisation
and atomisation of the fuel, making it easier
to burn, reducing the formation of particulate
matter by some 80% and already conforming
to European particulate regulation coming
into effect in 2017.
Finally, a new coolant control valve reduces
the flow of coolant around the combustion
chamber walls to prevent heat from escaping
while the engine begins to warm up, shortening
engine warm up time whilst cutting
down the increase in fuel injection necessary
during cold starts.

REDUCED FRICTION
The sliding surface of the oil rings has been
given an asymmetrical shape, with a larger
outer radius at the top than at the bottom
edge, enhancing the oil smoothing process
and optimising the thickness of the film on
the cylinder wall to reduce friction.
The pistons now feature barrel-shaped skirts,
which optimise surface pressure under load.
In conjunction with the asymmetrical oil
rings, the new skirts significantly reduce
mechanical resistance, contributing to better
fuel economy.
stay tuned guys, working on getting you more info, sources, etc.
Thoughts?