Hey Everyone...
R.I.P.
to my poor Scion tC I use to own from 2006-2012
Now off to a new <3 of mine. 2009 Mazda 3 Hatchback named her
NuGGeT
!!
Its also a "rare" Car Color called: Golden Sand Metallic.
I will make my new timeline of Mods & Changes here.
2012:
When I first got her..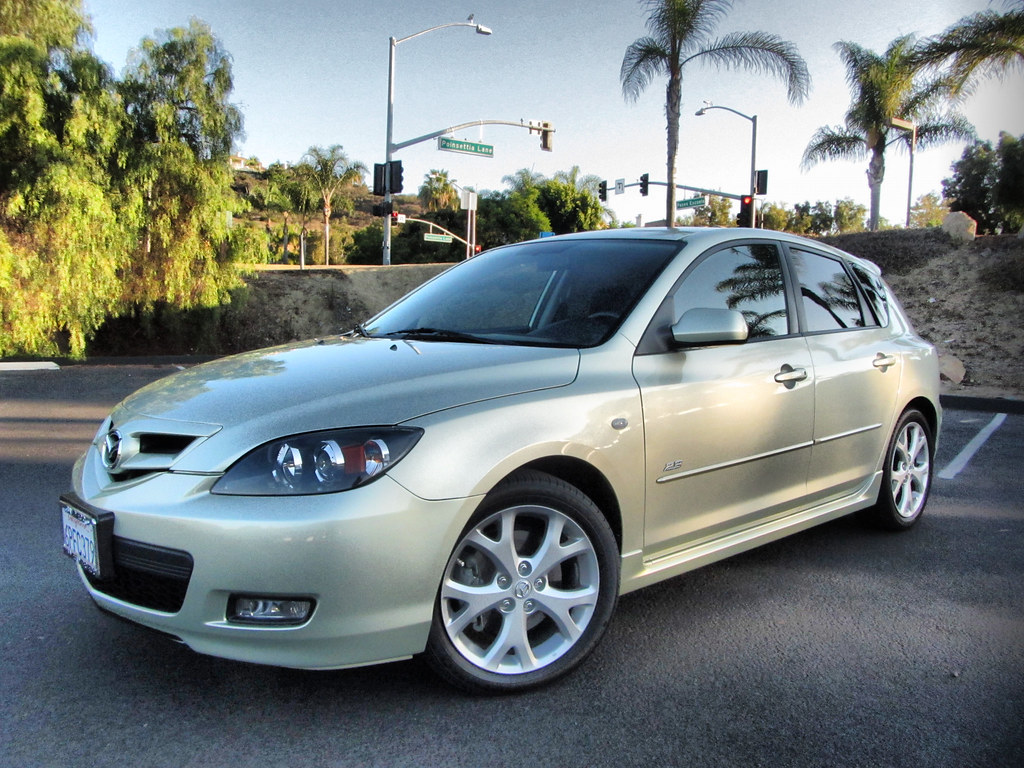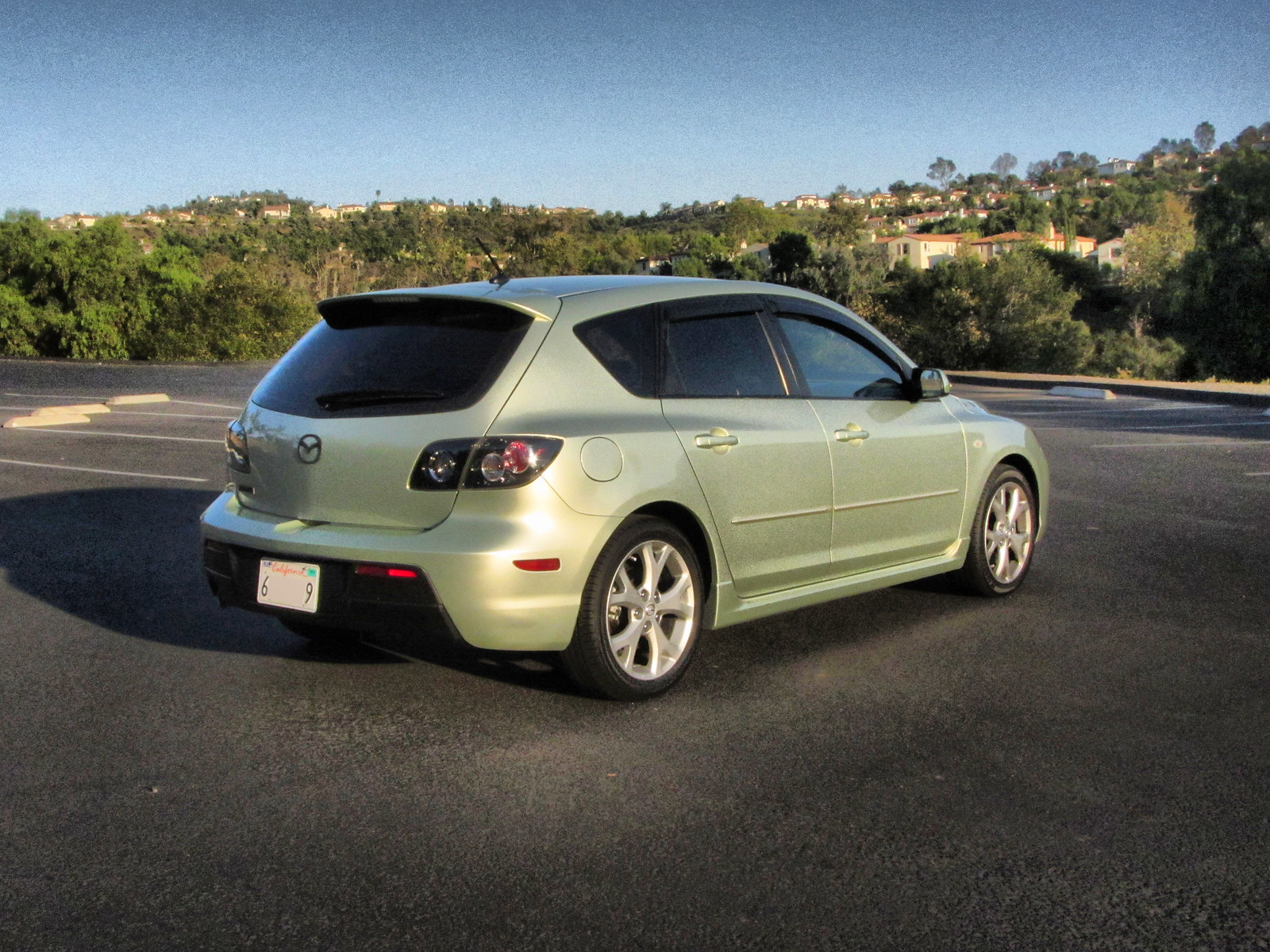 PlastiDipped Black the "M" and "MAZDA" emblems because there are holes behind them..
PIAA Sport Horns - It had a Wimpy Single Horn before...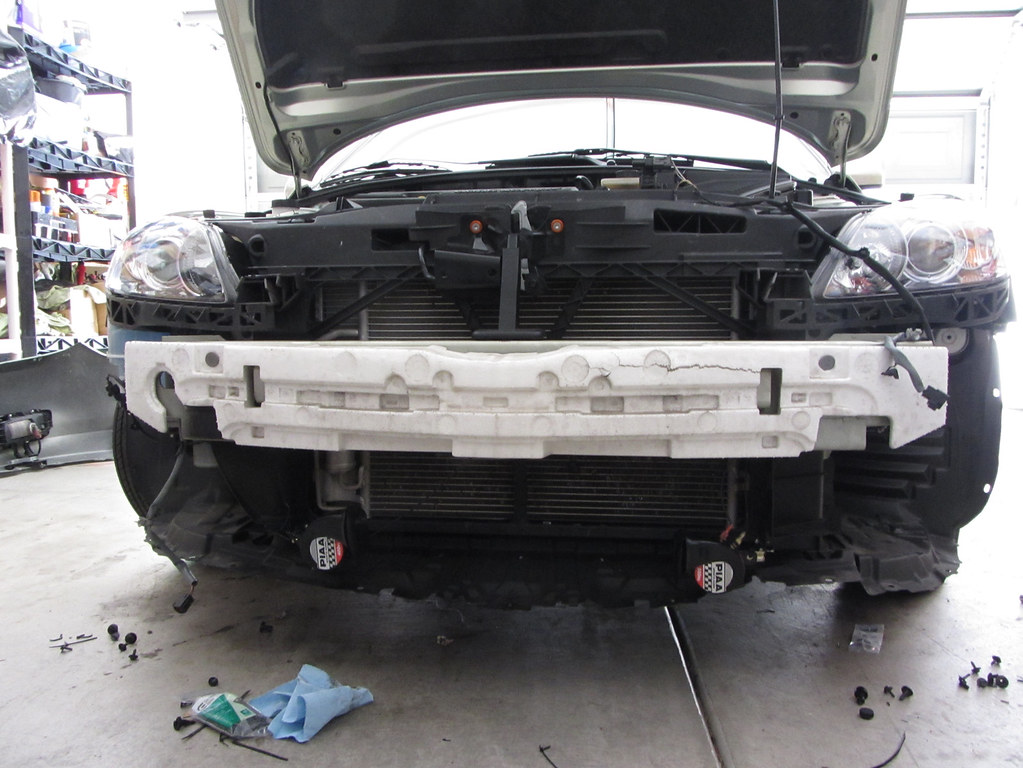 Window Visors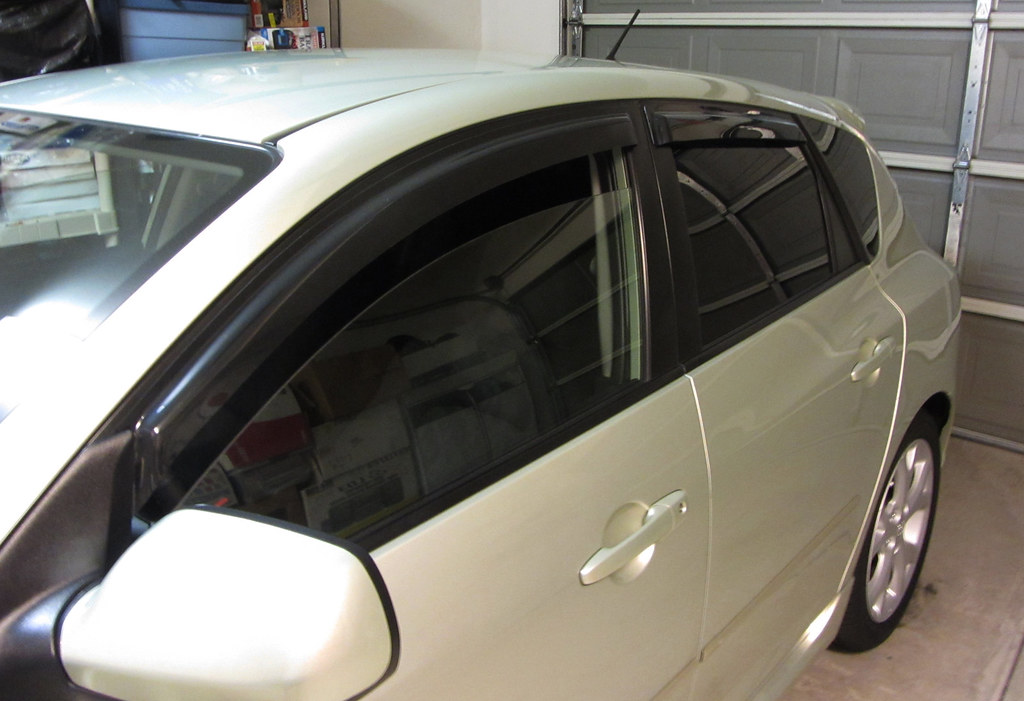 Chrome/Amber Bulb Front Turn Signals


Installed Phillips Brand LED DRL's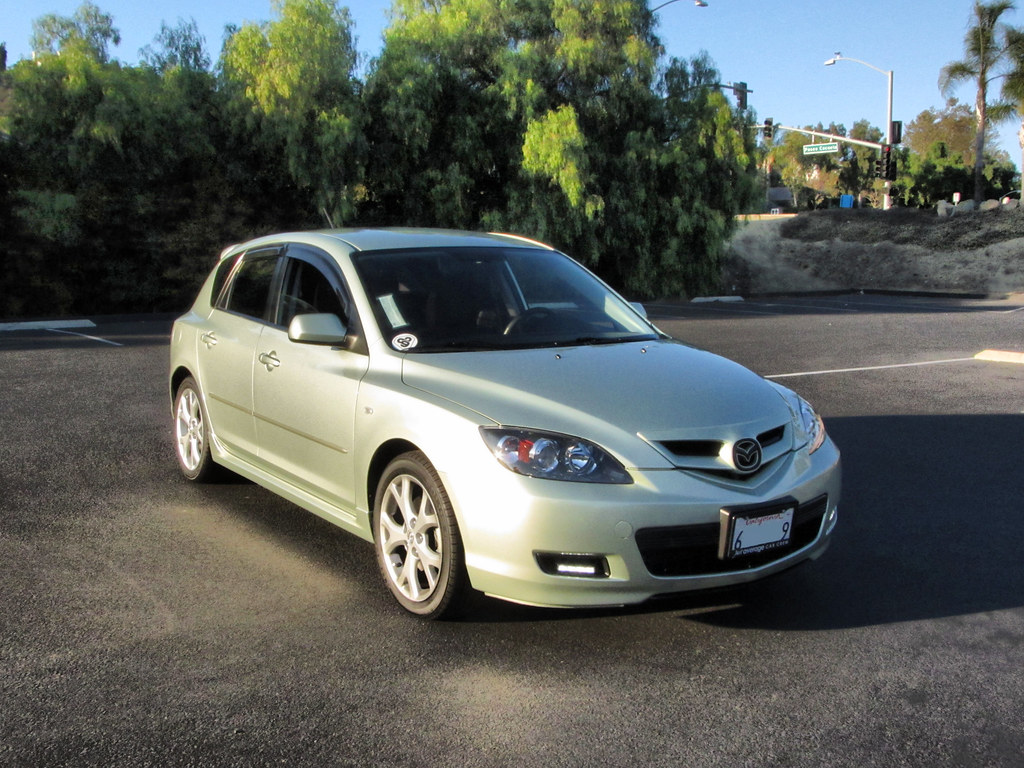 LED Side Marker that Flashes Amber Color...Pretty Schweet!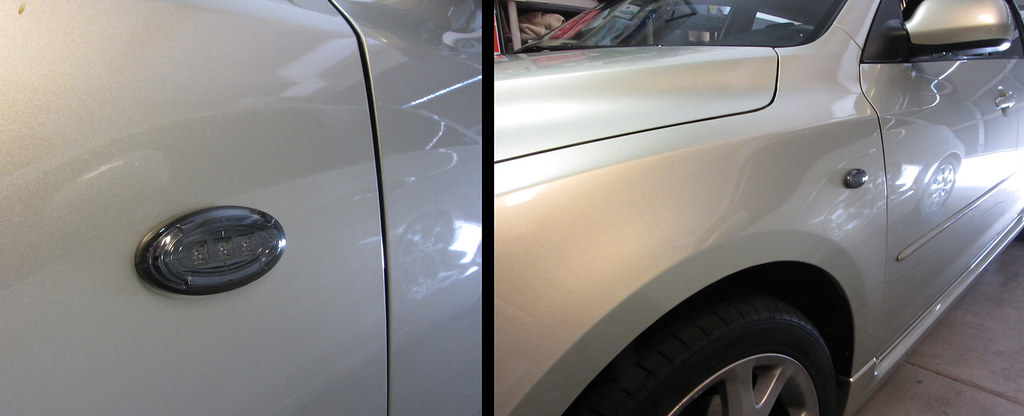 Removed hideous rubber side moldings off..Much Cleaner now!!
:cheesy: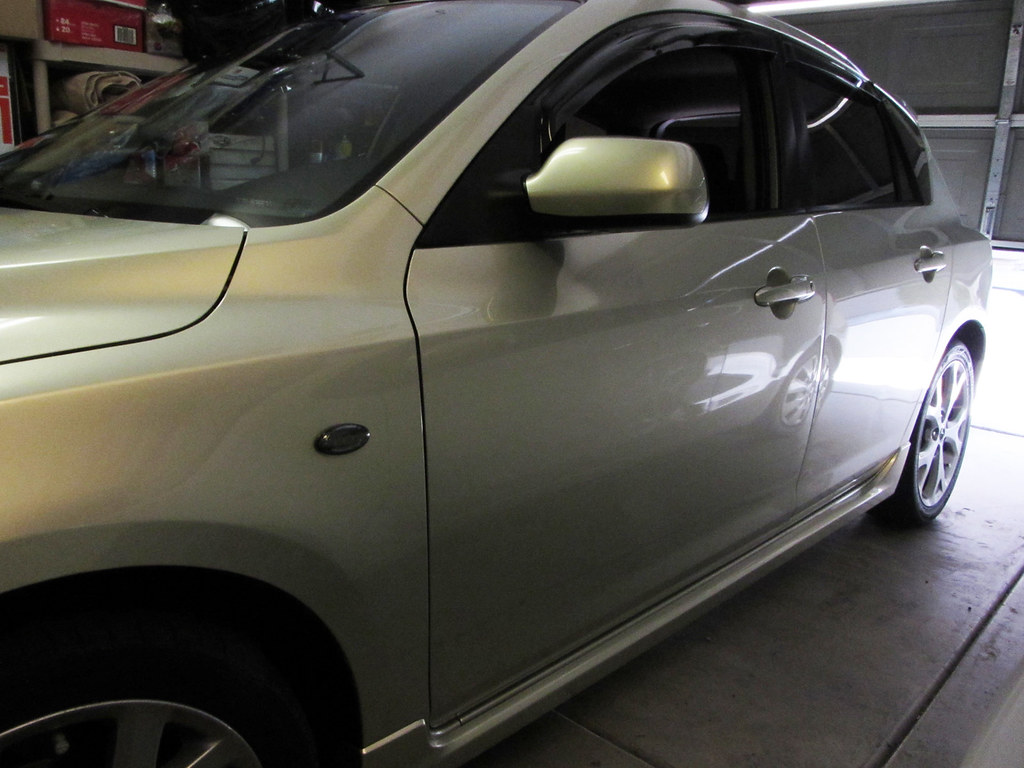 Installed Eibach Sportline Lowering Springs - 1.8" Drop

Did the Rear Wiper delete...Much Cleaner Rear-End!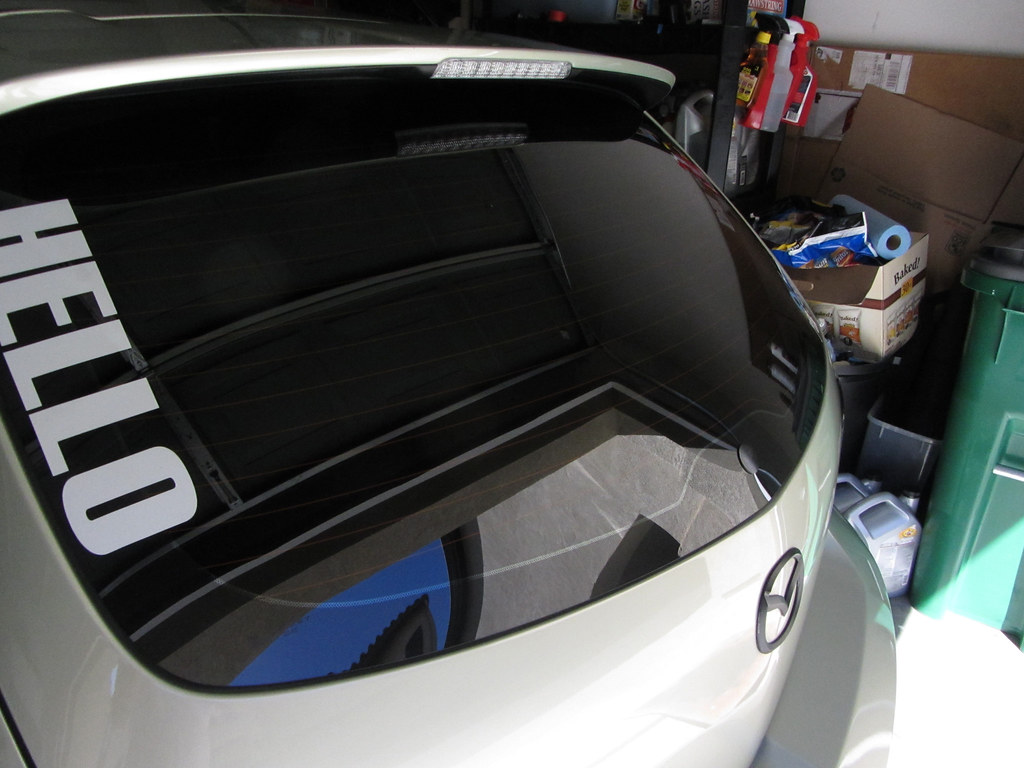 Added Home Depot Lip!!...Will be getting an actual Front Lip later on!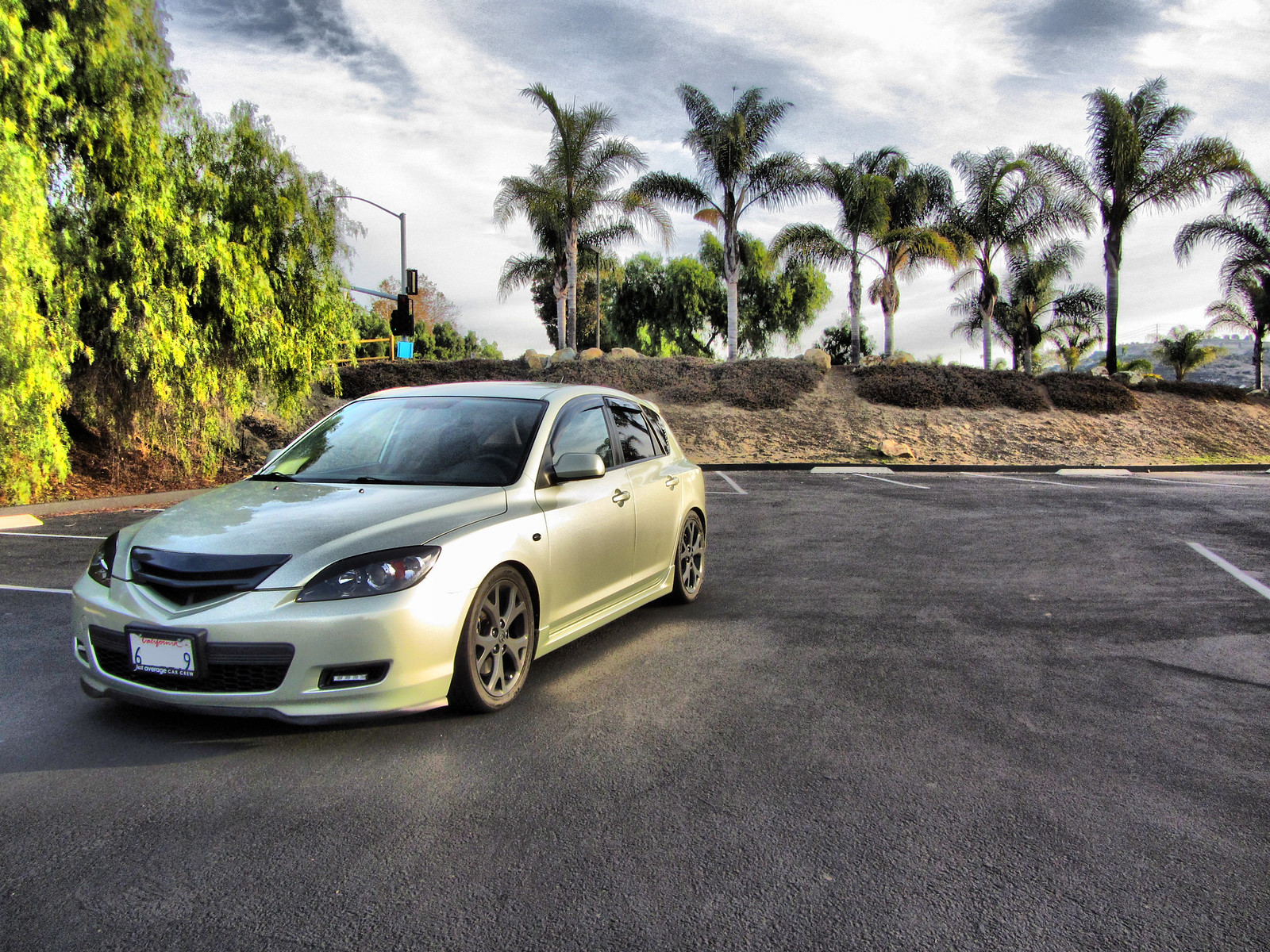 Added Aluminum Pedals & Dead Pedal w/ the rubber grips on them..So Much better!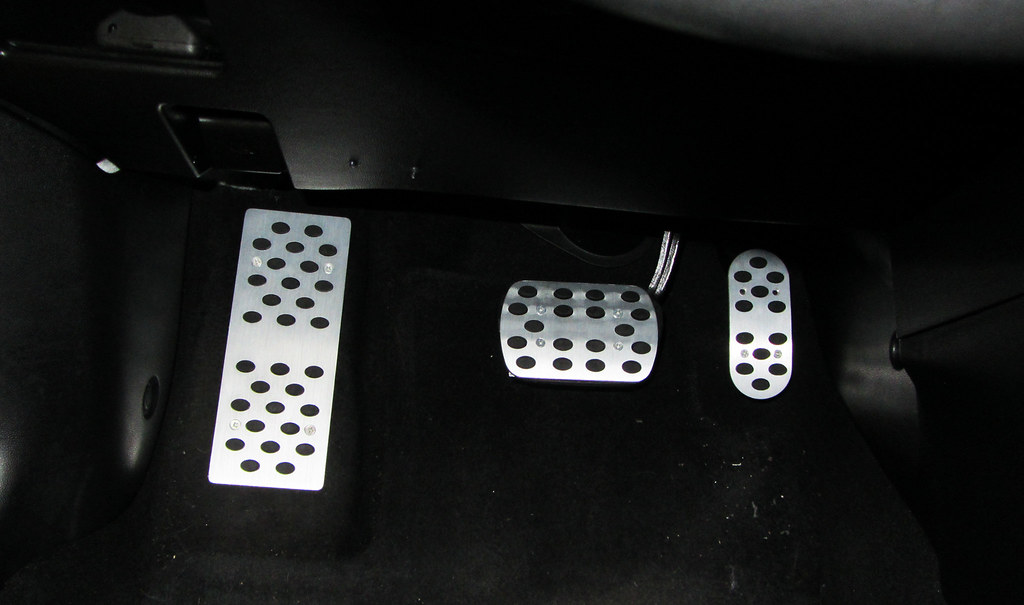 CorkSport SRI installed finally!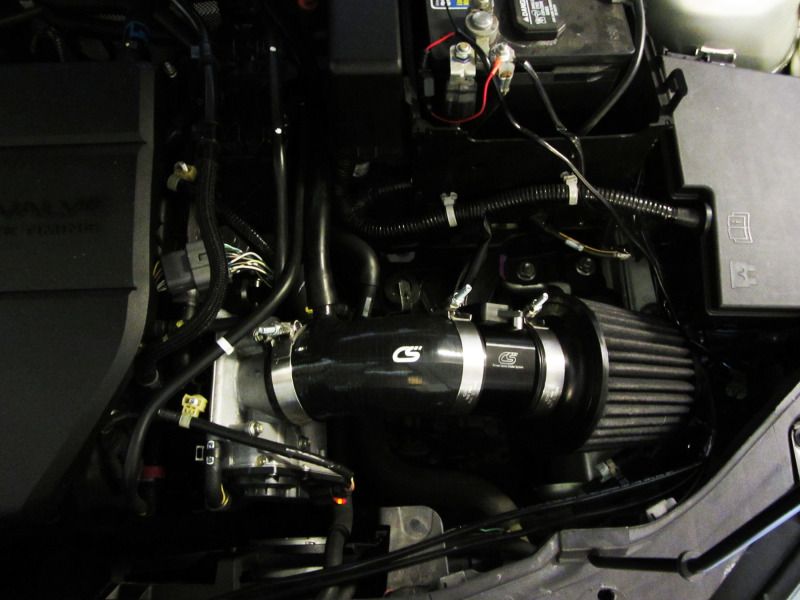 Black PlastiDipped the AutoMagic Shifter Plate!
VMS Racing Stubby Antenna..Its about 3" in length.

Installed BlueBatMobile Black Satin Eyelids...Look'in Angry!

Added this Rubber Spoiler Extension on..Not sure if I will keep or not...


PlastiDipped wheels in GunMetal w/ Glossifier!
H&R Rear Sway Bar (26mm) vs. Stock Rear Sway (20mm)
Installed Generic Front Strut Bar

Badgeless Upper Grill
2013
OEM LED Tails Installed!

Color-Matched Eyelids & Badgeless Upper Grill...
MB Motoring Mesh X Wheels - 17x7 - 45 Offset with added 10mm Spacers
New color-matched Front Lip installed

Color-Matched the Plastic Valve Cover
Aluminum HVAC Knobs!...Much nicer than the Stock HVAC Knobs!

New Extended Neo-Chrome finish Lugnuts installed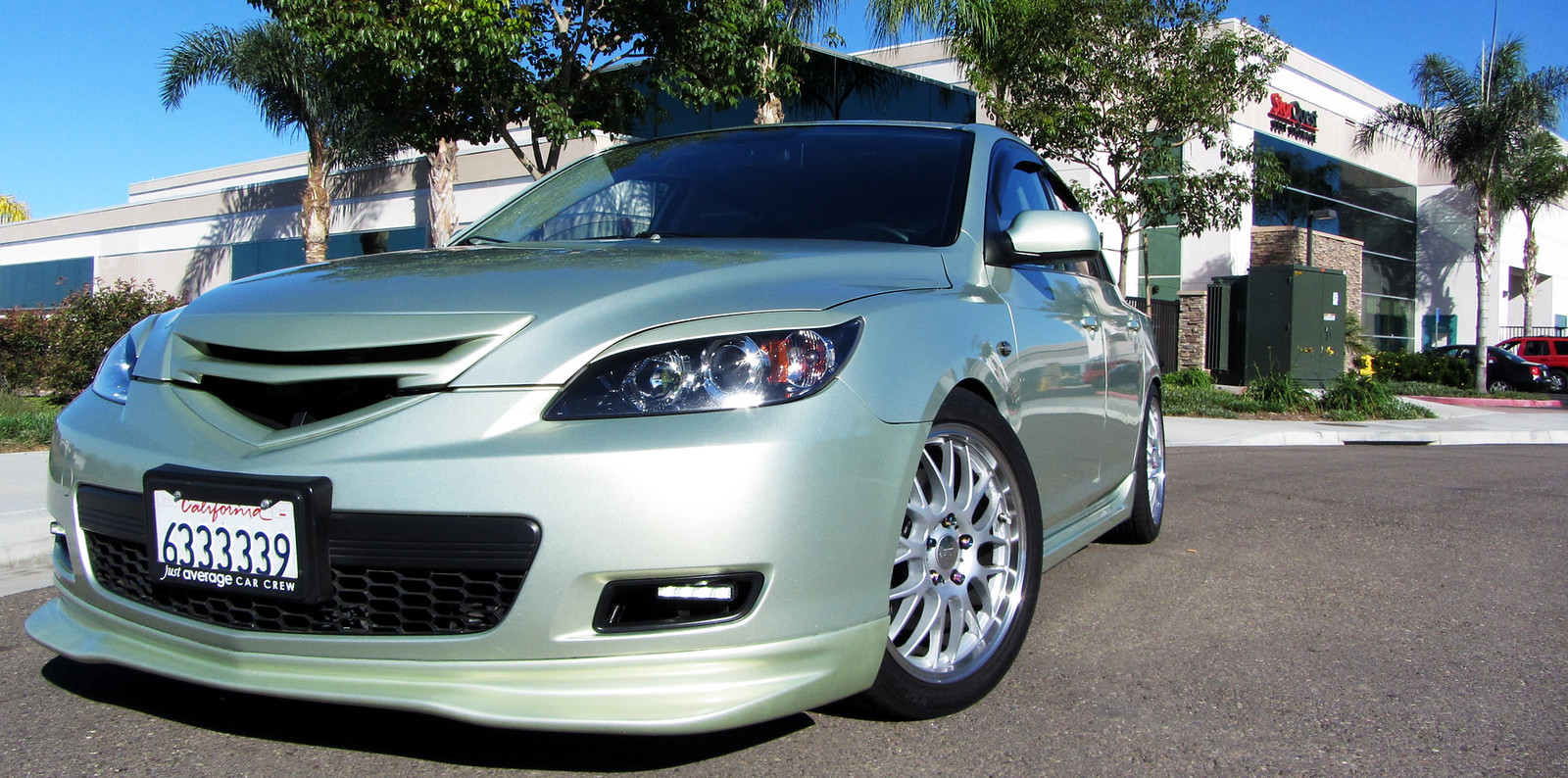 Installed Morimoto HID Relay Harness

Installed Whiteline Rear Sway Bar Clamps
Installed Hood Strut Dampeners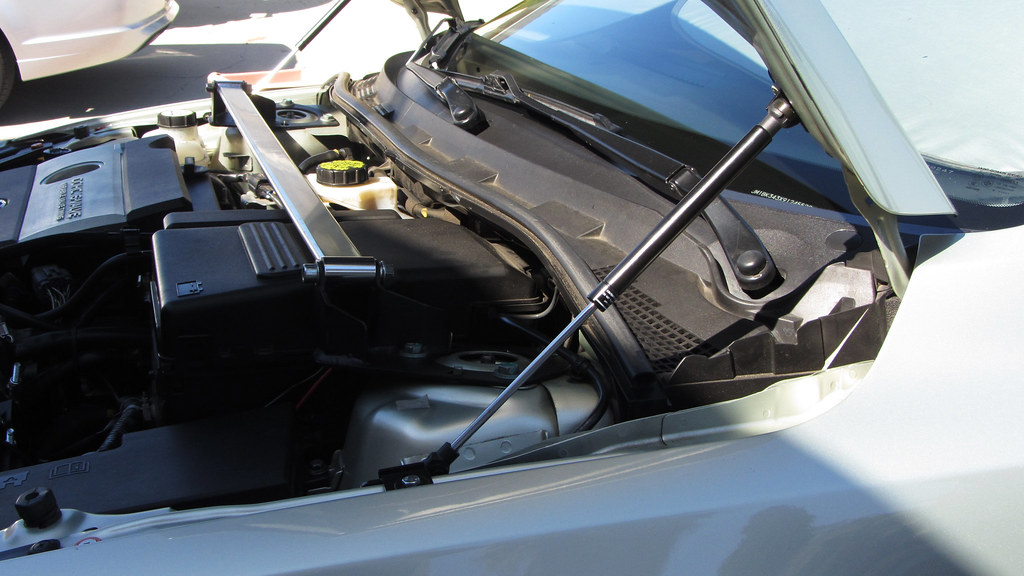 Installed Samsung 7440 LEd reverse bulbs...The CREE reg. LED Bulb didnt work because of the angle the bulb
sits in the light hole, Sumsung bulb has LEDs on the sides hence Super BRIGHT!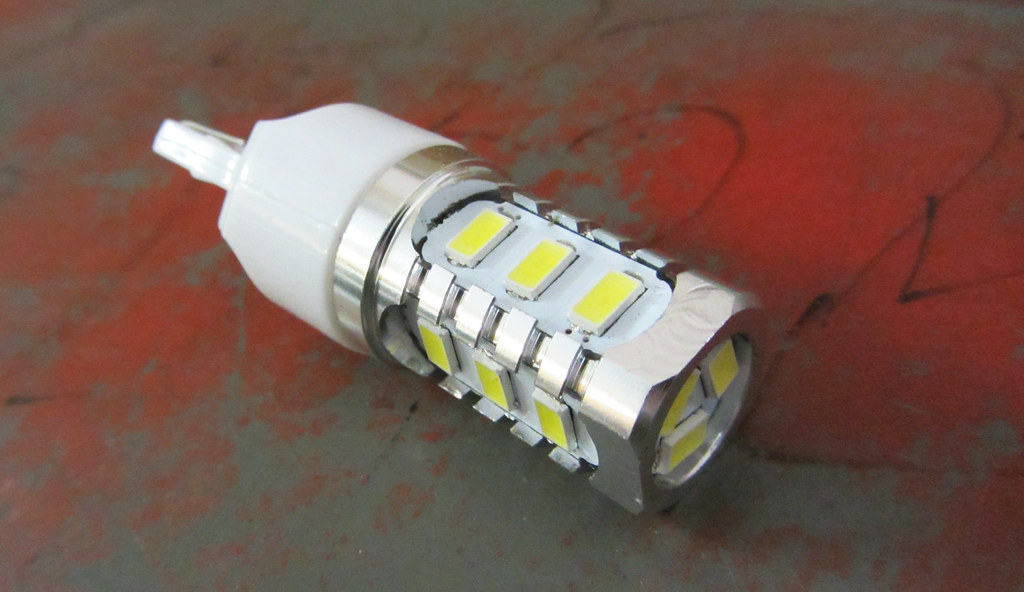 Installed Aluminum hubcentric rings for my wheels...
Applied BluebatMobile Dark Smoke Rear Reflector Overlays

Installed 15mm Wheel Spacers on Rear....Fender Flush Yo!
2014:

Added new Billet Aluminum Oil Cap!
Installed Sound Ordnance front speakers...Not Bad!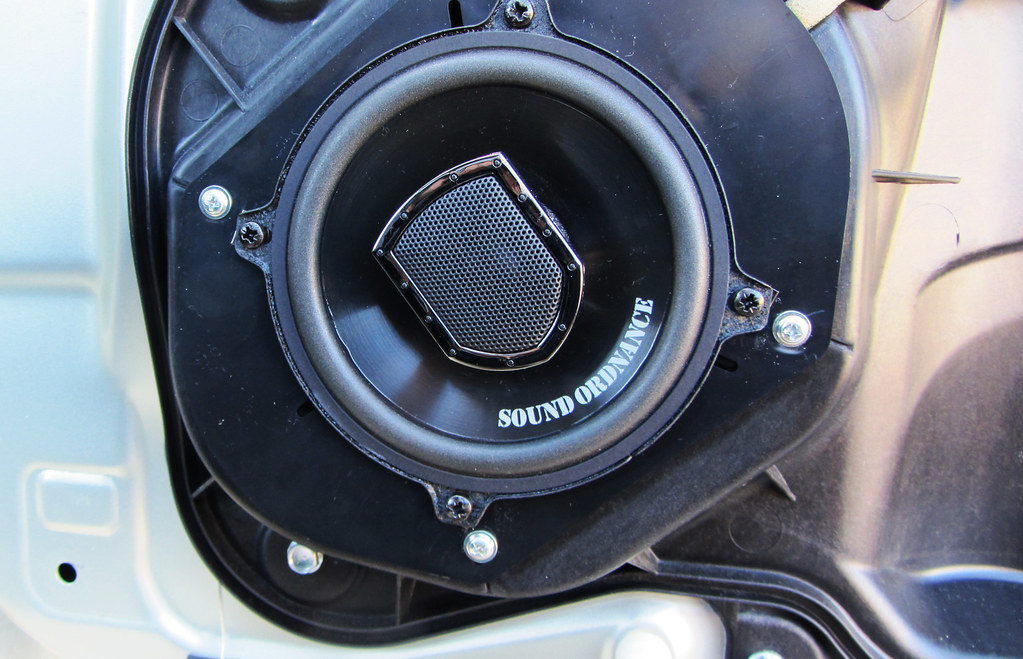 Installed Neo-Chrome Fender Screw Kit in engine bay...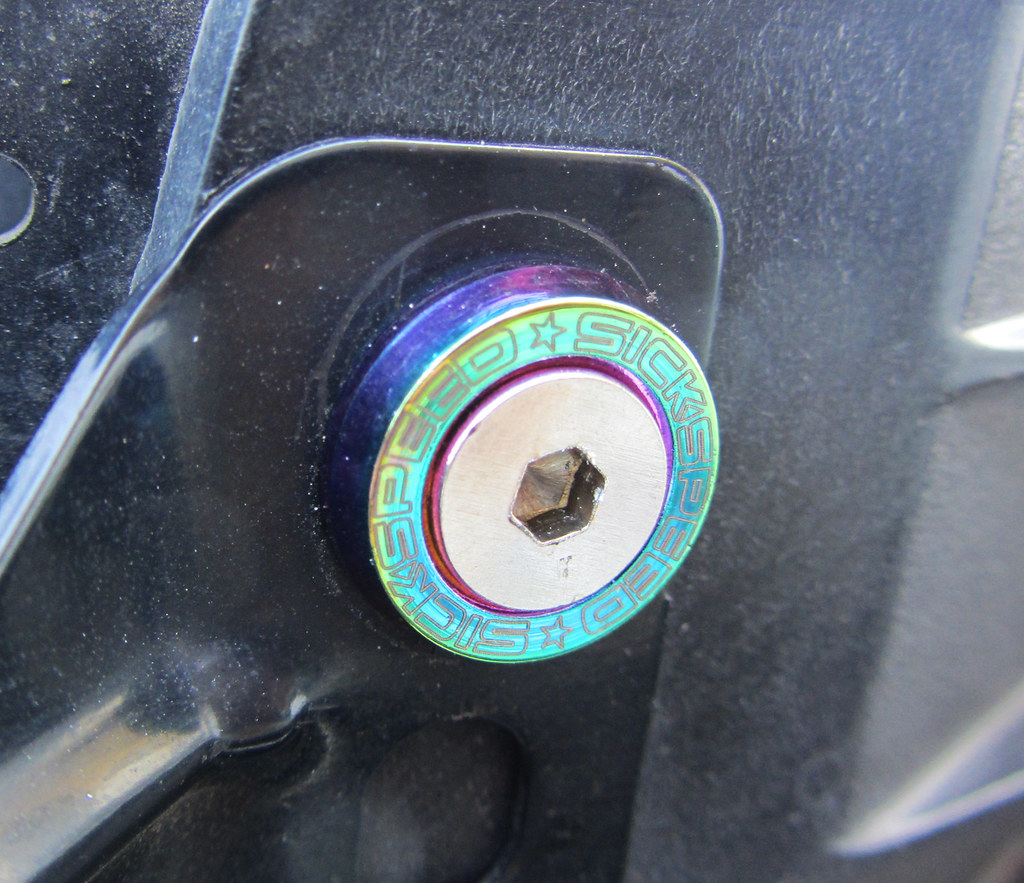 First "JDM" part Axela Rear Badge!

Project of the Day!....Installed LED Switchbacks today!
Painted Wheel Spokes the "legit" way Sanded, Primer, Color & Clearcoat.
The color is Copper Metallic.

Baked Open Headlights and got rid of the Amber Reflector!
Looks cleaner now...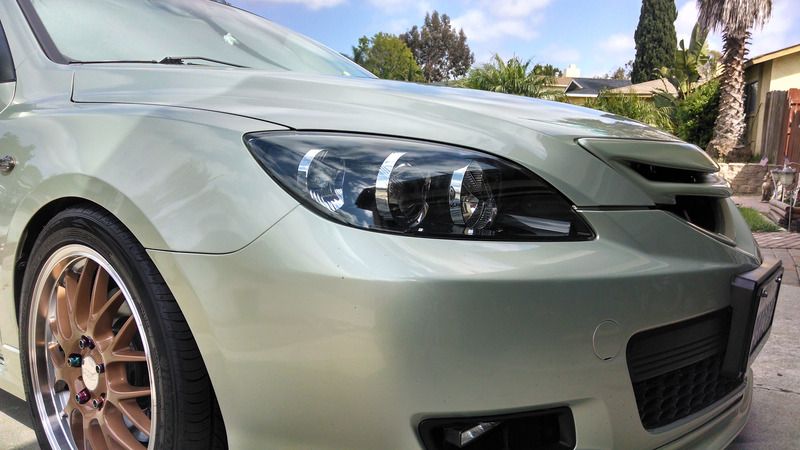 Painted Valve Cover Copper Metallic to match wheels!...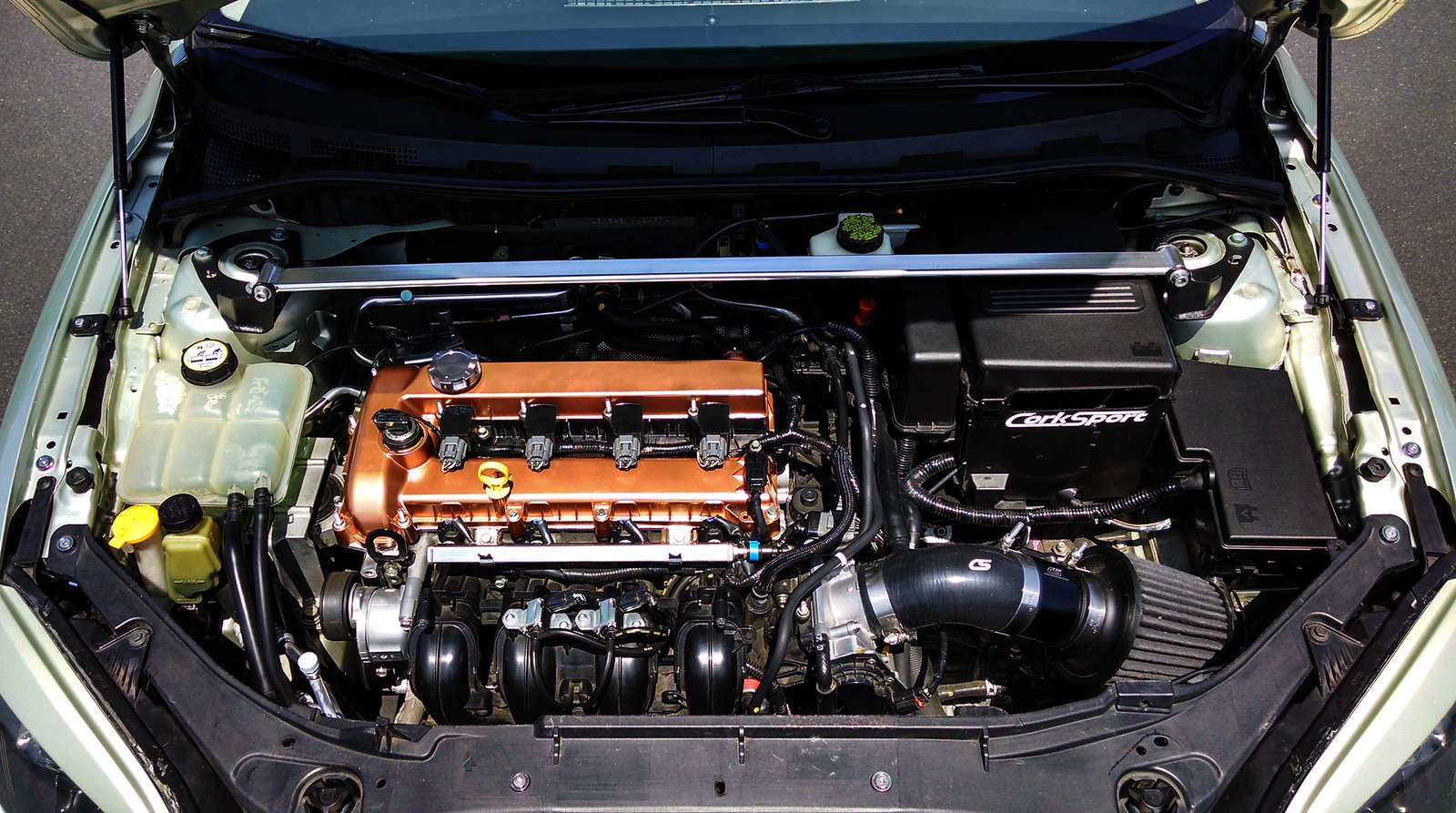 Copper Metallic Vinyl Overlayed Interior pieces ( Steering Wheel Logo, Air Vents, Center Gauge Pod )
And Copper Painted the "Axela" Badge. Vinyl Wrapped Hood Struts.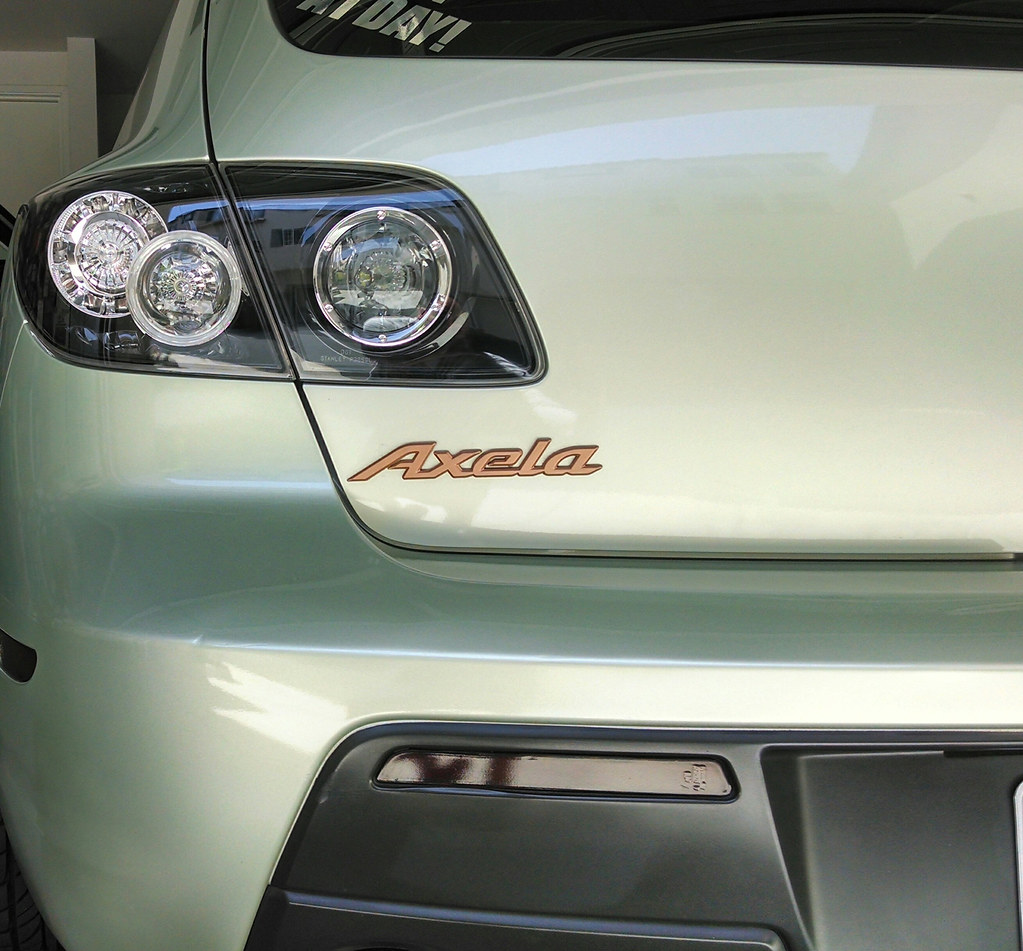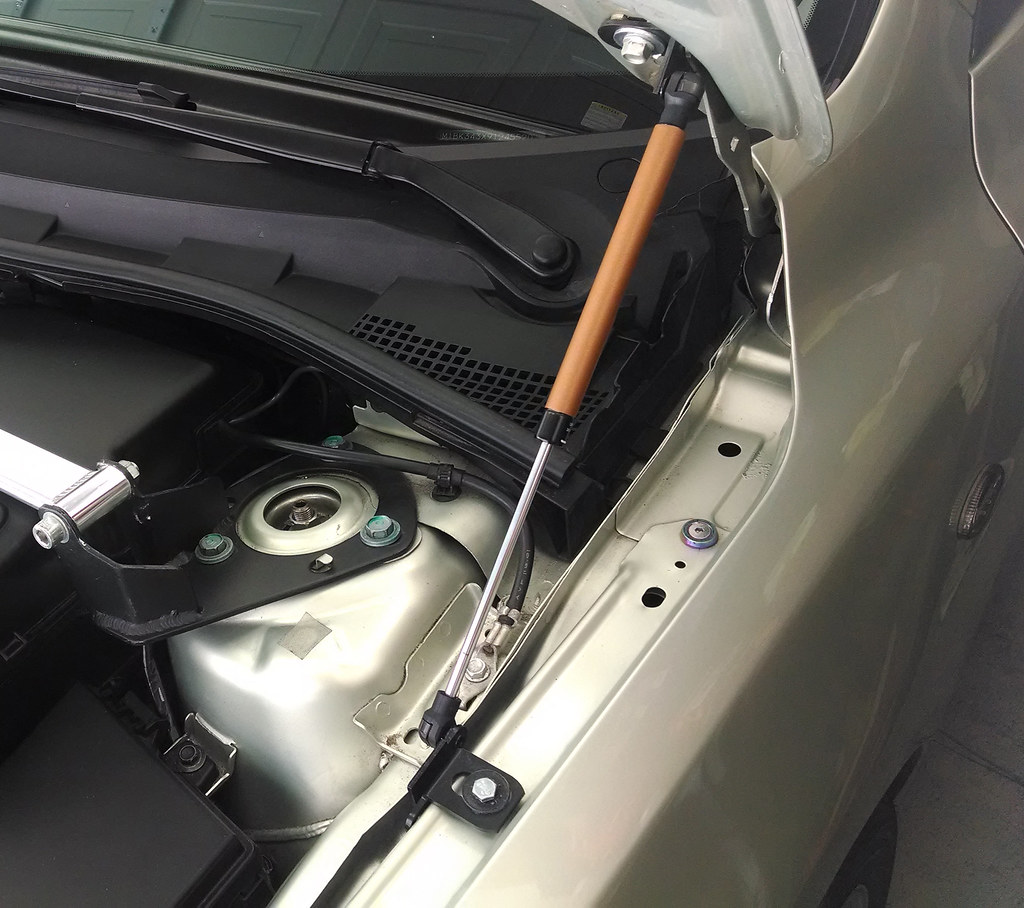 More Copper Metallic Overlaying of parts & also used blk vinyl on the end parts of the spoiler!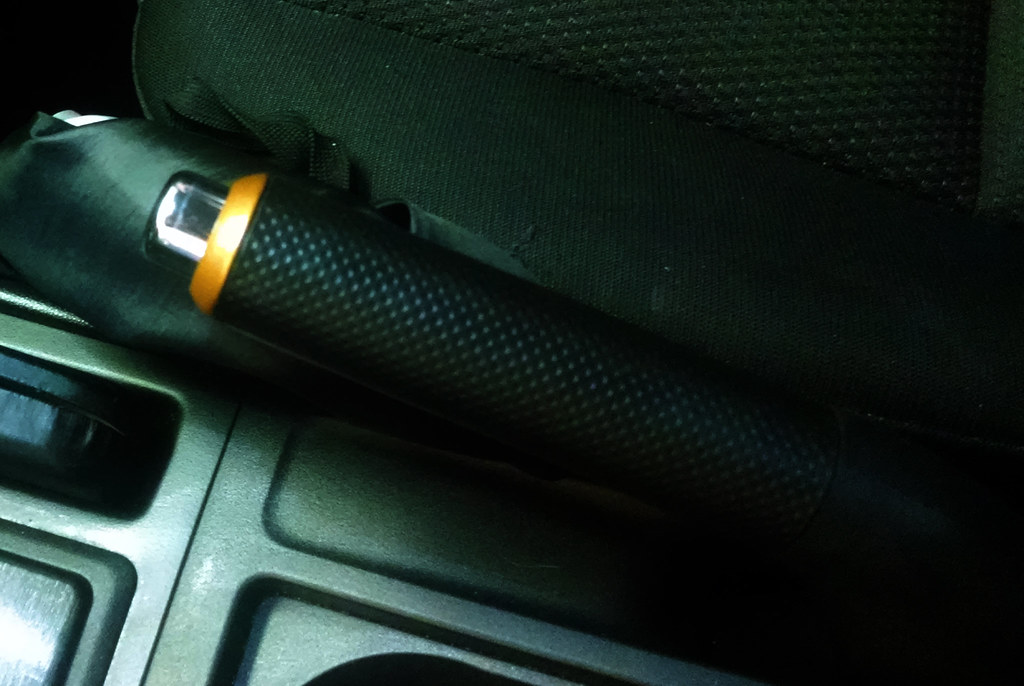 Black Matte Roof Wrap added...I love it!
Added vintage designed all metal Cig Lighter (as decoration I dont smoke)

Then Copper Vinyl overlayed the face...
Installed Speed3 Rear Valance w/ Copper Metallic accent color & a New PSV installed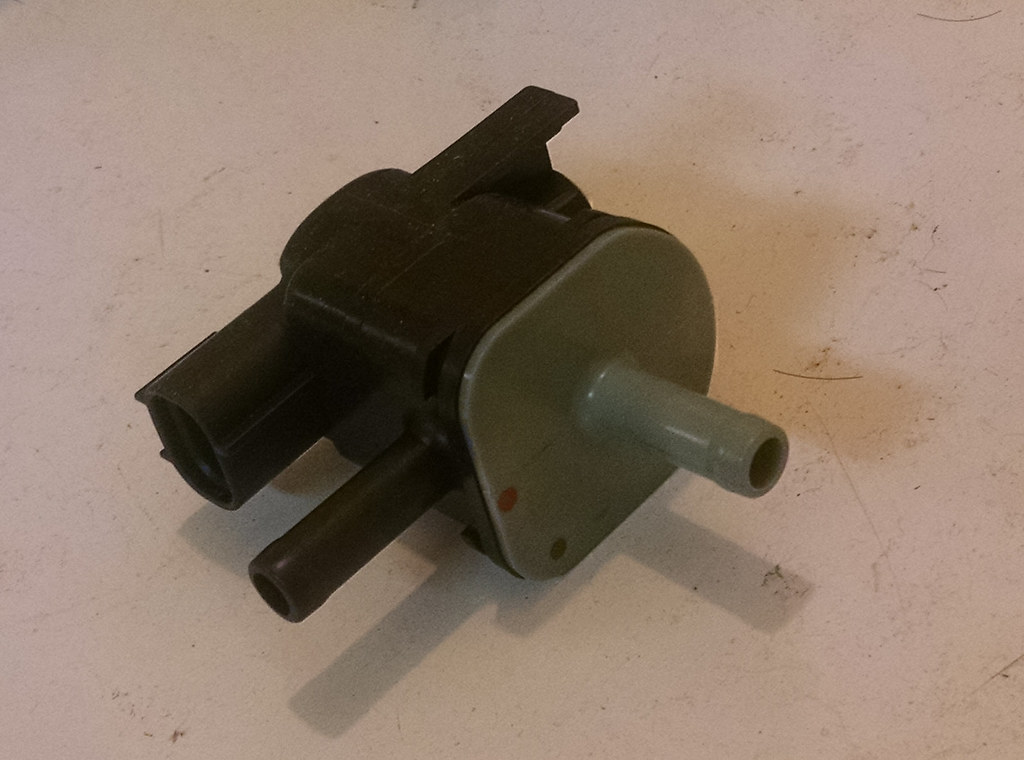 Installed TRS Clear Lens to replace the OEM Foggy Lens....And a picture of the cut-off too!
Getting Ready...

BEFORE: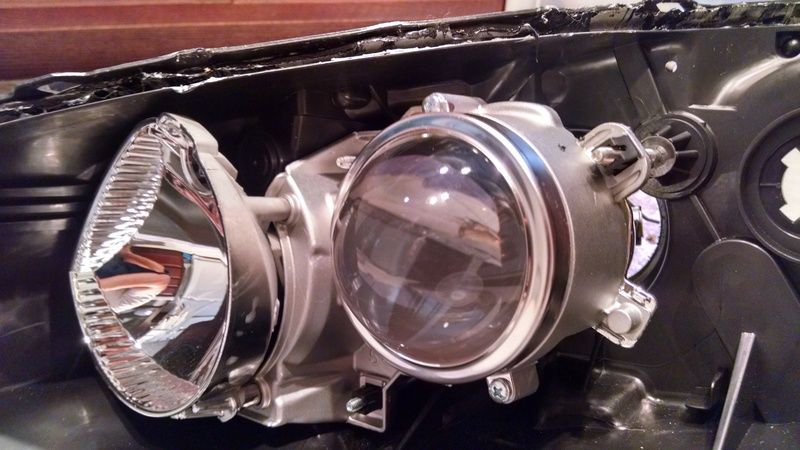 AFTER:
The Cut-Off afterwards: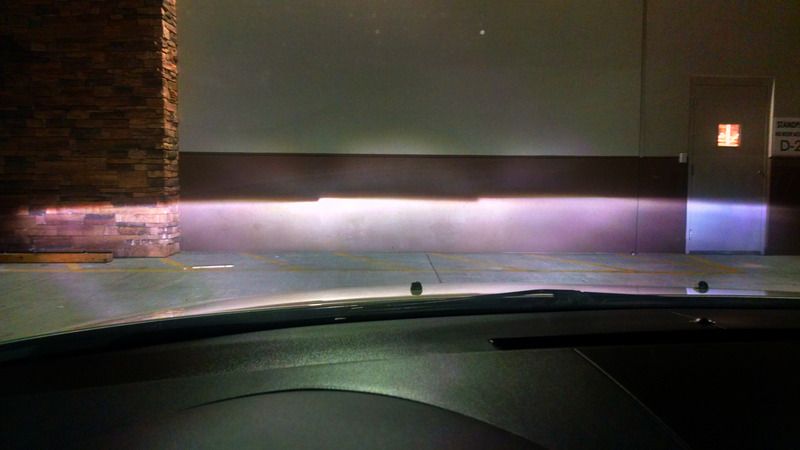 Did a Wax Job using the Mother's Wax Sys.

The Aftermath...So Shiny and SeXXXy...
Also a Sneak Peek to whats to come soon!
Magnaflow Muffler & Tip installed...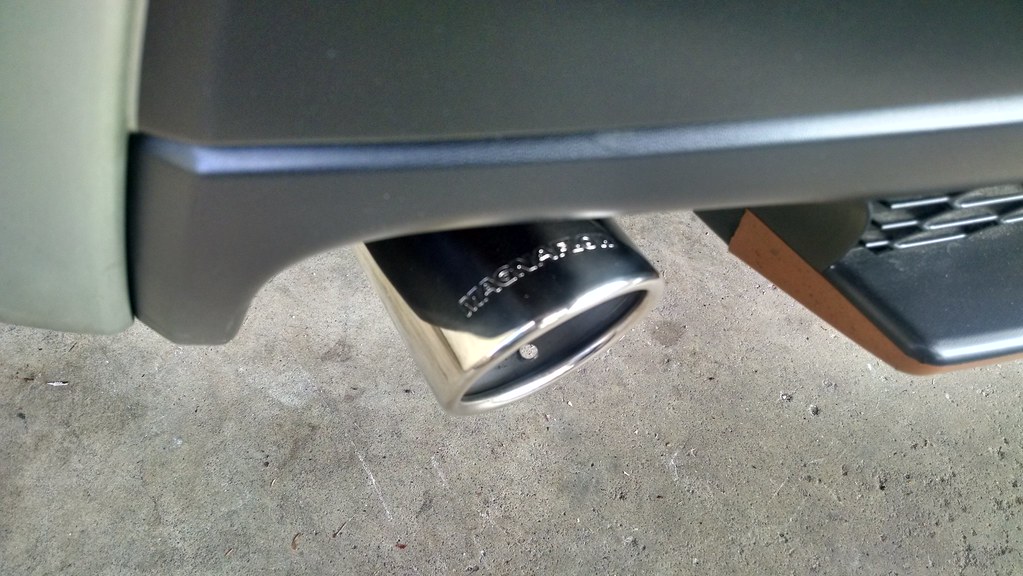 2015:
Completed my Custom Exhaust w/ a 16" OBX Brand Resonator....The results are it did make the exhaust sound louder at lower RPMs and a lil deeper sounding too not bad for spending a total of $320 for everything including install vs. paying $500 plus for a direct bolt-on exhaust!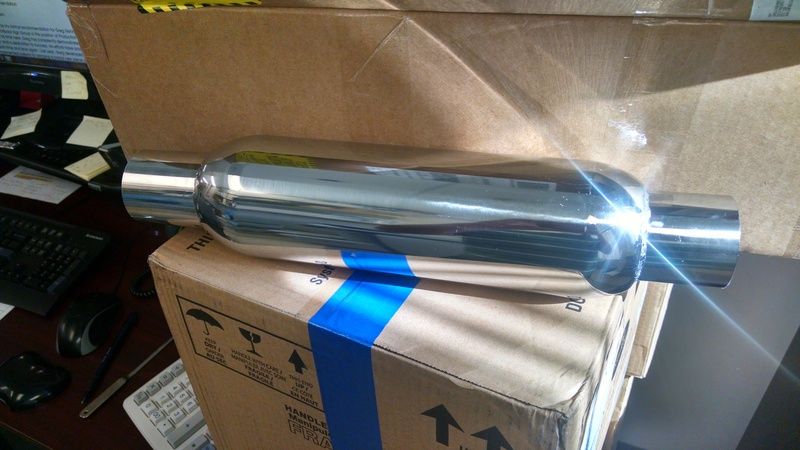 Sound Clip:
https://www.youtube.com/watch?v=YDT-2mlzQkQ&feature=youtu.be
Installed & took a cruise on these new KYB Gas a Shocks.....I previously had the Excel-G's those were good but got soft and wore out within a year and a half, when I took off the Excel-G shocks the rebound was bad on them, also i was rubbing bad in the rear over almost every bump & turn..I knew something was going on..After replacing them w/ these Gas a Shocks what an incredible handing & feel difference the rubbing over bumps practically disappeared...So far really like this choice!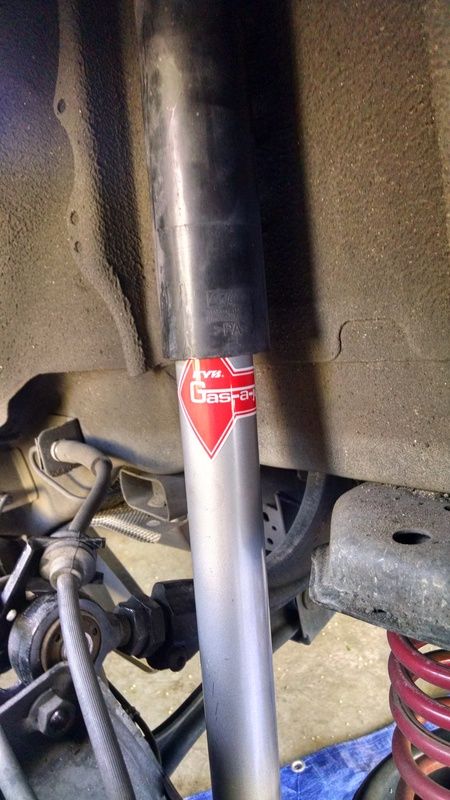 Bought 3M Brand Black Ebony Woodgrain vinyl overlay....It posed a challenge since the vinyl they gave me was cut the wrong way off the roll..the overlay was not long enough to cover my dash piece I got creative and put a few vertical accent on the dash piece...haha...I also Vinyl Overlayed the Steering Wheel pieces, and the Center Console & HVAC...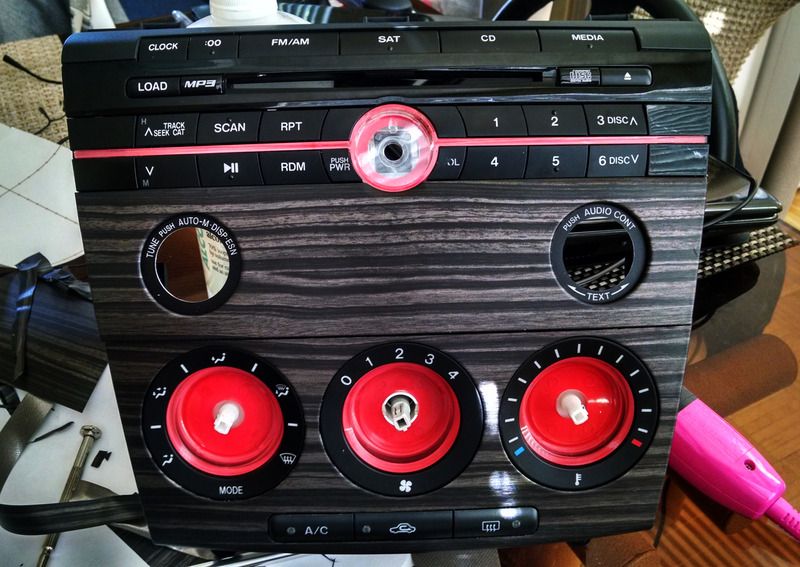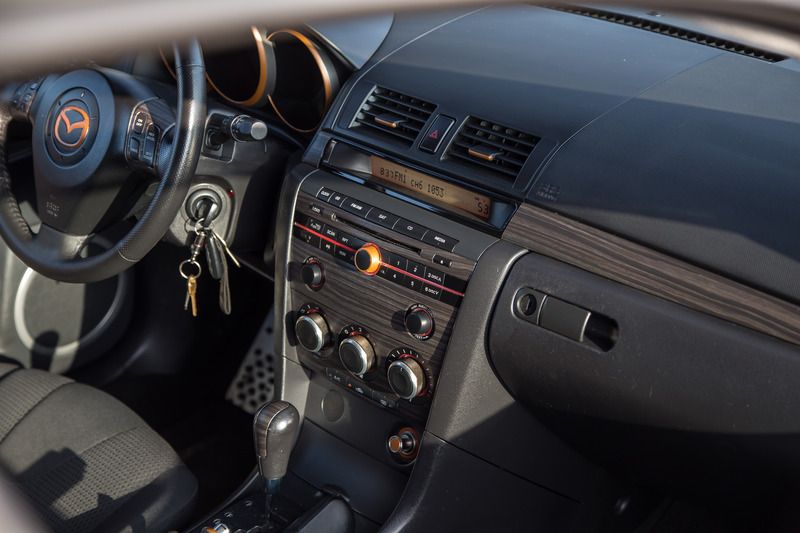 Continued Woodgrain Vinyl wrapping...
Finished all 4 door panels....Extra bonus did the knob as well!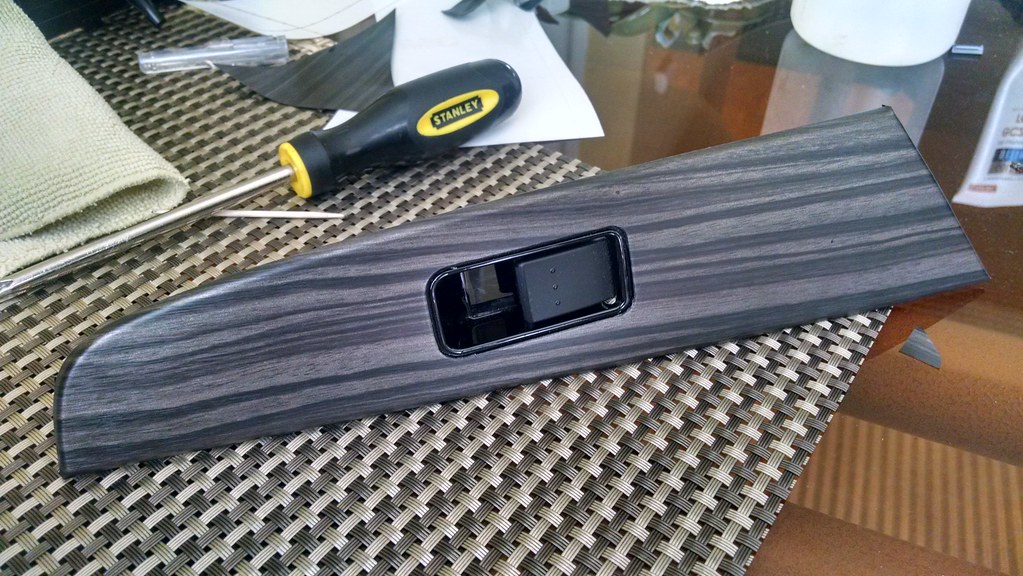 I think I am the 1st person to wrap the tops of the Coilpacks!...hahaha....Also stripped the Copper Metallic paint off the VC...Will be re-doing that some other time.
Finally got around to RePainting my Valve Cover, Axela Badge & "M" Badge..Used VHT Brand Copper Metallic Color & Automotivetouchup.com paint...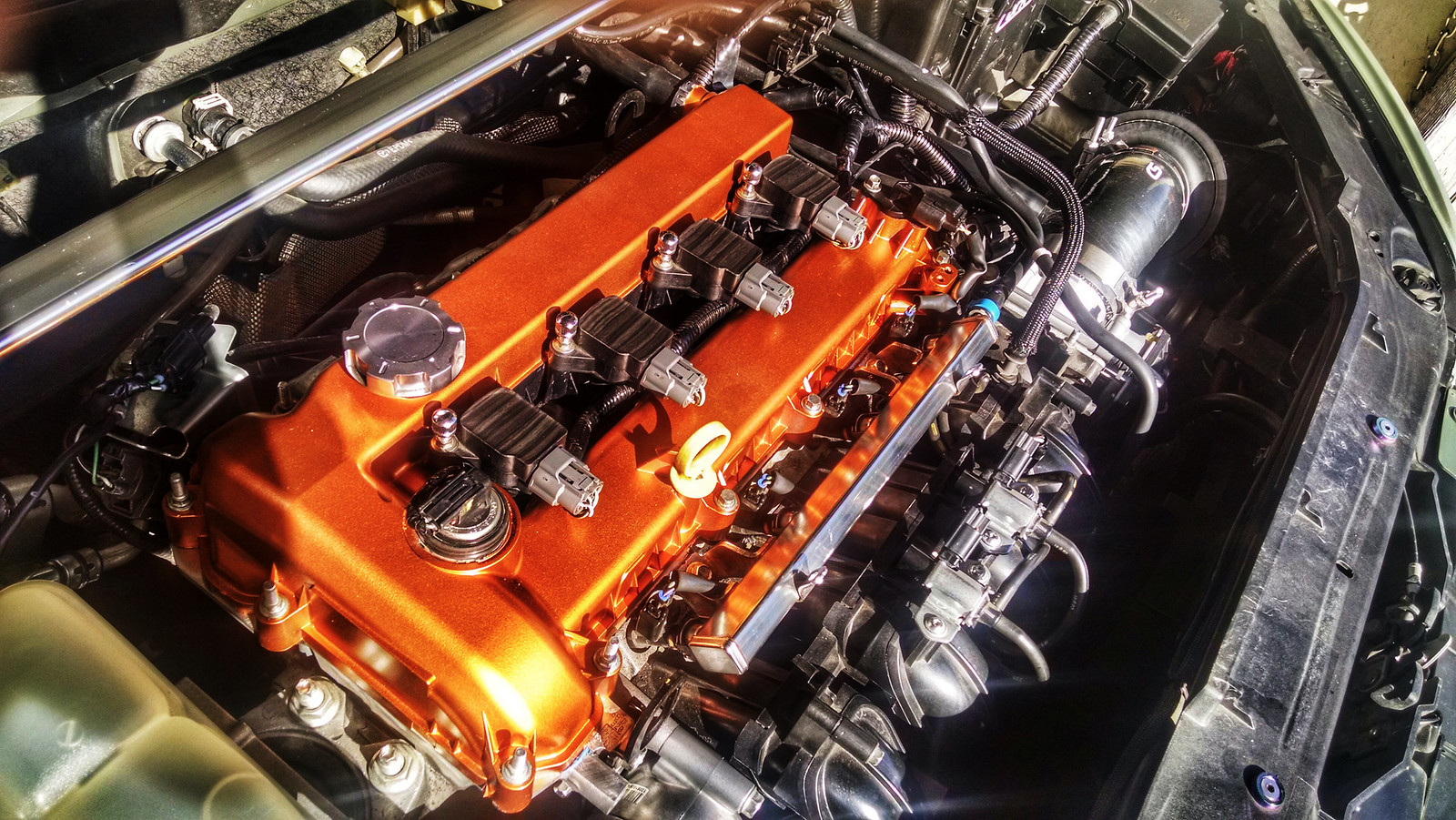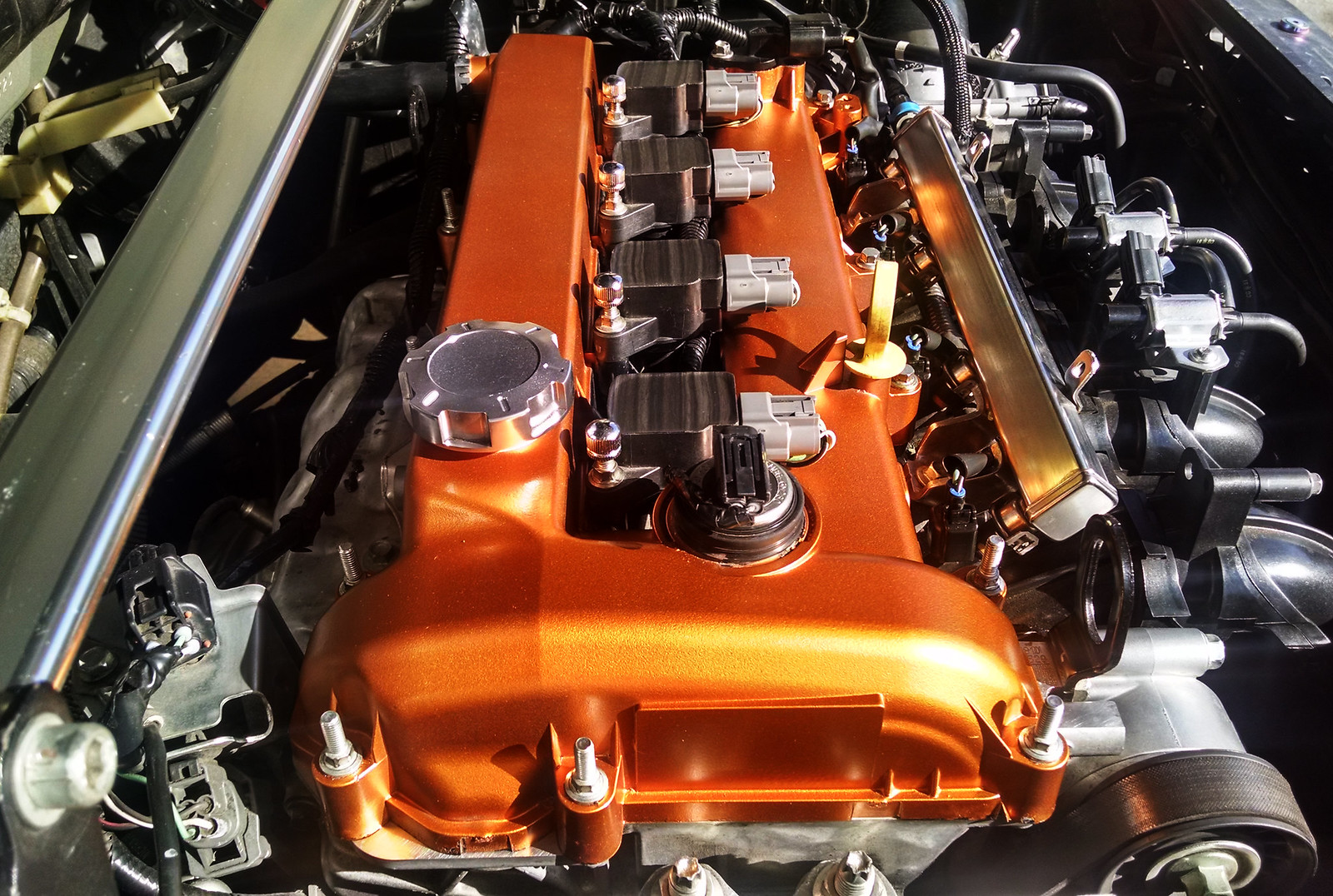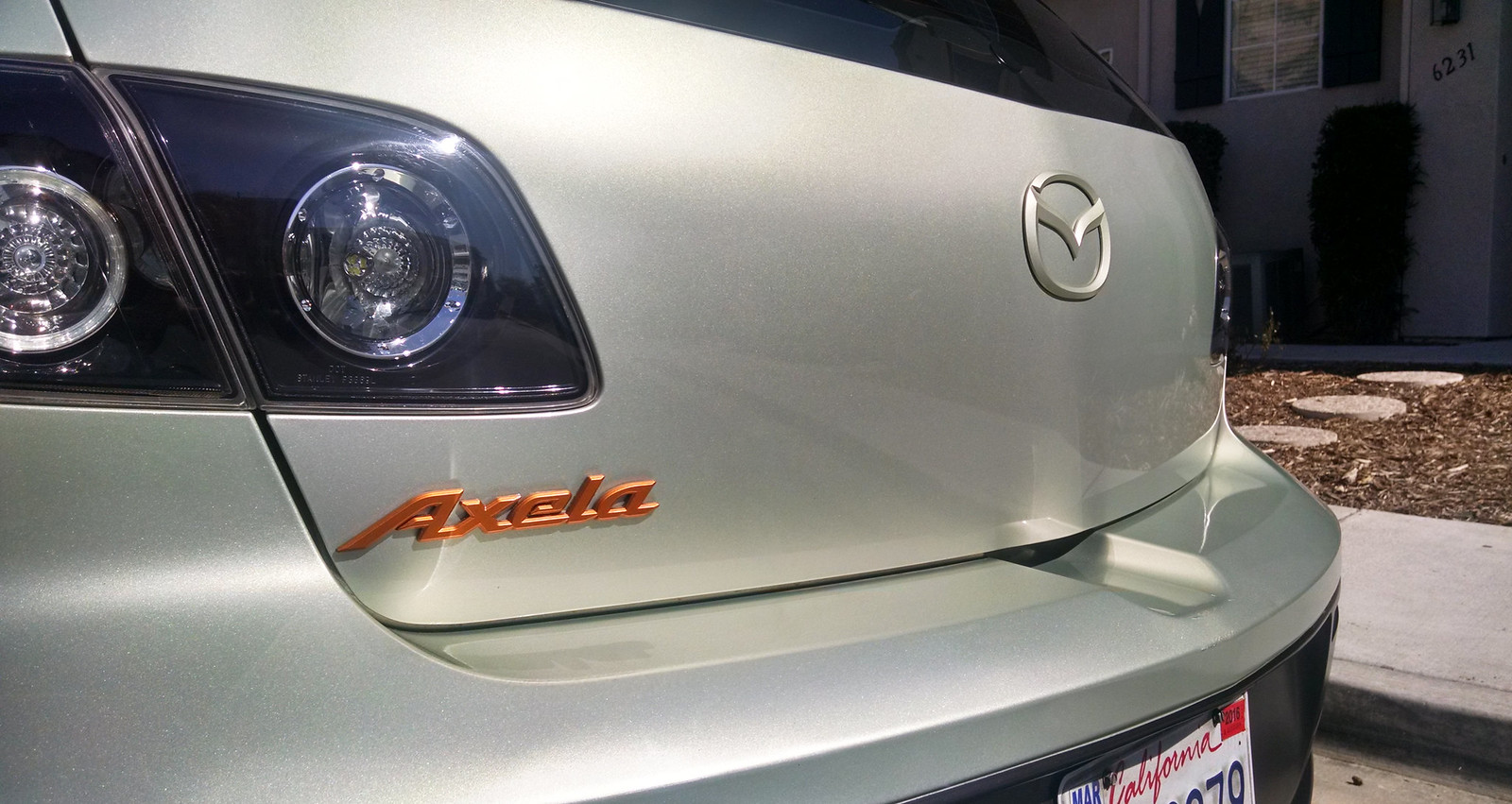 Finally!...New Wheels..Traklite Gear Wheels...Went more aggressive fitment - 17x8 - 35 Offset each wheel weighs 16lbs too thanks to the Flow Form process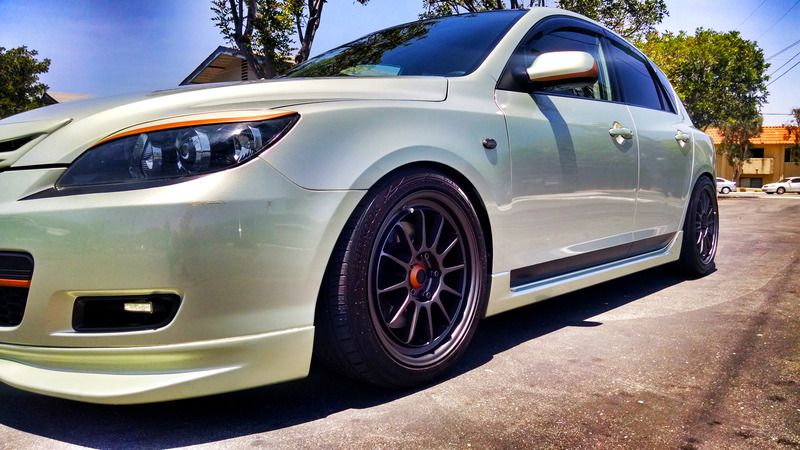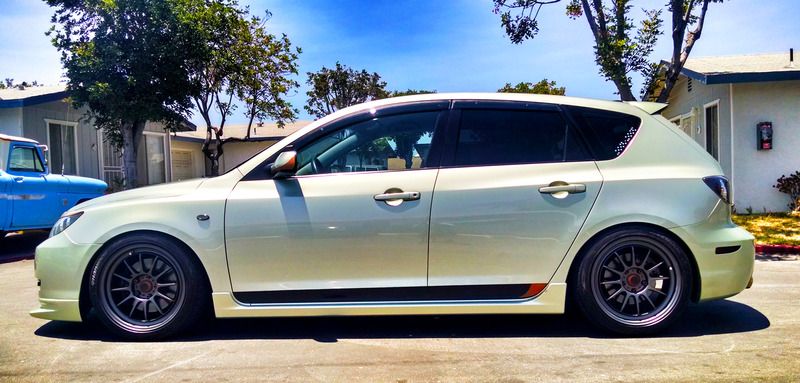 Bought Gorilla Brand extended Chrome Closed-End lugnuts...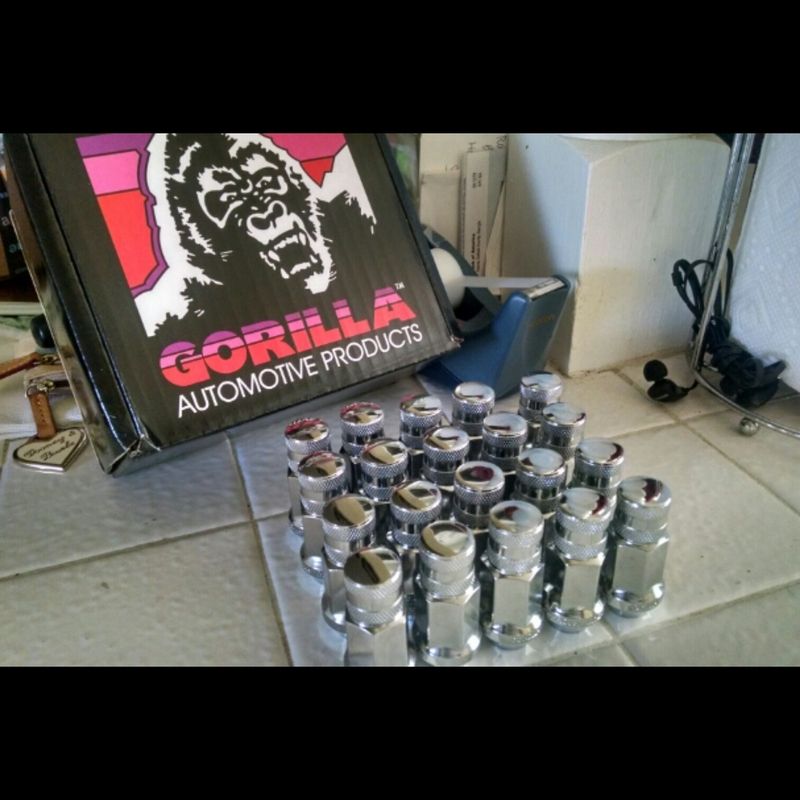 This weekend got an order of Vinyl Overlay...So decided to to do some stuff...

- Added Vinyl SunVisor in 3M Copper Metallic
- Re-Did rear bumper in 3M Ebony Metallic Woodgrain
- Re-Did parts of the Front Bumper in the same Woodgrain Vinyl..
NEW coilovers installed!... ISC Brand.

What a pain it was height adjusting & Dampening settings..... Also went a tad lower too!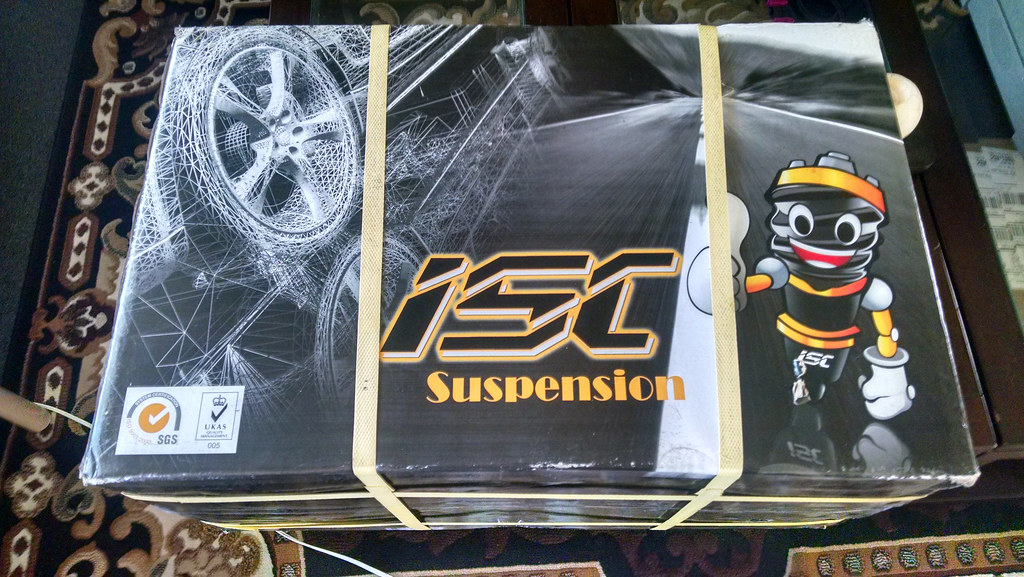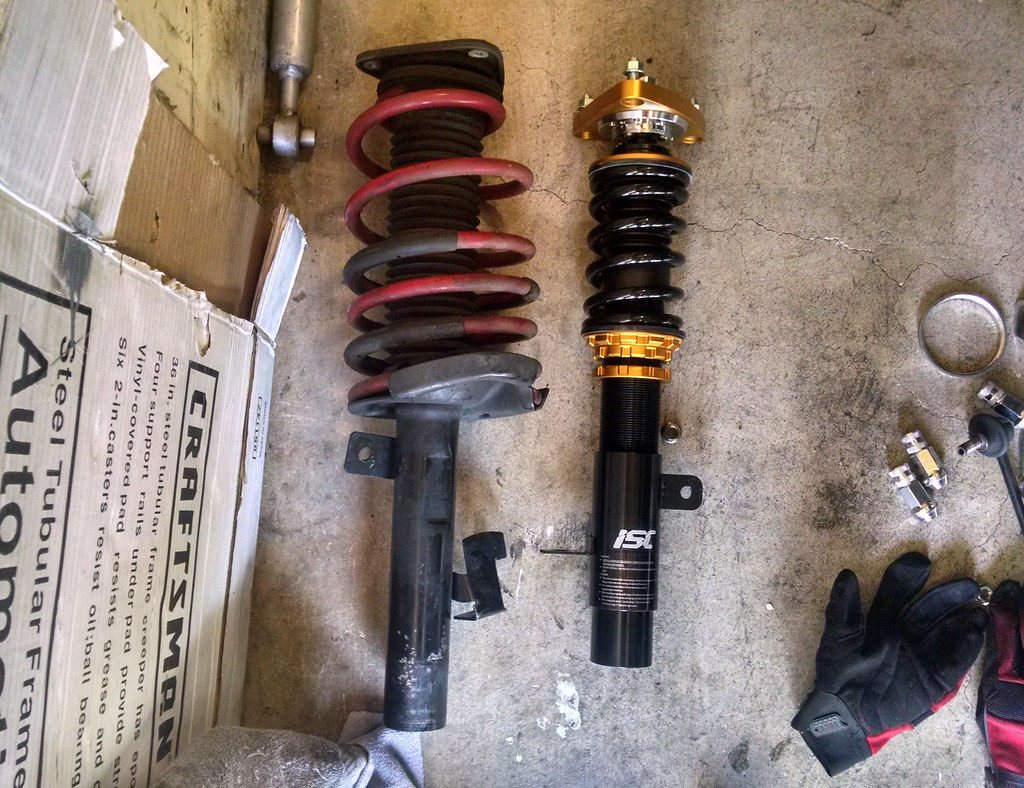 The Final product!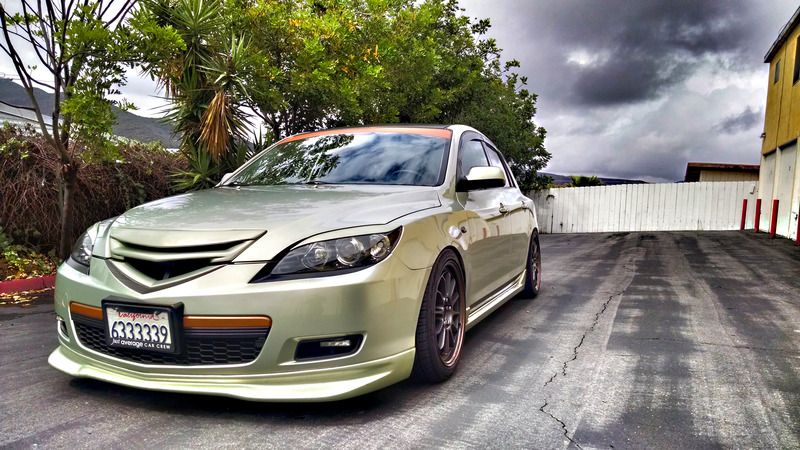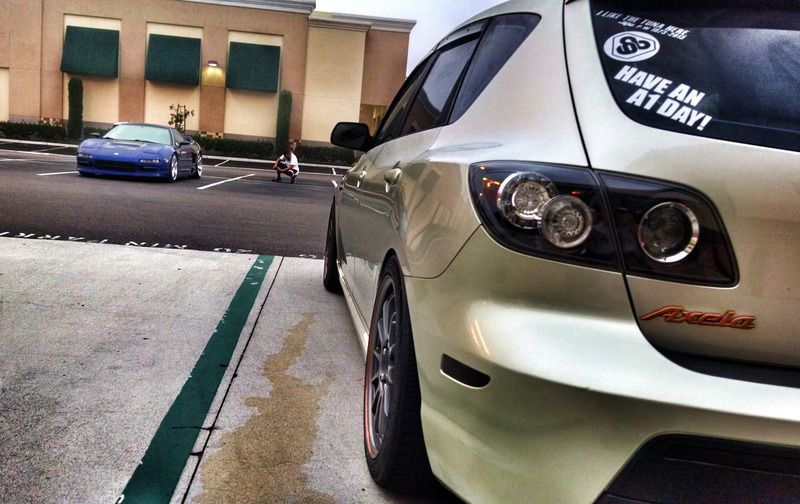 Installed
E-Focus Rear Motor Mount
to replace the Mazda OEM one.....So far I have felt an improved start up and when accelerating much more solid feel not as jumpy etc....And for the price cant beat it!...
Installed Paranoid Fabrications Strut Brace Quick Releases:

Also Popped some holes in the Front & Rear bumpers....Because RaceKar..haha
Installed Spoiler King's rubber Spoiler Extension....This one is a lot "beefier" than my previous one I had...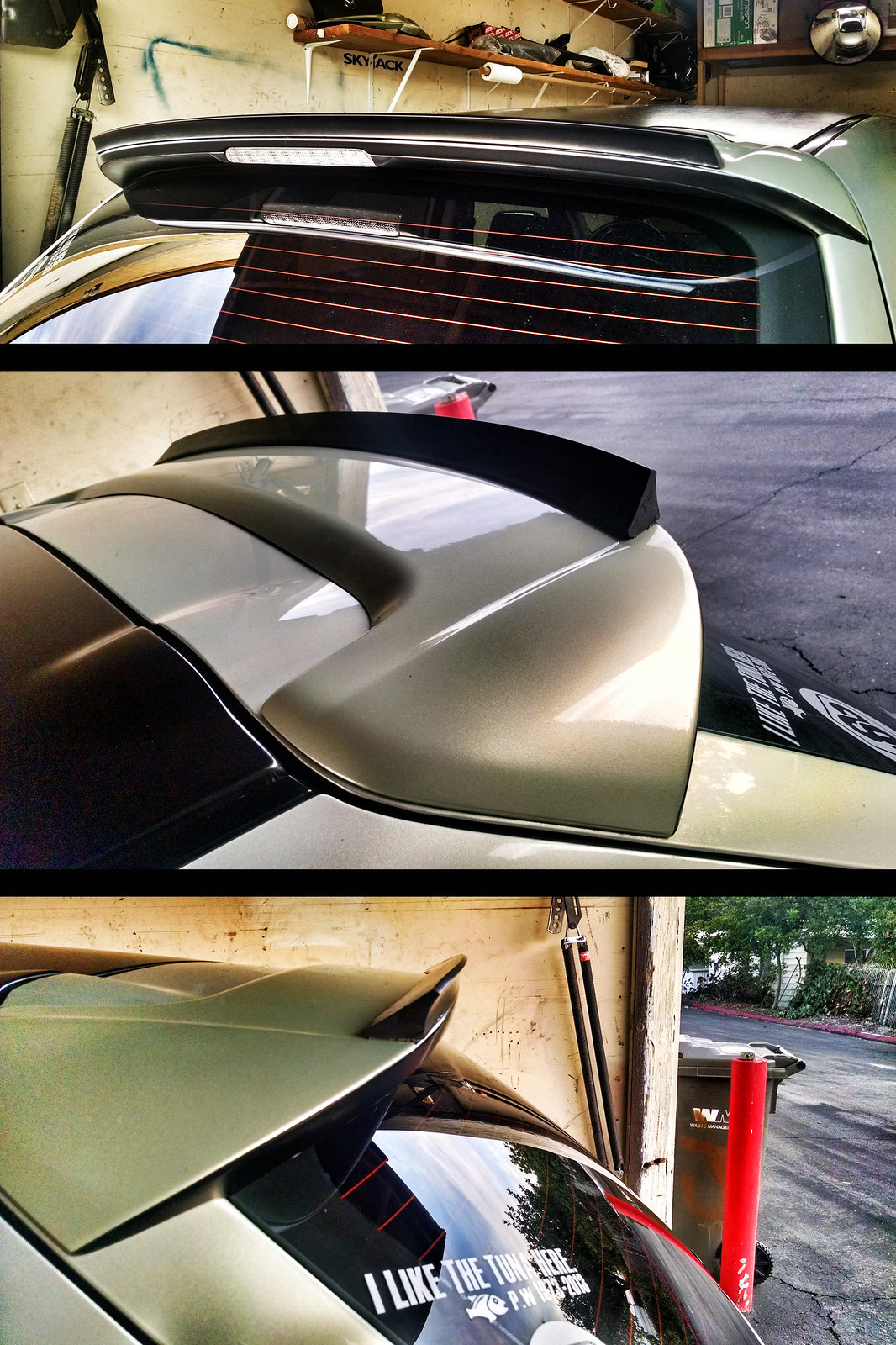 Purchased these 7/8" Nickel Plated finishing trim rings for the holes I drilled into the Front & Rear bumpers a while ago...
Operation Punk Face & Ass!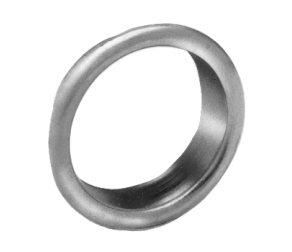 2016

Installed new Exhaust Tip.....Black Chrome & Oblong shape....Something different!
Re-Themed my Valve Cover to look like a Duracell Battery....

Installed Blue Tinted Convex Side Mirrors from TheSpeedline.com, these are also Fog & Glare resistant!
Bought & Installed some Front Bumper Winglets.....Needed some cool.....haha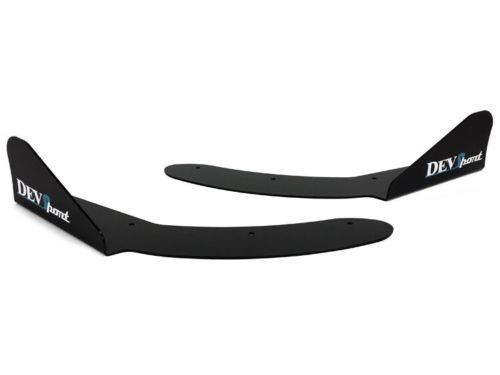 Accidentally destroyed my Front Lip....So went in a different direction....Fixed the damaged Winglets and re-installed them directly to the front bumper this time...Then I Designed my own Front Lip piece that goes in the middle part fo the bumper to balance out everything else...I like how it turned out!
Did more Vinyl work on the front end.....Added Black Satin vinyl above my LED DRL slot area for a more aggressive feel, also add Black Brush Aluminum to the Front Lip piece along w/ Copper Metallic along the edge part too....Pretty much satisfied how the Front-End looks now!
Made some Mini Rear Bumper flares from the same Black Komatex material....Might adjust them or Overlay them w/ some vinyl later....
Applied Copper Metallic accent to the Rear Flares:

Popped on some OEM "MazdaSpeed" Door Sills...
Bought the Replica GV Badgeless Grill and did some rhinoplasty to Penny....
After Color-Matching & installed.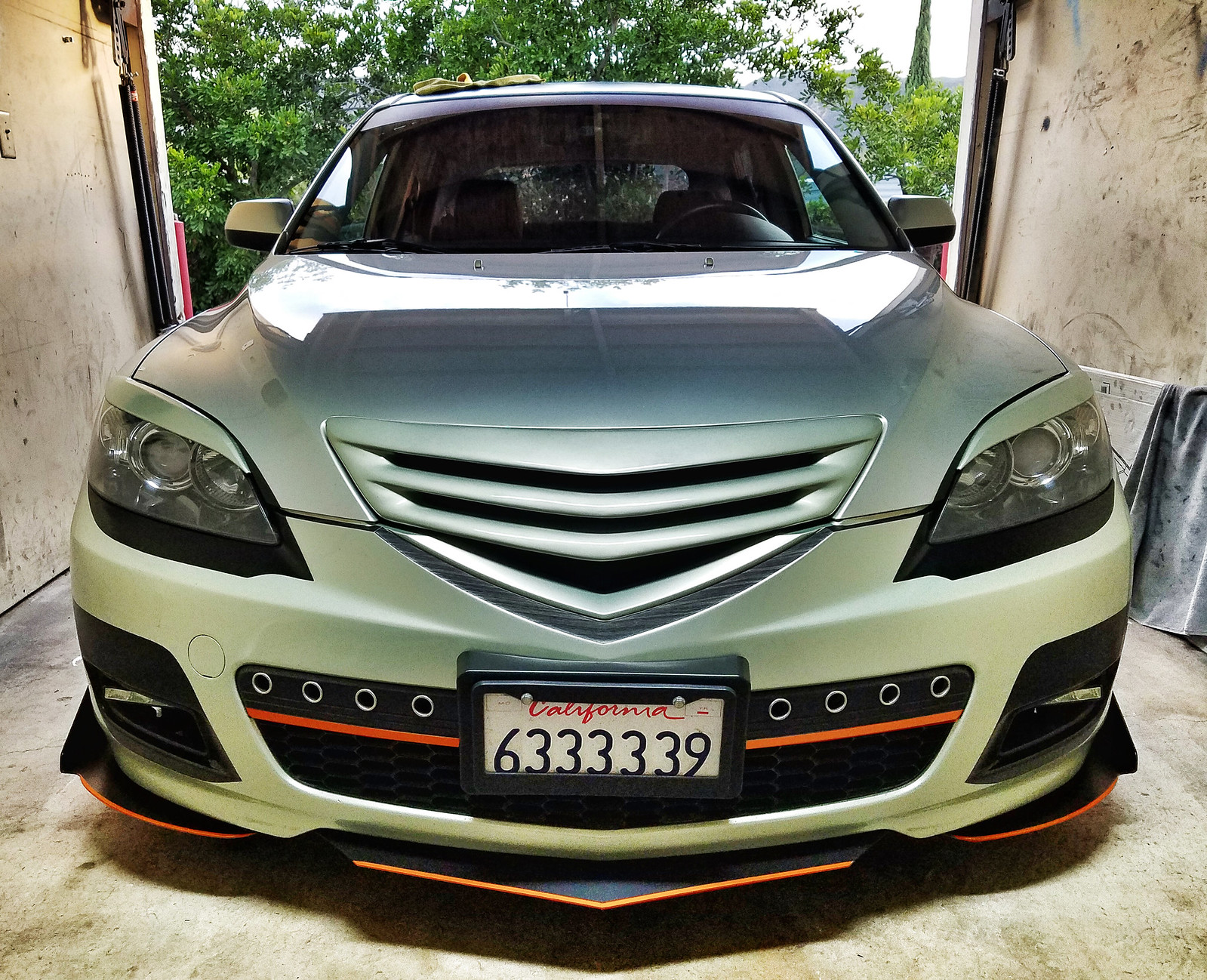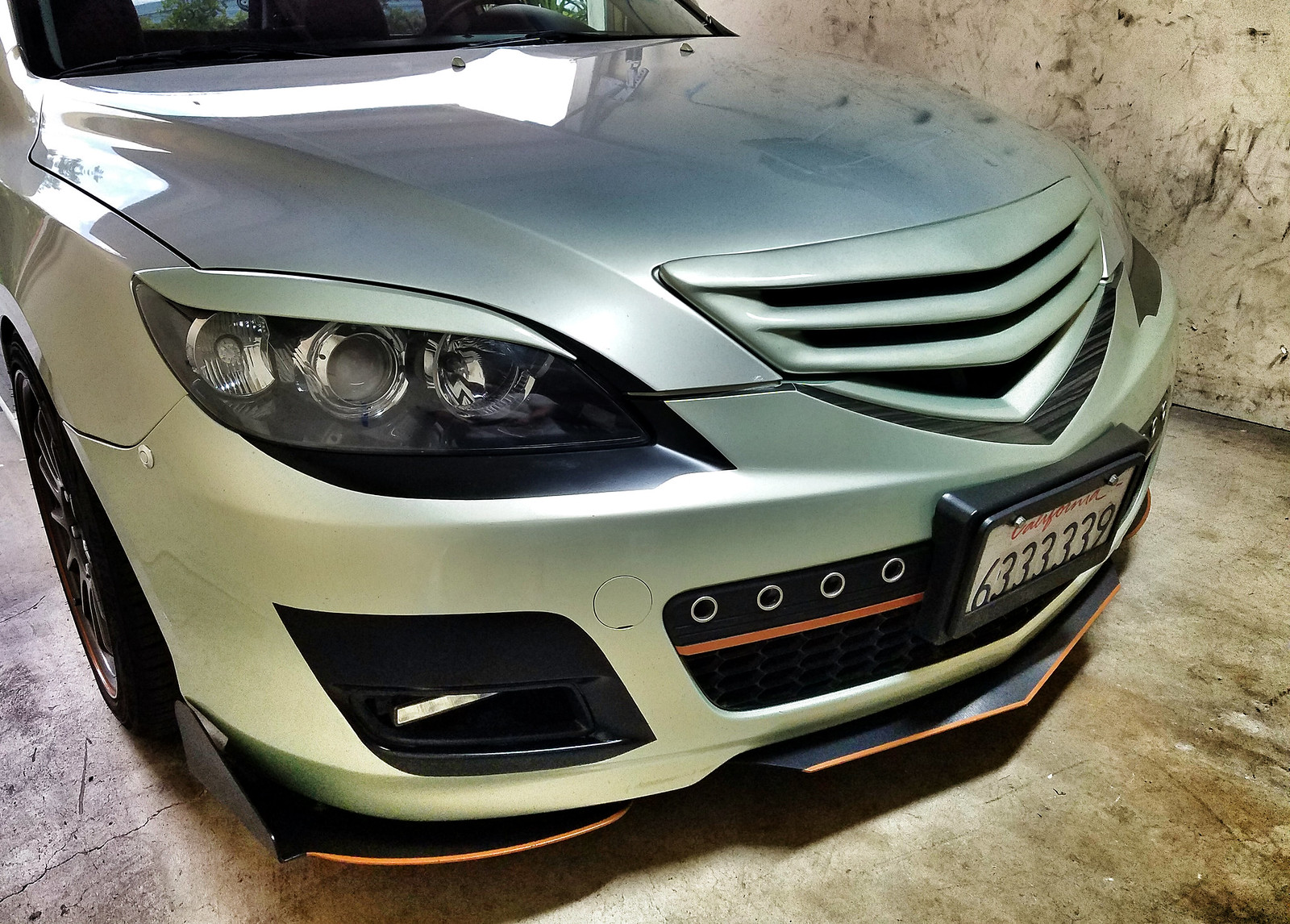 Made my own License Plate relocation to the Lower Grill part, prior was on the factory bracket and was screwed into the bumper part. I now have it attached to the lower grill kinda streamlines the front end a lil more...

Then I did my first time at filling in the 4 holes that were let in the bumper....Used Bondo Spot Filler...And came out decent..Not perfect at least there are no holes to see...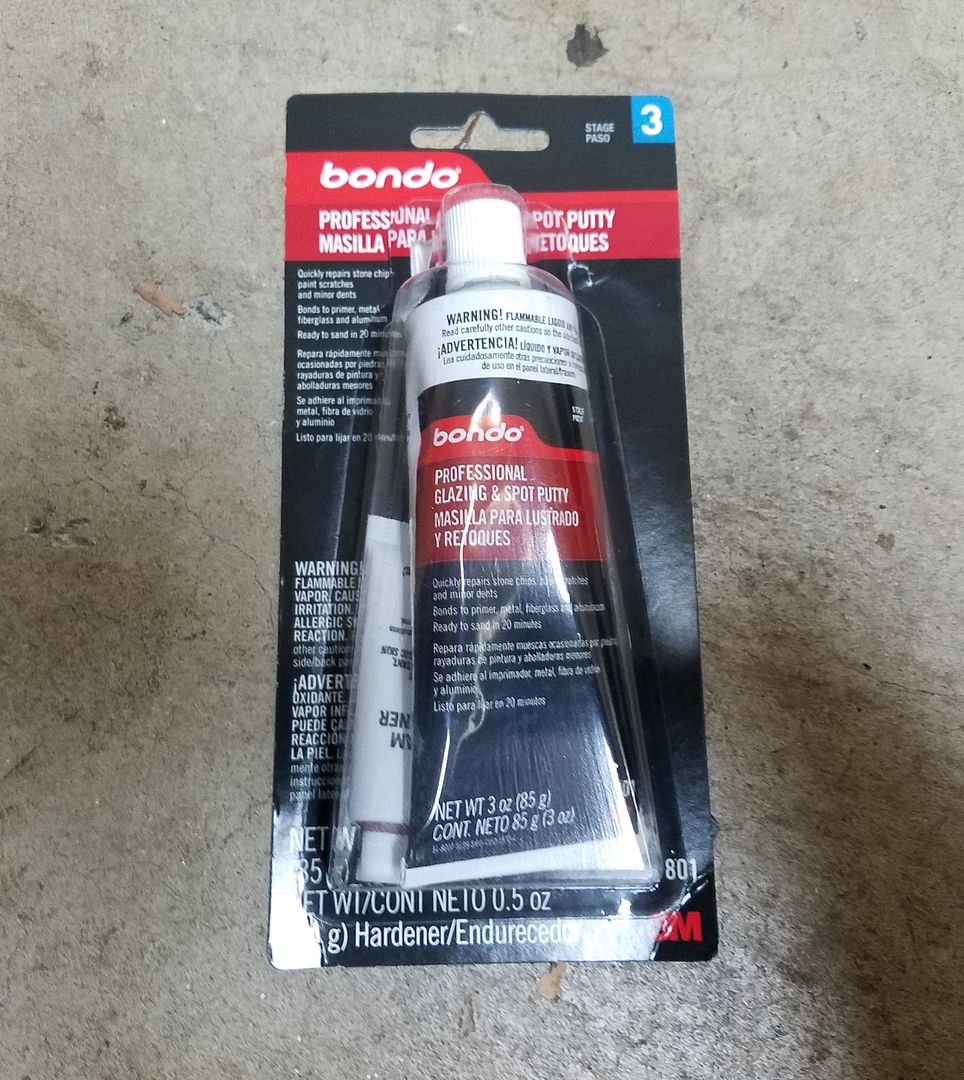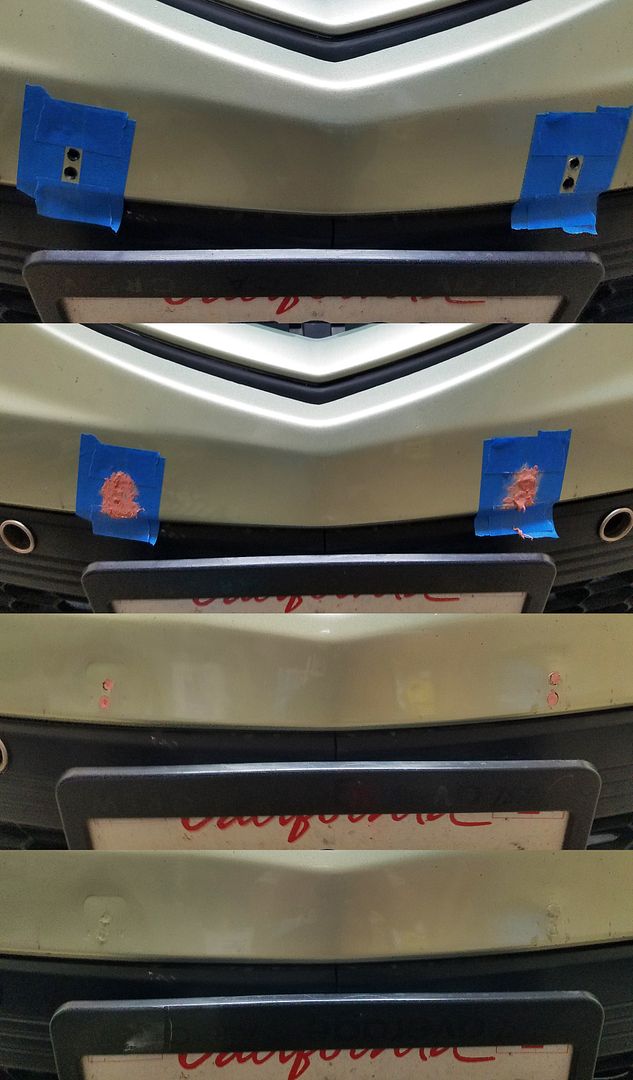 Purchased a set of MazdaSpeed 3 cloth black seats for an awesome deal!
Unboxed ready to go!....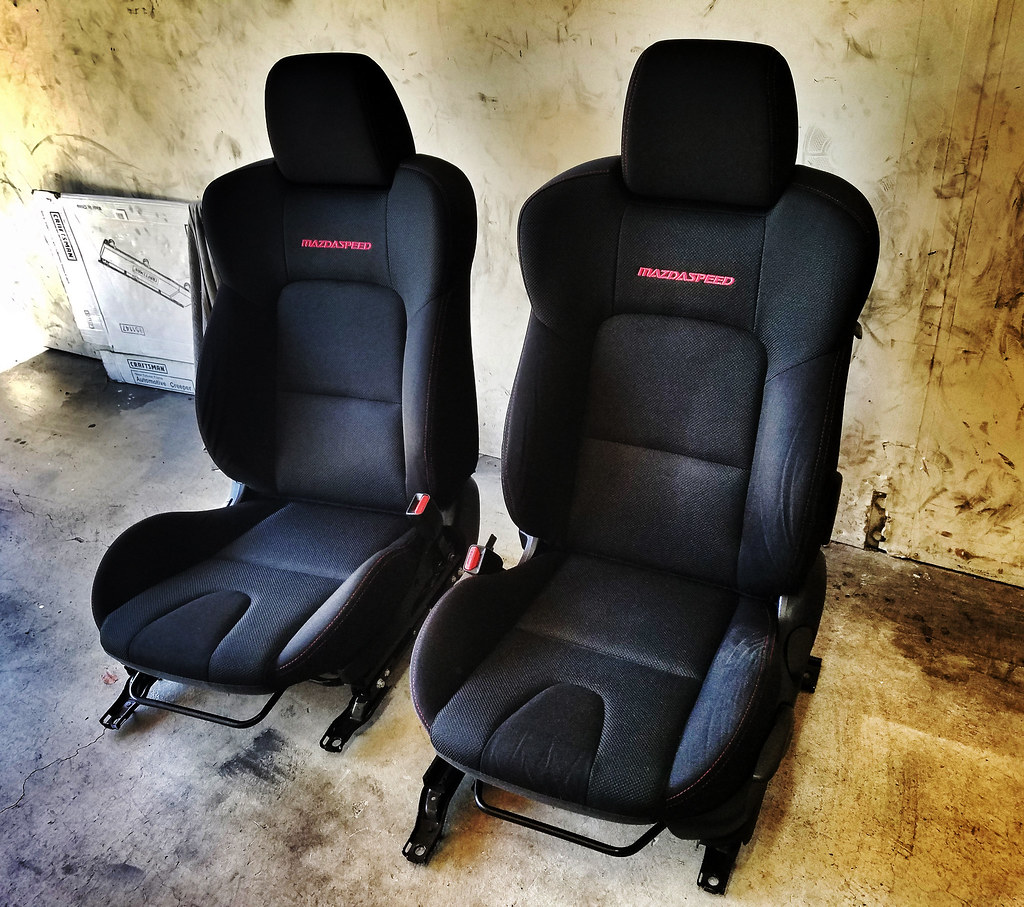 Installed!....What an amazing driving experience now!..Butt doesn't slide around anymore....haha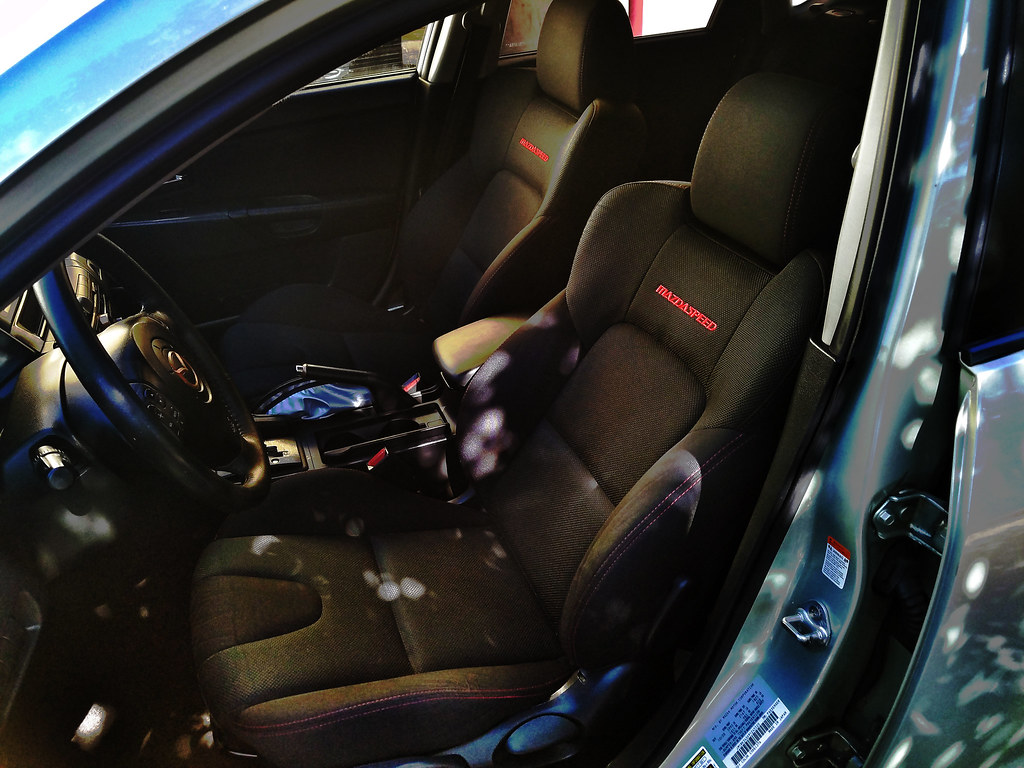 Cosmetic change in the LED reverse bulbs....Currently had the Samsung CREE LED bulbs...Replaced with VLED Brand LED bulbs...VLED ones are twice as bright!...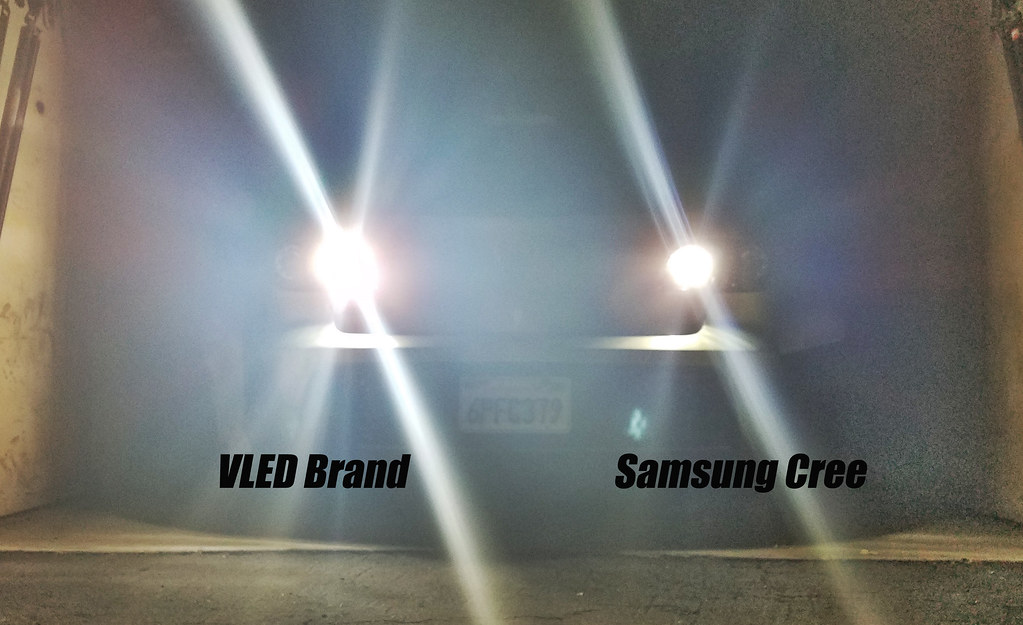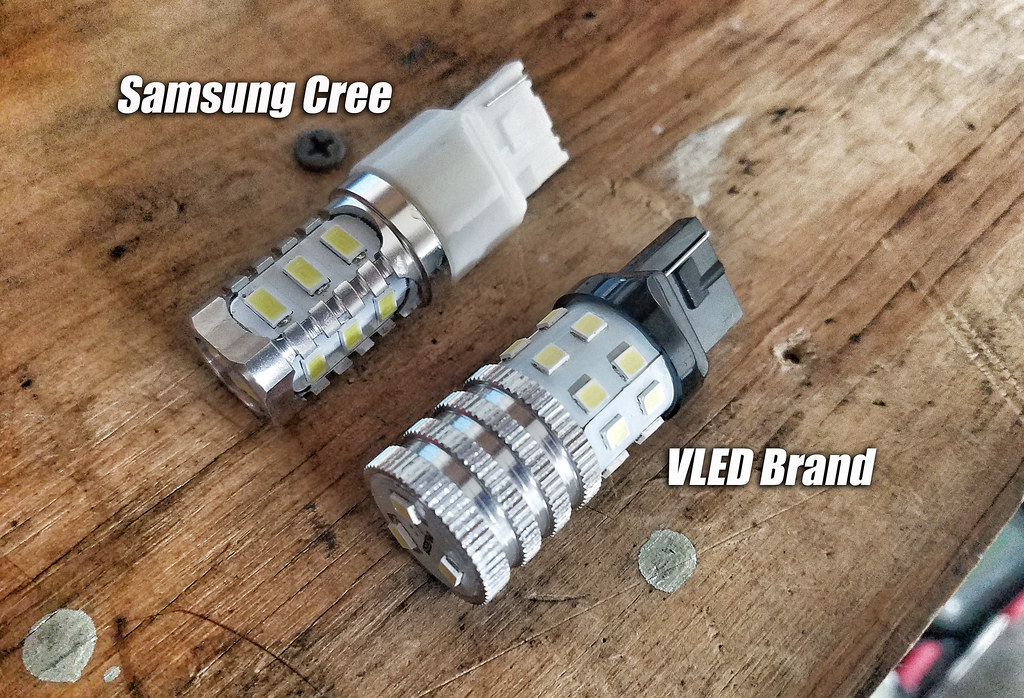 2017:
2 New things for Penny at the start of the new year!
Replaced cheaply made hood dampeners that came with the hood kit by Sokie Tech...they gas inside of them failed so found these at Pepboys a lot stronger ones I found!
Then replaced my Phillips Brand LED DRLs due to when getting murdered by a traffic cone I hit on a rainy day...Bought a new style LED lights to fit..Made custom brackets for them.
Didn't like how "dim" the LED DRLs were so bought a different pair...Similar to the old ones not as long in length...I like them better!
I still think Phillips Brand DRLs are way superior in design and light color though...
Bought a custom Billet Aluminum oil dipstick handle with old skool mazda logo on it!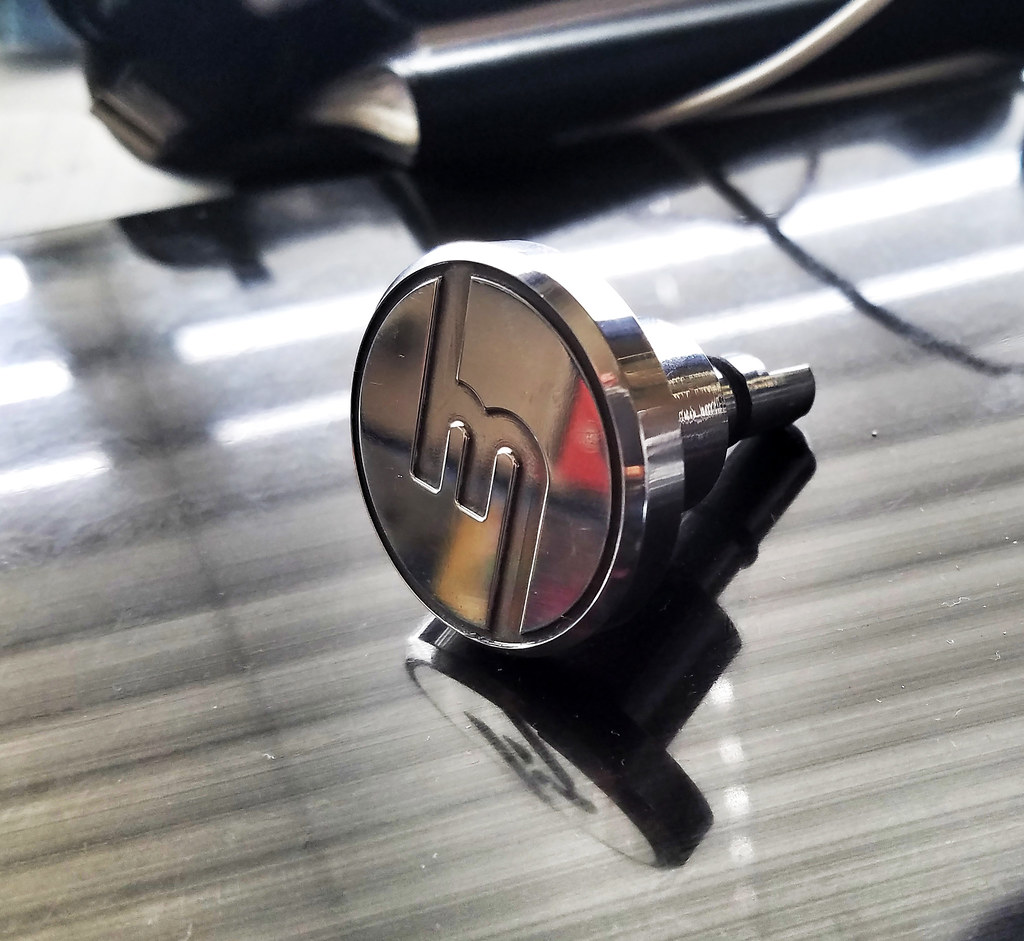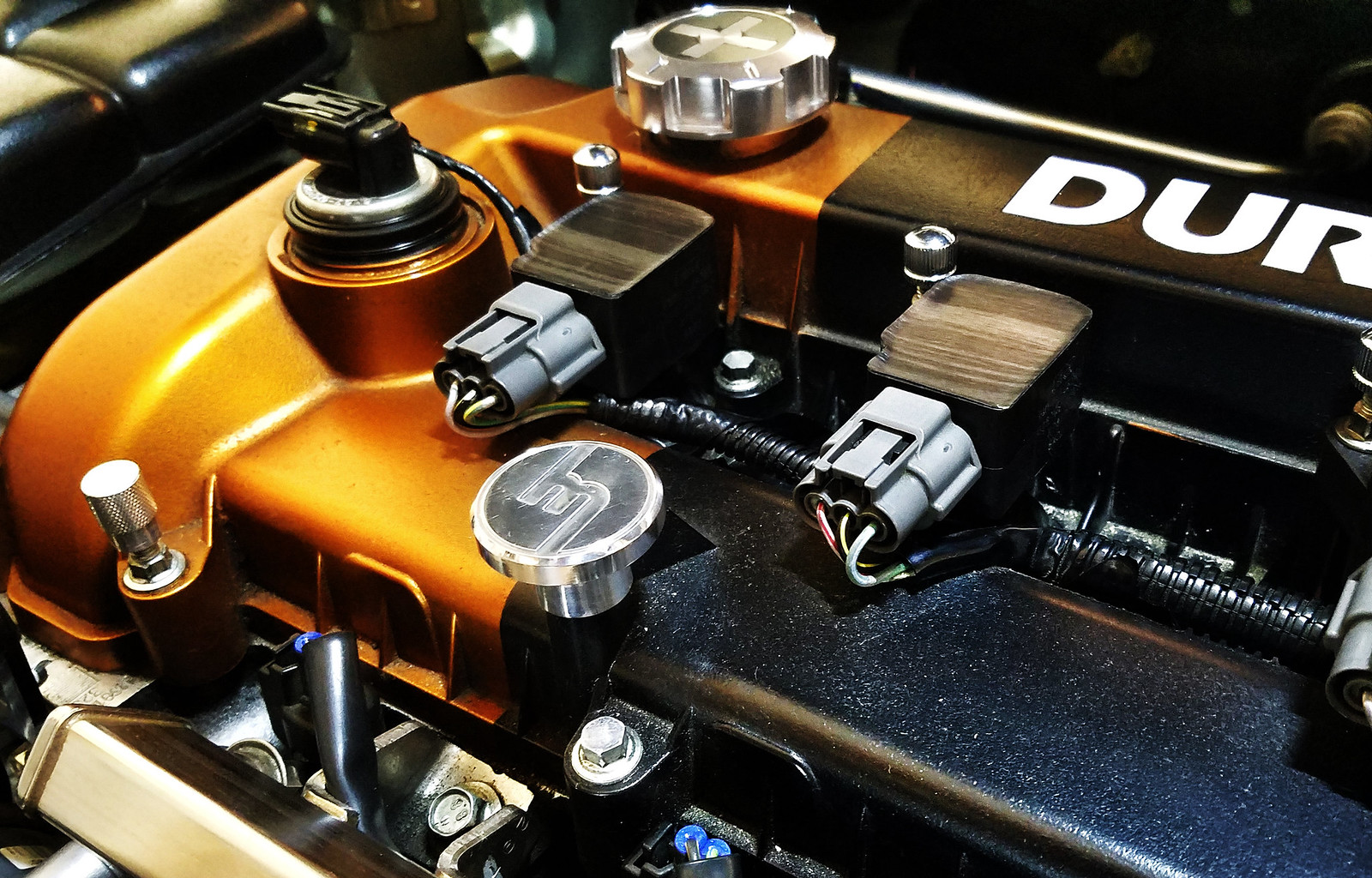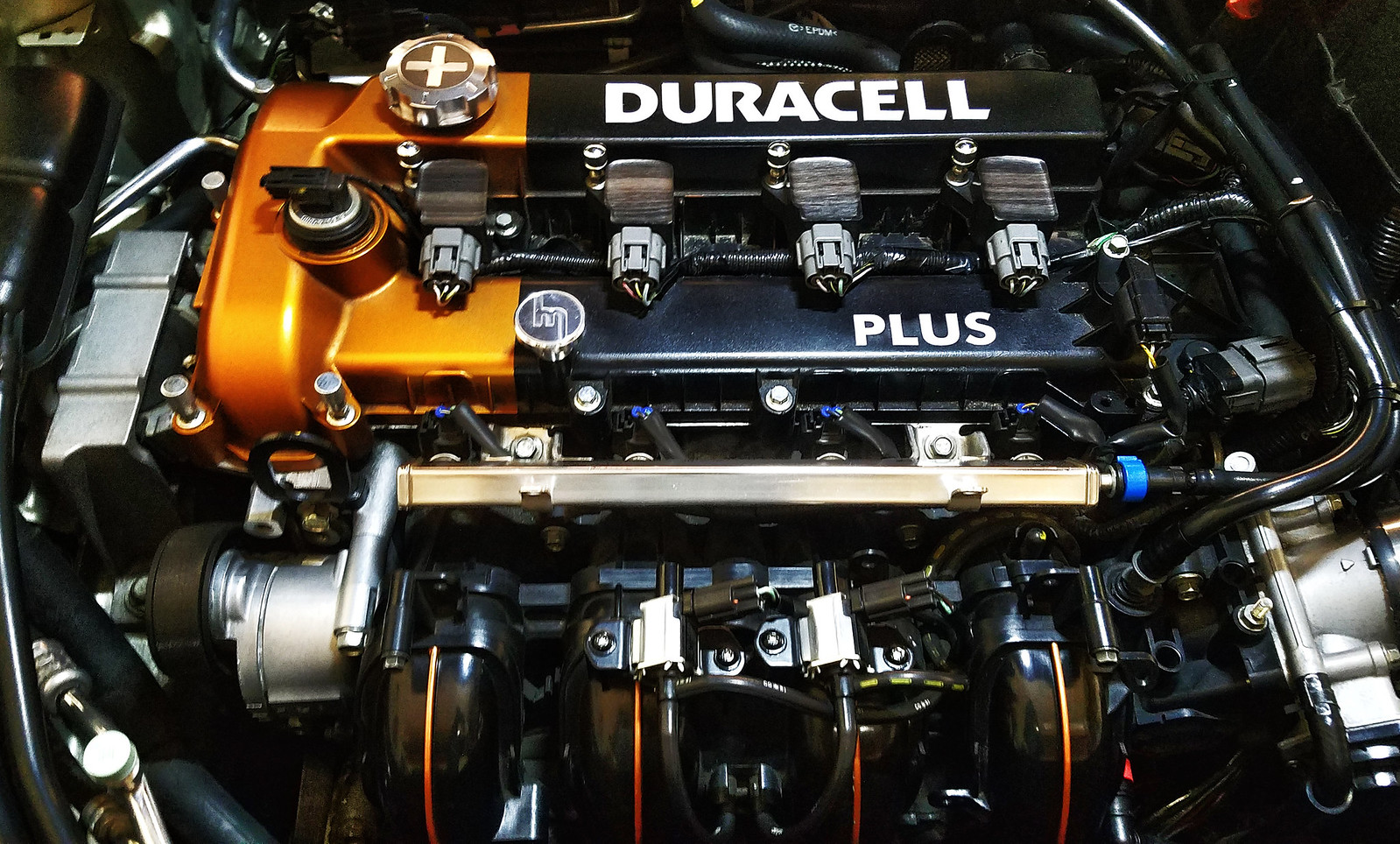 2018:
Bought & installed all new Motor Mounts.... PMM is a solid rubber one vs. the Fluid Filled one....The TRanny Mount is a Beck Arnley Brand and the RMM is the Efocus one.
Engine Shot: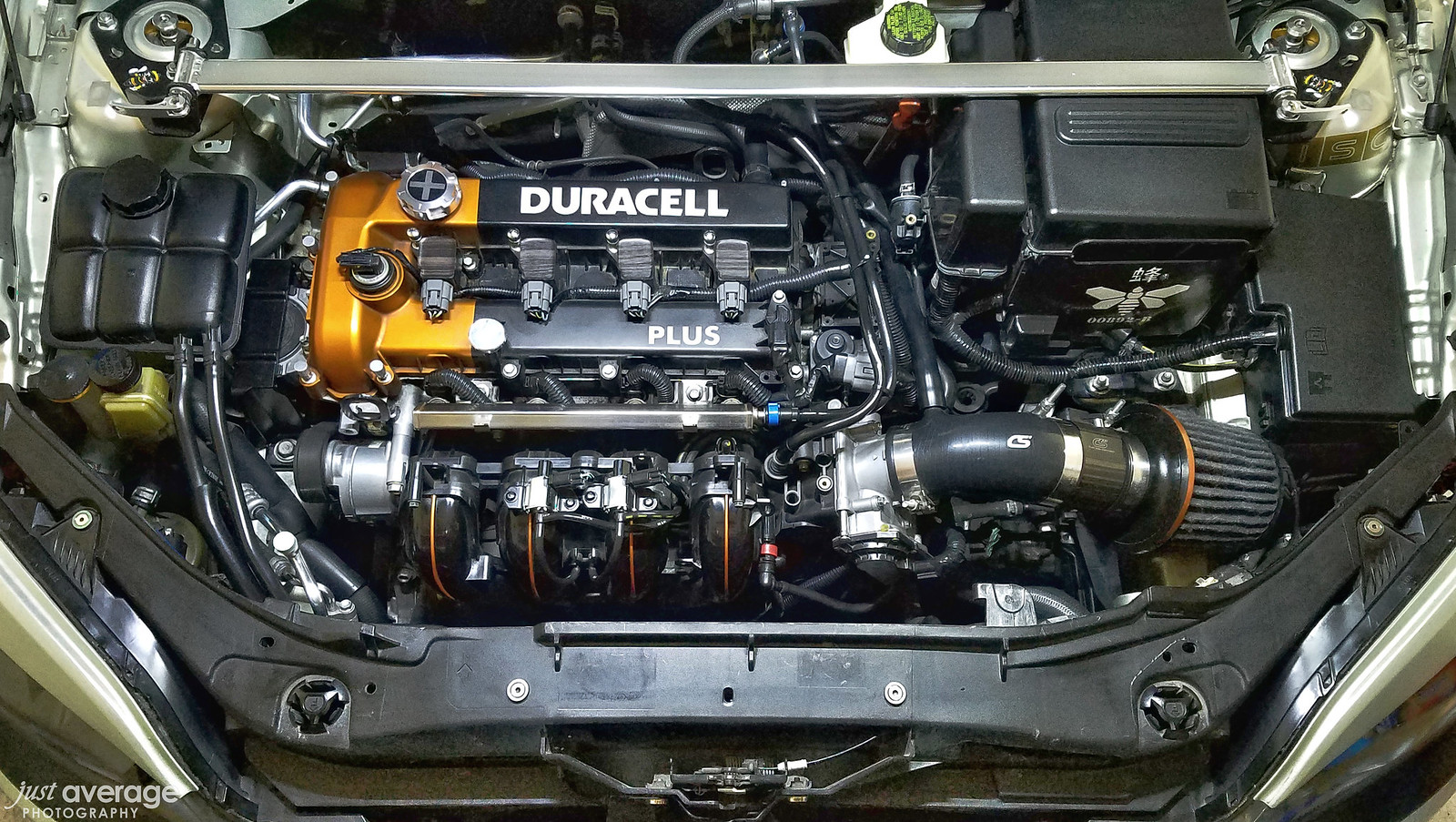 Also Purchased a Blk Acrylic flat top shift knob from Twisted Shifterz damn nice quality too!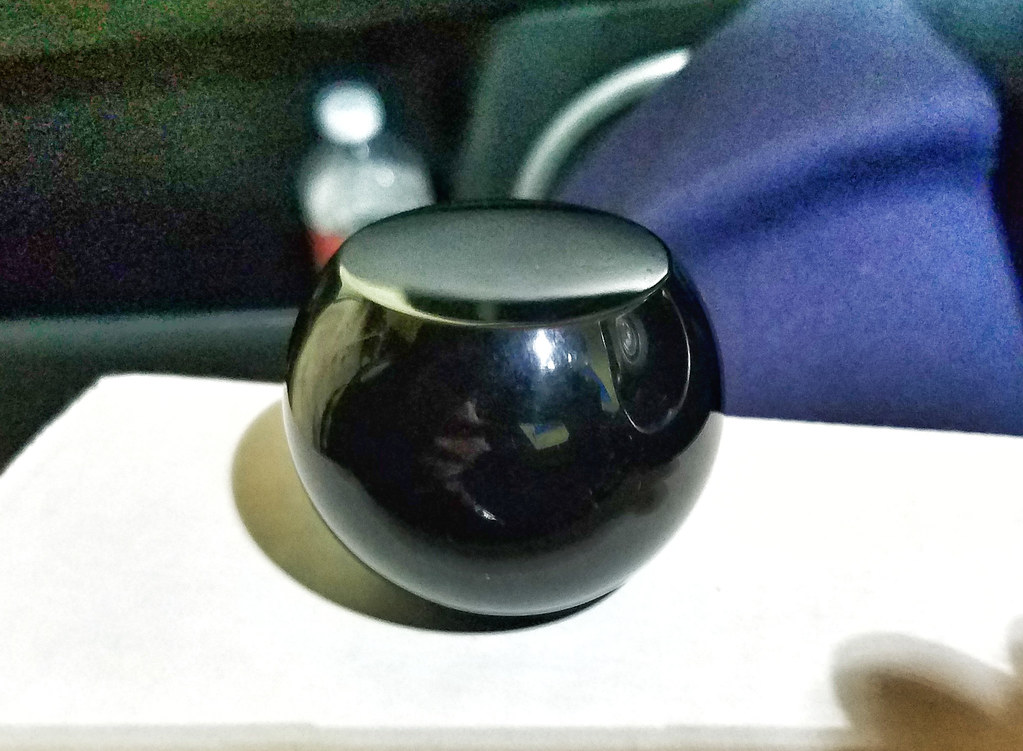 Bought new Lip Kit straight from Mother Russia, I was really surprised how the quality was of these things also the perfect fitment they too!
Installed & color-matched!...Removed the Blk Vinyl from the Bumper as well!...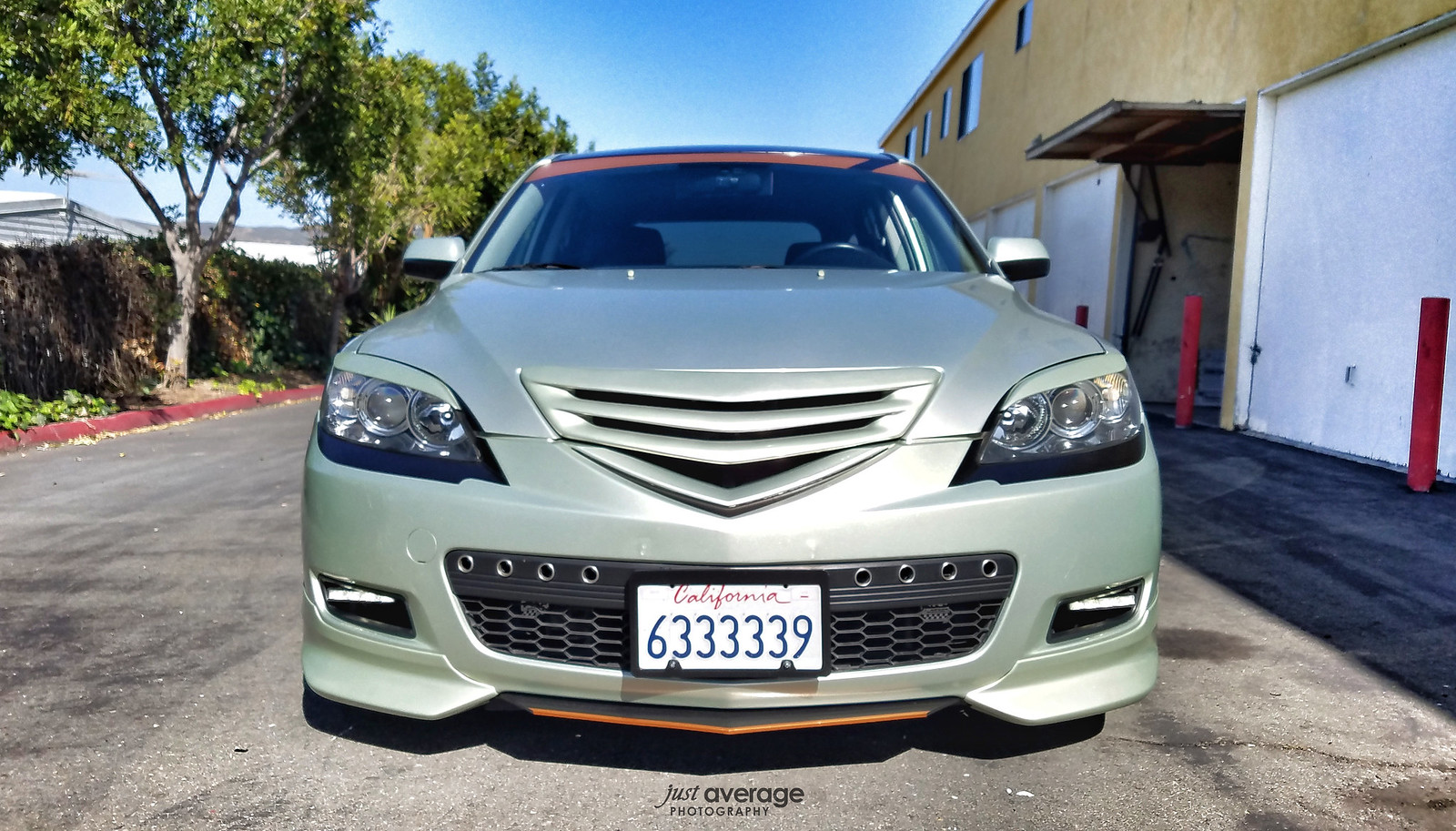 Added some Blk Vinyl below the lower grill area...Made the Front End Super Aggressive lookin Penny now!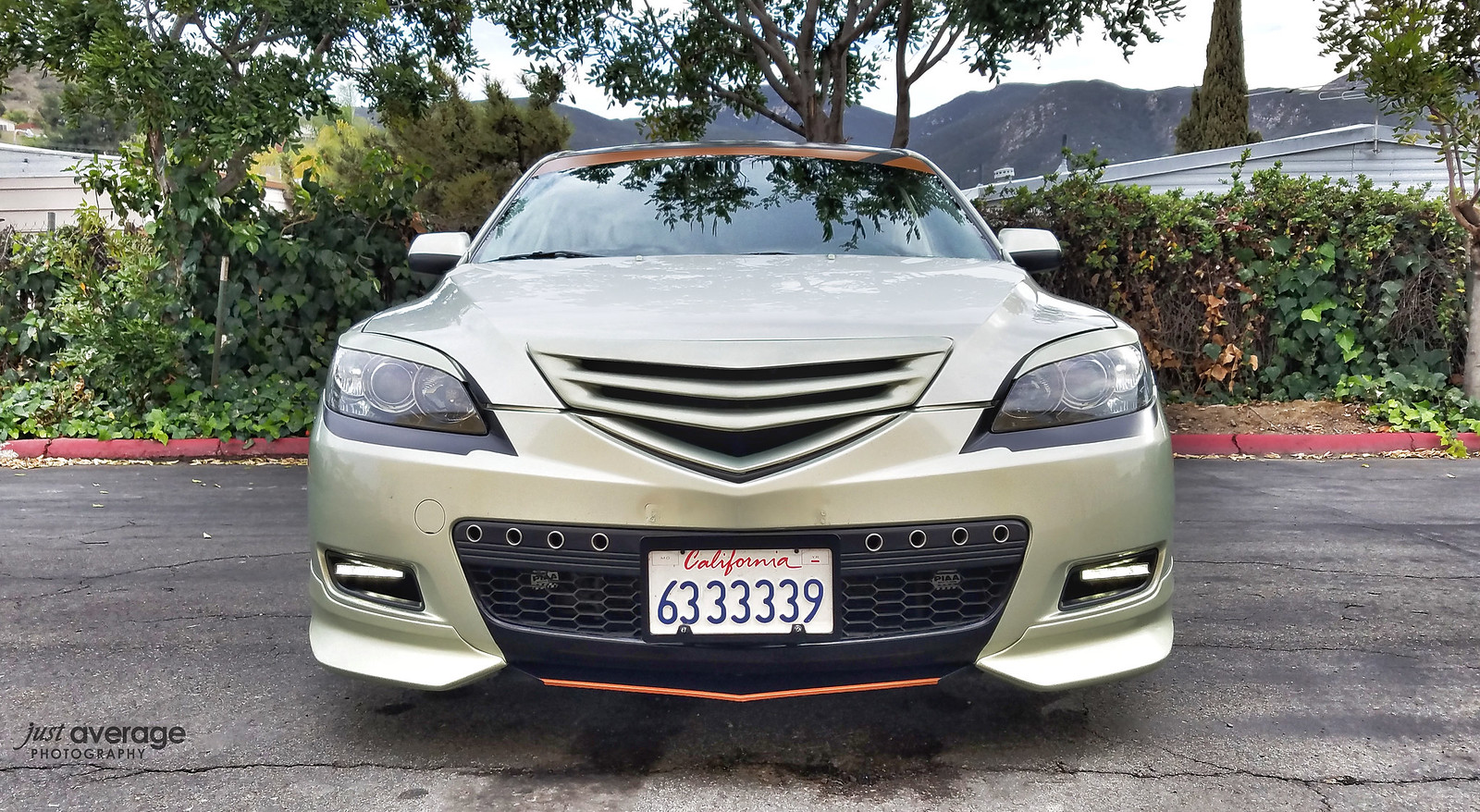 Bought these metal shiny door latch covers that have the Mazda Logo them for cheap off Ebay...Not bad!...haha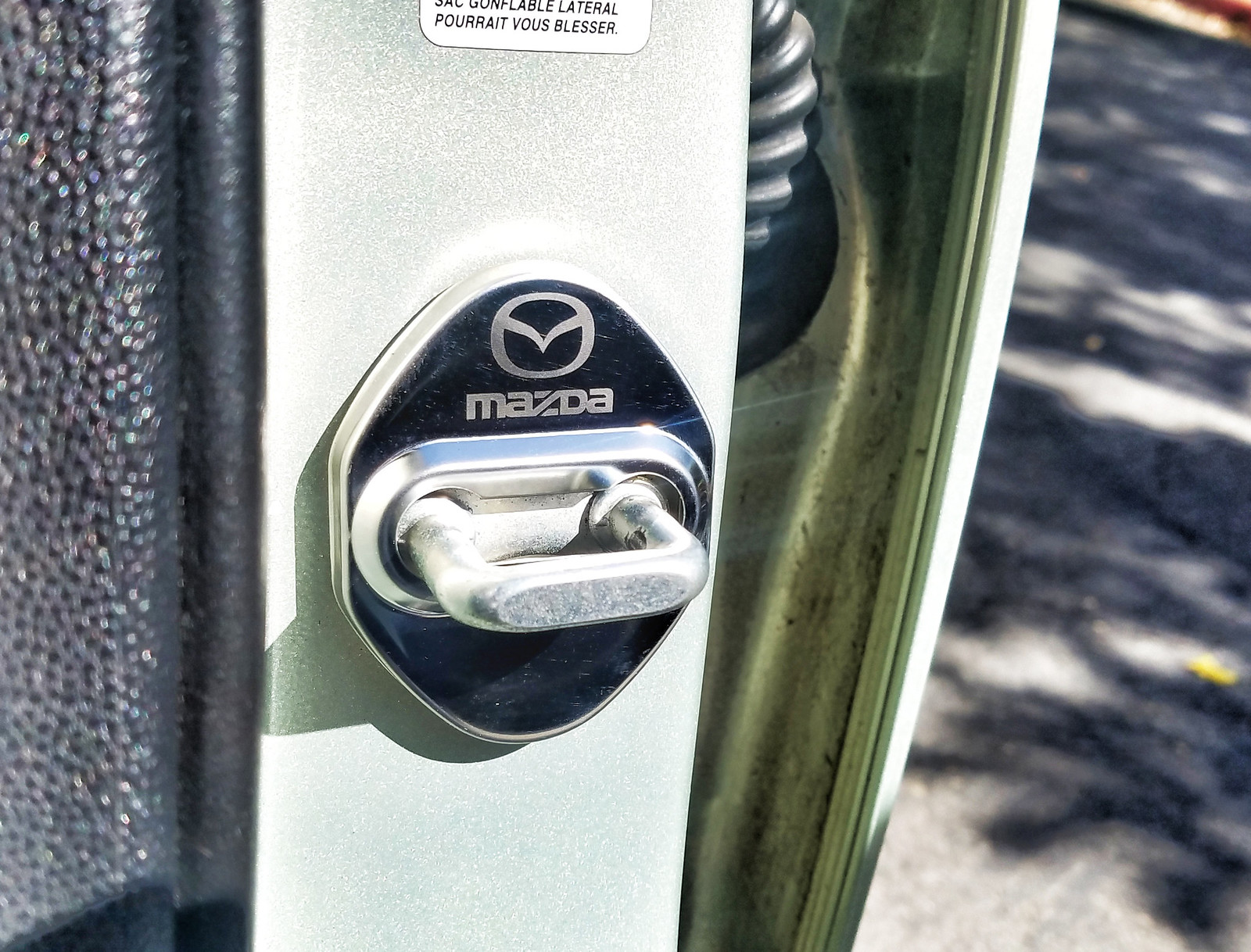 Did a semi-quick visual cosmetic side graphic change...Had the previous one for like 3yrs now...Decided to change it up finally...I think it came out awesome dude!..haha...Also fixed my stoopid radio antenna now reception is great!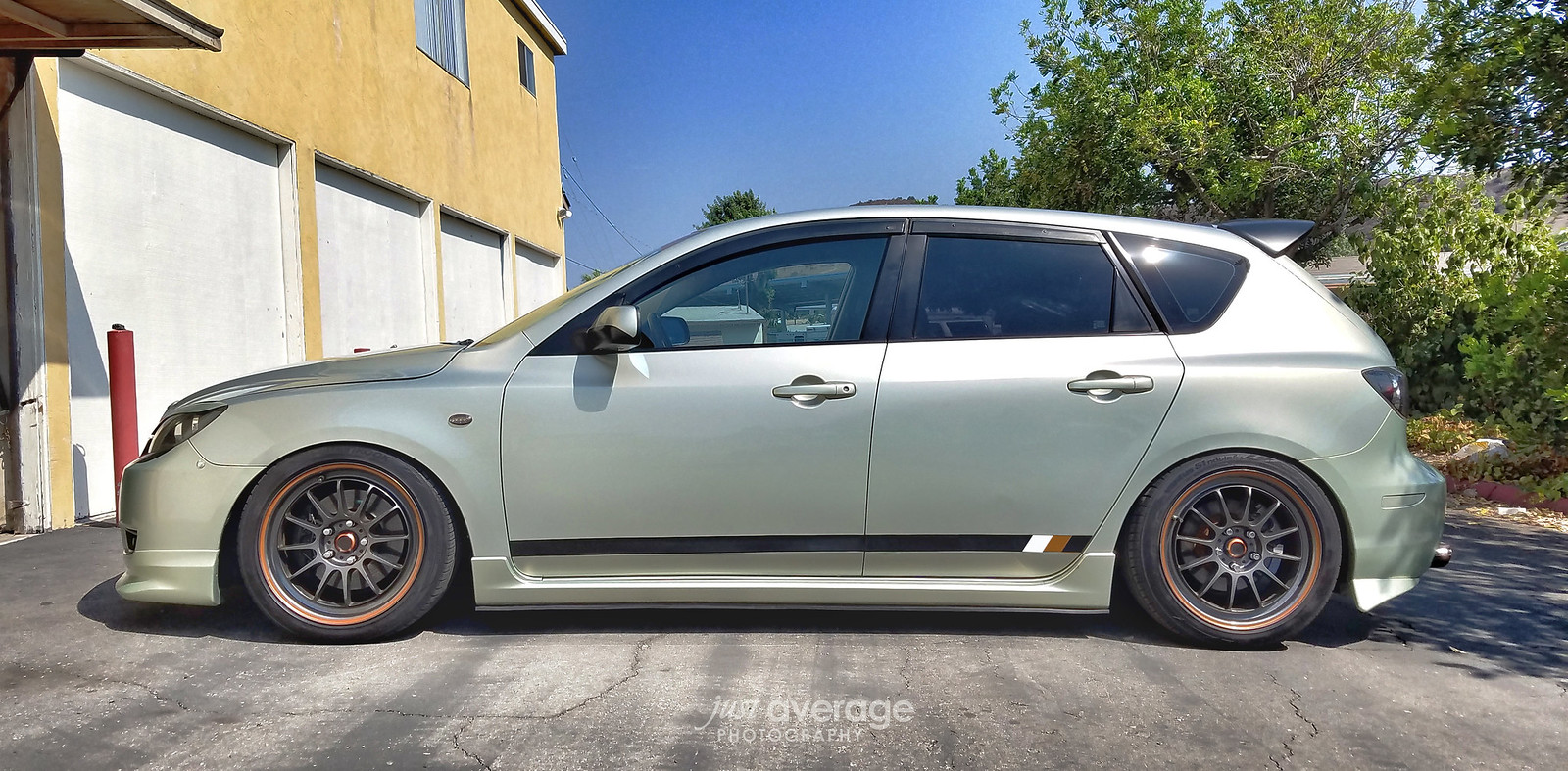 Did a total refurbishment of the Valve Cover this weekend...Stripped all the old paint off and started from scratch...
Clean & Prep, Primer, Base Color then ClearCoat and new decals which I upgraded from "PLUS" to "ULTRA" now!...

Almost forgot to mention instead of Gloss Blk color I used a Pearl Blk that has rainbow pearl when light hits it.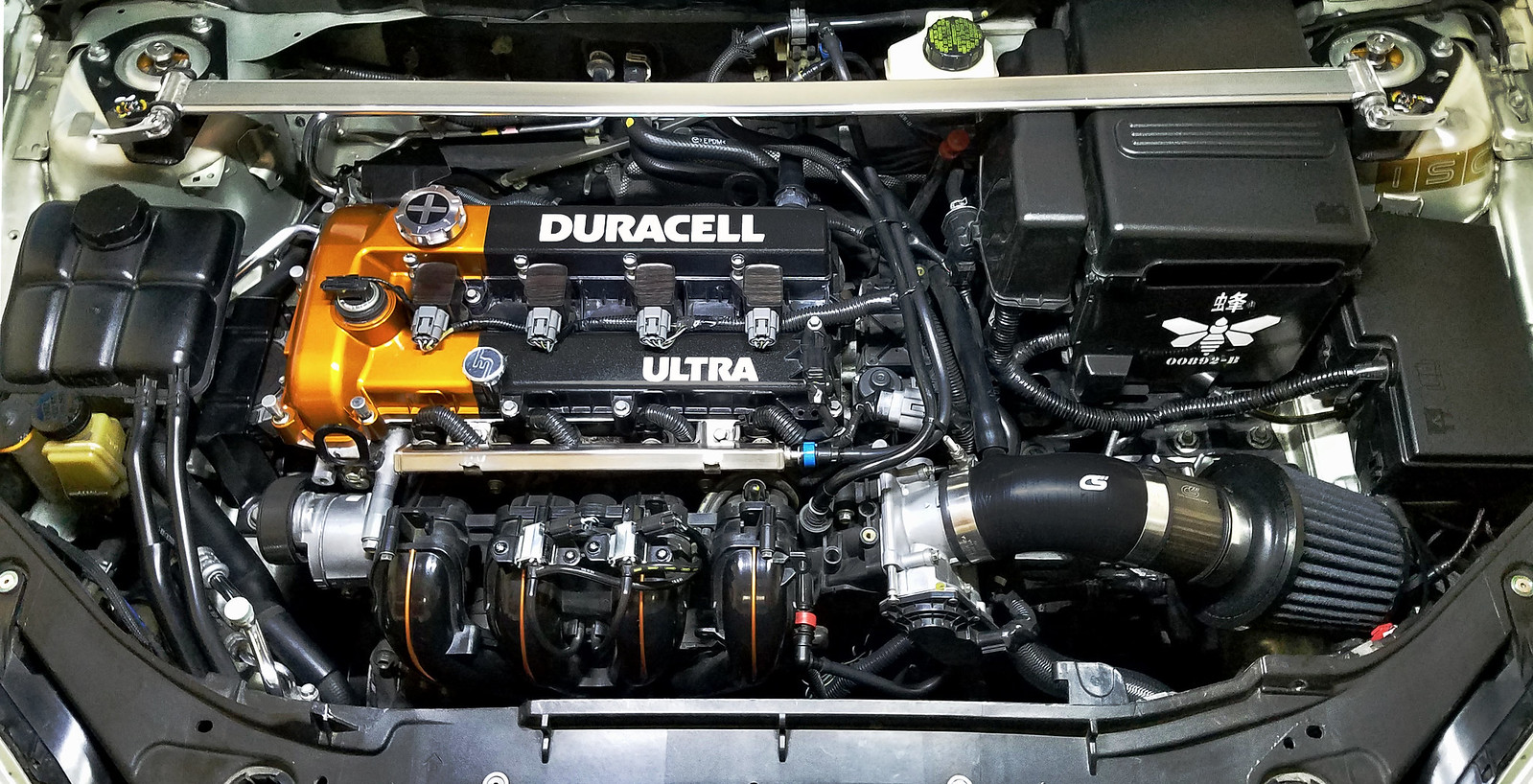 Then also finishing up the Tail Lights so everything is all LED finally since I procrastinated on it for years! haha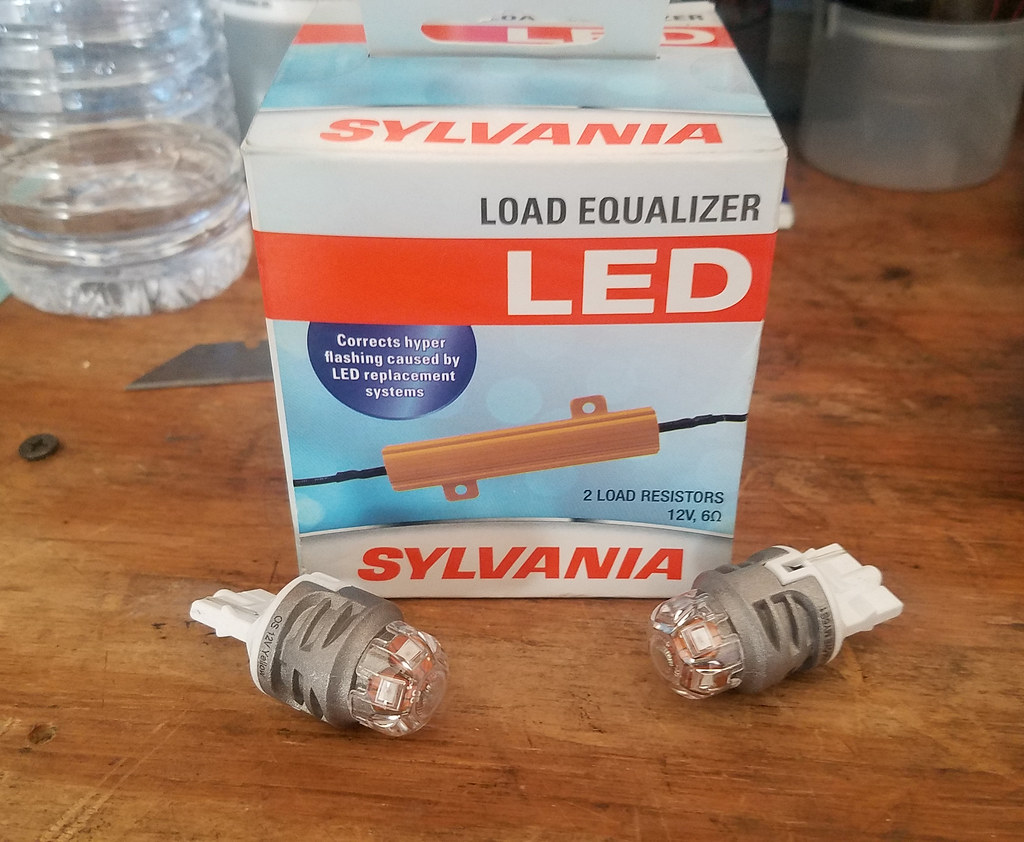 Then finally...I purchased the legit Redline Tuning Quick Hoodlift dampeners to replace the generic one that messed up my hood alignment....The Redline Tuning kit 100% better...Only thing is the hood doesnt lift up very high...I already bonked my head on the hood...Haha
2019:
Another new year & more mods!...1st new mod got a new Fender Cosmetic Kit that has Copper-ish color washers w/ Zinc Color Hardware...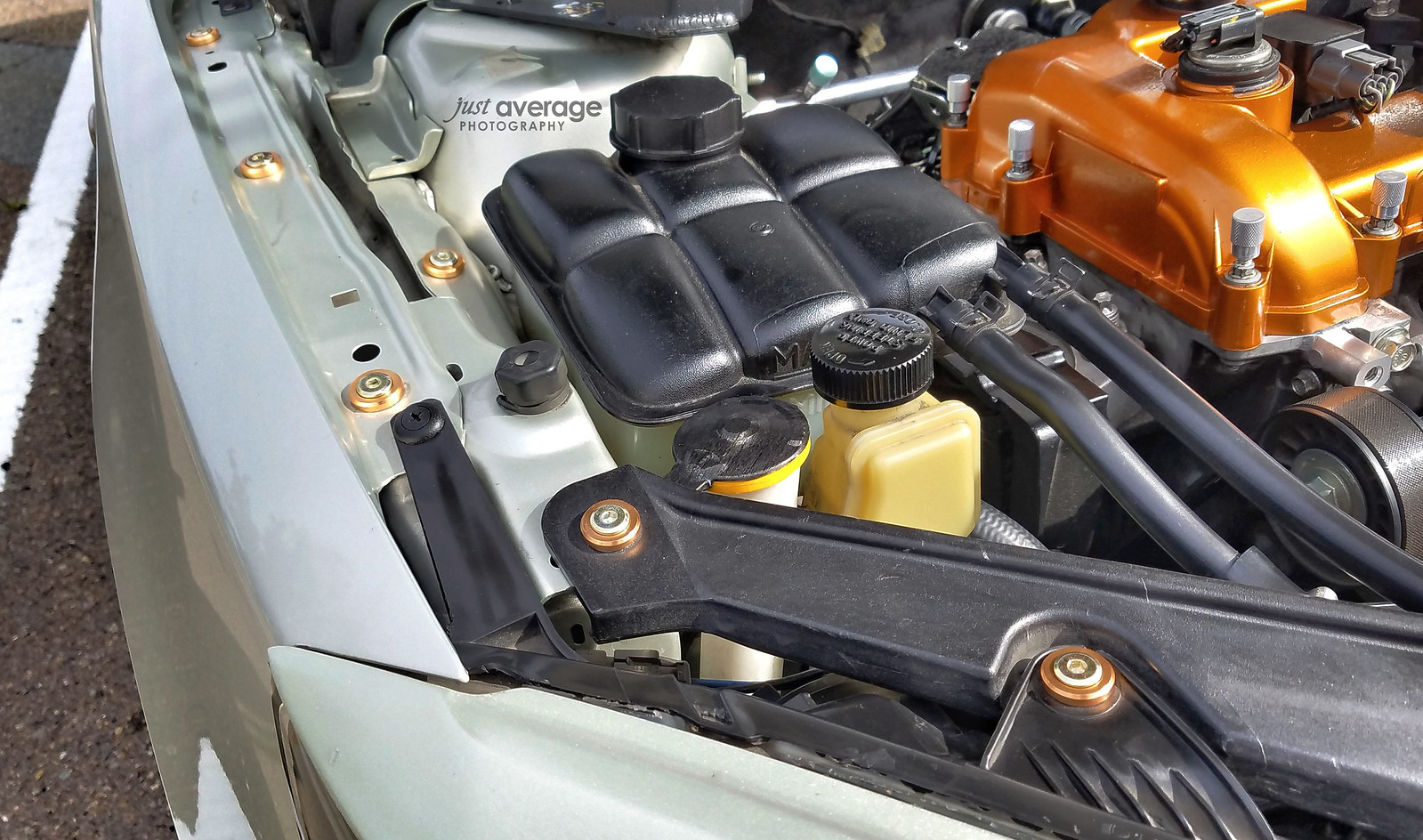 Been a while!...But did a few Under the Hood things I have replaced numerous amount of nuts or bolts with Zinc Plated or just fancier hardware!

Also updated my Vinyl Graphics of the sides & Eyelid design...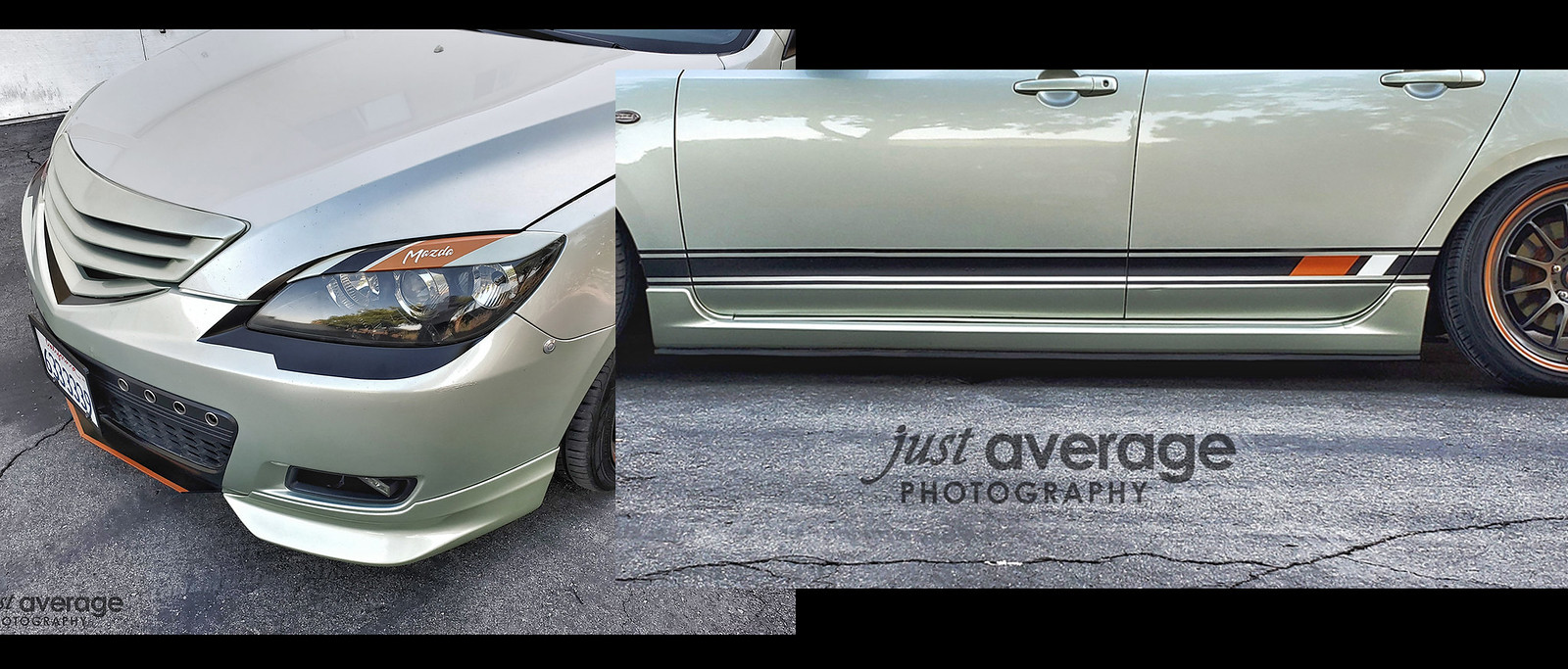 Newly added & installed Billet Aluminum CoilPack Rotator Plate made by

LateNight Racing

!..This simple piece of metal made the VC area look cleaner and just more Sexier!!
Last edited: