Work In Progress..
Moderator
Contributor
:

Canada
:

'18 CX-9 Signature
Want to show a video of your vehicle? Interested in providing a review/unboxing video of a new accessory or modification for your Mazda? Catch some good footage on your dashcam? Uploading your video to a hosting website like YouTube or Vimeo can help you do just that. This guide will walk you through the basic process of taking a video from your mobile device/dashcam/computer, uploading it to YouTube, and then embedding the uploaded video into your forum post. For the purposes of this guide, I will be using some screenshots from YouTube.
Uploading from a computer/mobile phone:
1. Go to the hosting/streaming website you'd like to use (in this case, we will be using YouTube.com).
If you do not have a registered account for the website you want to use to host your video, you will have to create one. Account creation is a requirement for YouTube, Vimeo and most other file hosting websites. YouTube does offer a subscription service, but this is separate from signing up for a basic account, which is free. Once you have created your account, you will be able to login to the hosting site.
2. Log in to your account, then click on the Upload or Create button.

3. You can now drag and drop your video from its location on your hard drive. If you have the window with the file open, this is the easiest way. Otherwise, you can click on the "Select Files" button and navigate to the file you want to upload. For mobile users, the process is generally quite similar. Tapping on the "Select Files" button will open a prompt on your phone, and you just have to navigate to where your videos are stored.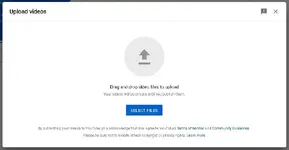 4. The next screen allows you to edit some important details, such as video title, video description, choose your video's thumbnail, set age restrictions, apply tags, etc. When you're done, click on the Next button in the bottom right corner to continue.
Note: To make your video easy to find, include as much information as possible in your description, and ensure that your title includes the subject of the video and provides context for viewers. You can use tags to help your video become more visible. For example, if my video is about detailing my Mazda MX-6, I might give it a title that says "Detailing my 1995 Mazda MX-6 at home", my tags would include terms like DIY, detailing, cleaning, polishing, waxing, mazda, mx-6, cars, etc., and my description would be a summary of the video.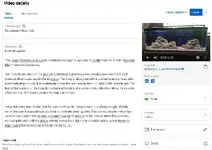 5. The Video Elements screen offers some more advanced options for driving viewers to other videos. We'll skip this for now. Click on Next.
6. The Visibility page will determine who will be able to see your video. Choosing "Public" will make your video easier to find, but there are other options in case you don't want it to be viewed by everyone.
7. When the video is done processing (progress bar is at the bottom of the window), click on the Publish button in the bottom right corner. Your video will now begin uploading to the hosting site. Depending on the size of the video, this can take a few minutes or a few hours.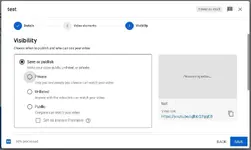 8. That's it! Now that your video is on YouTube, you can copy the browser link and share it wherever you want. Embedding into a post is very easy. Just copy the URL from YouTube and paste it into your reply. Tags are not required.
Note: If your video is on your dashcam, refer to your dashcam's instruction manual to transfer the video from the camera to your computer or cellphone. Then, go back to step 1 and start from there.
Uploading directly to Mazdas247
:
Our forum does support direct upload of video footage, but file size limit is small (8 mb) due to limited file storage capacity. This essentially means that videos shot in 1080p format on most cellphones can be uploaded or attached directly to the post, as long as they are not longer than 20 to 30 seconds (may be more or less, depending on the file size). Administrators have enabled this out of convenience, as this makes it easy to upload a short video if you just need to troubleshoot a weird noise or diagnose drivetrain problems. This is also dependent on the cellphone being used to some degree, so if you are not able to directly upload the video to the forum, please use the instructions at the beginning of this post (Uploading from a computer/mobile phone) to upload your video to YouTube or Vimeo.
1. In the tool bar above the Reply text box, click on the Insert Video button, then click on the "Drop Video" area.
2. Navigate to the file you want to upload. For mobile users, the process is generally quite similar. Tapping on the "Drop Video" area will open a prompt on your phone, and you just have to navigate to where your videos are stored.
3. After selecting the video, the file will upload as an attachment to your post. If the upload fails or you get an error, it is likely too large for the direct upload feature. Upload the video to a site like YouTube instead.
Hope this helps!!