Ballistic Reentry Vehicle
So, I bought this brandy-new 2020 CX-5 GT last month; absolutely love it. So many wonderful things to amuse and delight myself with, that it actually took me a couple weeks playing around with car play before I realized I had an issue: where the heck am I supposed to keep my phone?
1) Inside the center console — nope. Too big for the shelf, not enough room for the cable, dropping it down below the shelf makes it a pain to get out (and risk scratching up your phone by whatever other stuff you have in there). Plus, the whole opening and closing the bin all the time sucks.
2) The little cubby under the HVAC controls —nope. Again; not big enough, plus hard to access around the gear selector and I'd rather keep some napkins or paper towels there. Cable routing isn't great, and the phone will go flying anytime you drive zoom zoom.
3) That neat custom mount that clips over and between the HVAC vents in the center of the dash console ... or any other 'clip to air vent' solution; or using a cd tray mount squeezed into the molding gap over the air vents options — nope. First, they block the vents, and often the HVAC controls, and sometimes even the infotainment display. second, blowing hot air (think winter) on the back of a very powerful, incredibly compact passively cooled computer is a bad idea. Third, that part of the dash is really too far away to read, reach and interact with from a safe and comfortable driving position should you need to. Fourth, you gotta figure out how to run the data/power cable.
4) Drop it upside down into one of the cup holders. Well, okay, I guess. But a pain for all sorts of (obvious) reasons. Such as, you can't use the cup holder for anything else, and you can't interact with your phone. But at least the cable run is short.
4) I always used to keep my phone near the top of my windshield to the left of my mirror where it was easy to read, reach, interact with, activate Face ID without removing it from the mount, and kept my eyes up close to the road so my peripheral vision could still keep track of things. But that meant a cable dangling down from the mirror (it was hooked over the mirror, of course), and down to the front center of the dash where it was plugged in below the stereo and HVAC — nope.
That won't work with the CX-5, because the cable's got to go all the way back the center console between the backs of the two front seats. Waaaay to sloppy a solution for a nice new car.
5) Since, with CarPlay and built in navigation, phone, and texting, I don't NEED my actual phone as much, I figured I could skip running the cable up there, do fine with Bluetooth, and only plug in it I was low on power really /needed/ CarPlay for some reason. When I did have to plug in ... into the cup holder.
6) Suction cup; clamp mount elsewhere ... the dash (Hell-no!!); sides front seat rails (I guess that works if your passenger is okay with it).
7!) Oh, wait. Why not alongside the shifter? Too narrow for all those suction cup things. Wouldn't want to glue/super tape to the piano black, either, that would make a mess talking off later.
Gotta be something that would work there, though. Can't get in the way of shifting. Or the cup holders. Or block any controls. There seems to be room on the passenger side? Well, as long as they don't knock it off. But no, dang. Once you shift out of park, you can't see the full phone anymore. Driver's side, then? Easier to see and reach ... but there's all that stuff there.
Started shipping around for low-profile magnet mounts with small-diameter suction cups that somehow still worked. There aren't really any of those. Found this thing (MagicMount Universal Magnetic Mount Holder for Mobile Devices
https://www.amazon.com/dp/ (commissions earned)
) that seemed promising — and just $12; so ordered it. Then I found one in the store. THEN I found this one (below). $4.88.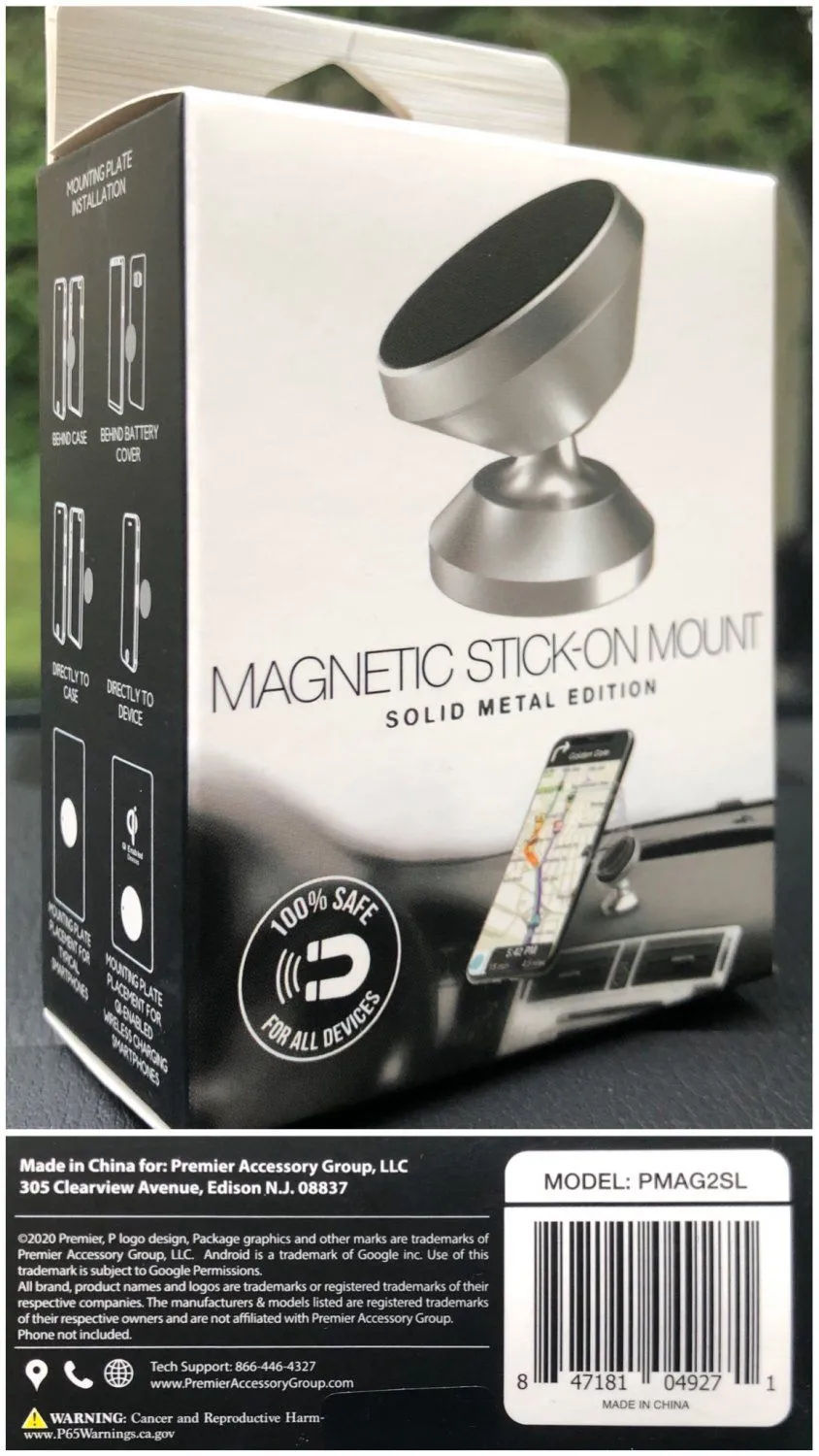 Bought them both; probably they both have crappy magnets, but surely the one under $5 does, anyway.
Surprisingly enough, they are both equally crappy. BUT — just strong enough to hold my phone's weight with acceptable levels of jostling — so, unfortunately, this solution probably won't work with jumbo phones.
The other magnet mounts I have are from Spigen (
https://www.amazon.com/dp/ (commissions earned)
), those things hold my full size iPad with ease. That one goes for $20 — but for this instance you'll need to get a much more compact ball mount to stick the magnet on ... one the can be mounted securely but simultaneously doesn't use a normal size suction cup. I was planning on rigging up some combination of the two linked above when I figured out the < $5 one was all I needed. 👍🏼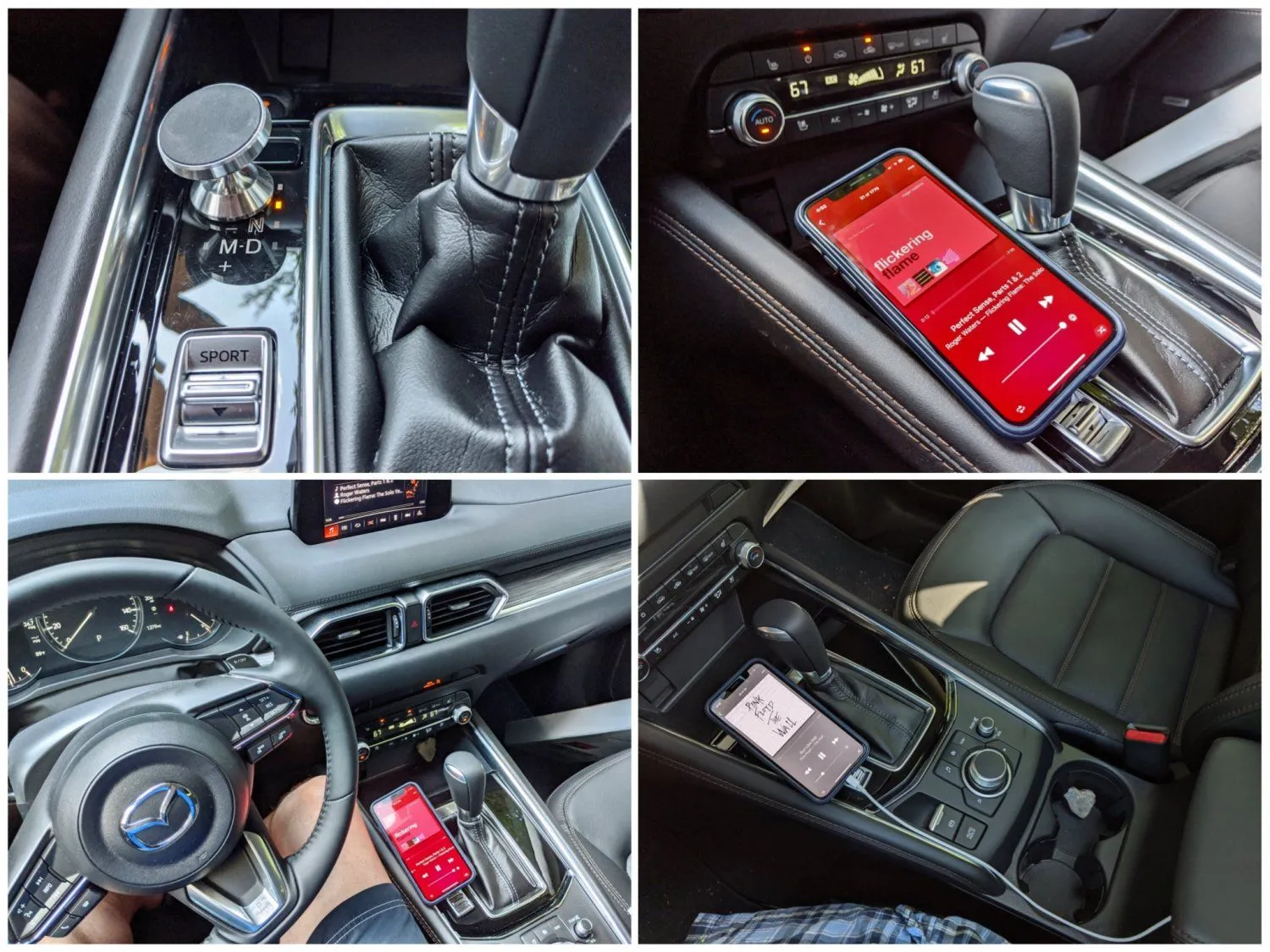 Bonus; after my covercraft shade arrived, I had to relocate my windshield mount and EZpass. Saw people asking about that, so here also is a working arrangement for those which works great. Photo shows portrait mode blocking the view of the infotainment display, but in reality, it doesn't. It DOES block a touch of the rear view, but only the part that shows the driver's side passenger headrest and maybe half my face ... so, not anything you need to see.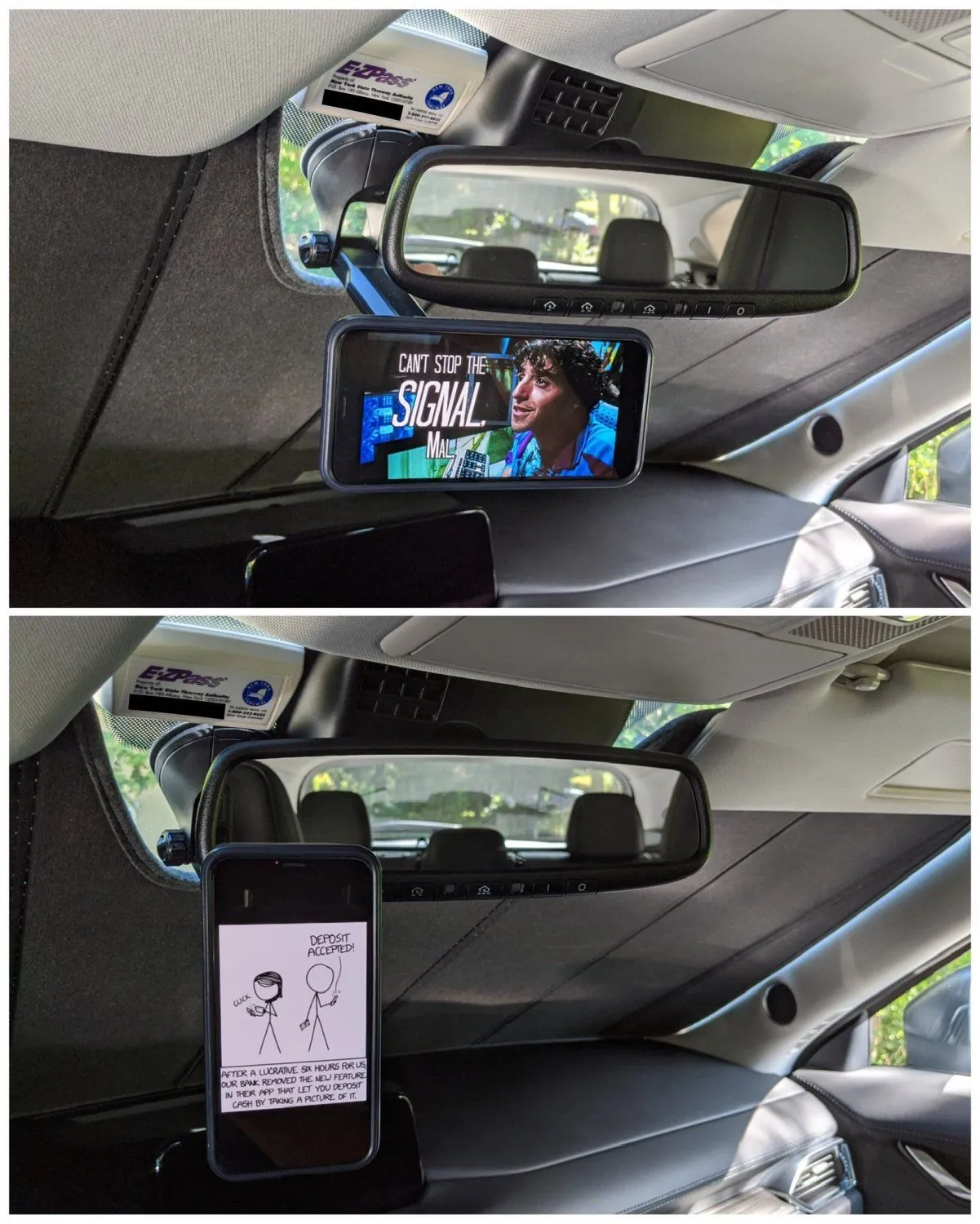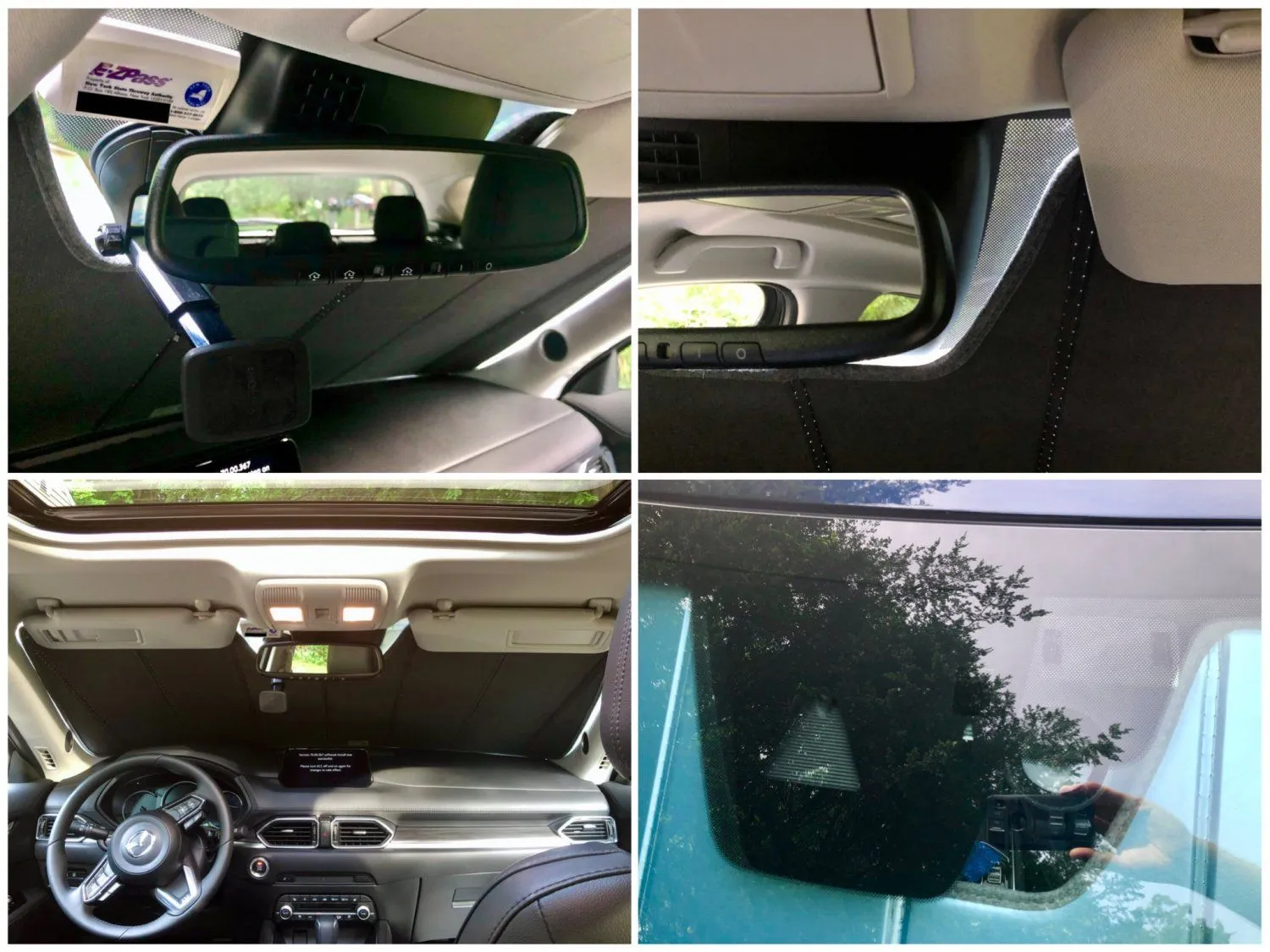 Last edited: