Purpose of these Guidelines
The Mazdas247 Community is a unique venue where Mazda enthusiasts worldwide come together to share their love of the brand and their knowledge with each other.
While this venue provides an opportunity for Members to connect with each other on a personal level, it is also a resource where Members share their expertise and experience. This ranges from guidance and advice on mechanical issues to Member experiences with off-the-shelf add-ons and accessories.
In order to maximize the benefit and functionality of Mazdas247 while maintaining social interaction, it is helpful to follow some general posting guidelines so that everyone's threads are as readable as possible and are easily searchable by everyone who comes here looking for advice and information. The Guidelines are also intended to minimize the number of threads on any given topic so that the expertise and advice we all come here for is not fragmented all over the forums.
These are
guidelines
to keep in mind as you participate.
They are
not
rules or requirements or anything else that is formally monitored or enforced.
Please read
these
Rules and Guidelines before utilizing our Marketplace.
Please note that
these
general Rules, Terms and Guidelines are enforced.
Search First
In order to reduce the number of duplicate threads on a given topic and to find an immediate answer to your question, Search First to see if that topic already exists before creating a new thread.
To Search for a topic, click on the word "Search" on the upper right-hand side of the screen.
This is the Search screen when you are at the top level of the forum:

At this first level, you are Searching all forums, without the ability to specify a Specific Forum or Sub-Forum. The process is similar to searching the internet. Enter the words and terms that are required to yield relevant results, then click on "Search."
"Advanced search" allows you to focus your Search on specific Forums/Sub-Forums, and is the tool you will most often use when searching for a specific topic for your specific vehicle.

Use "Search threads"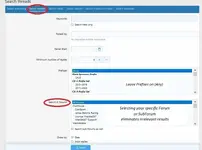 Enter your Search criteria. You do not have to use all fields. You quite likely may find the answer to your question this way, or you may find an existing thread related to it that you can participate in.
If you did not find the topic you were looking for, you might wish to create a new thread to ask your question or to provide information that others may find to be of interest.
Creating a New Thread
Creating the Title:
Select the most appropriate Forum or Sub-Forum

Not all Forums contain the same Sub-Forums

Use a Title Thread Prefix, if appropriate
Make the Title succinct and specific

"Please help," "Weird noise," "Can't figure it out" are not specific or clear

Double-check spelling
Creating the Body:
Be as descriptive and as detailed as the topic requires

Set up your general Location and Vehicle's Year/Model/Trim in your Account Details

They will appear under your Avatar with every post to provide context

For readability, avoid "Walls of text":

Use commas and periods
Use upper and lower case
Use paragraphs and spacing

Use the Toolbar Icons to:

Insert Images (from the web or from your hard drive)
Insert Video (from your hard drive)
Insert […] Media (from web)
Insert […] Quote (inset text within your post)

Always proofread for spelling, readability, etc. before hitting "Post Thread"

Enable your browser's Spell Check function

Use the Edit feature as required to later refine your post
Replying to a Post

Use the "Like" feature as your response--when appropriate--to not detract from informational posts.
Creating the Body:
Use the Quote/Reply feature to provide a context for your response when required
Use @ replies as a salutation when that suffices instead of a full Quote, or for clarification
Stay on topic
When responding to a request for assistance, be as helpful as possible
Use the Edit feature as required to later refine your post
Use the "Report" link in the lower left-hand corner of a post if it's spam or looks like spam

Thank you for reading these Guidelines, enjoy Mazdas247!
For further assistance, please visit the MAZDAS247 Support Forum

Many Thanks to @Avoidin Deer for creating these Guidelines and @sm1ke for the valuable input.
​
Last edited: