:

2008 Mazda 5 & 1990 Mazda Miata
Greetings all,
I'm back again for another fix on Zuzu, my 2008 Mazda 5 with 178k miles. This time it was my leaking oil cooler. Let me start off with the
BIGGEST WARNING EVER:
There is a
YouTube Instructional
about a man fixing his leaking oil cooler with make-your-own gasket material. For the love of all that is holy on this amazing planet,
DO NOT DO THIS
. I cannot stress this enough, and you will see why. The only thing I can recommend from his tutorial is the identification of the leak and disassembly to the oil cooler, nothing more.
I purchased my replacement oil cooler off of Ebay. I took a gamble here because as something as important as the oil cooler, I would really only trust with OEM. Instead of posting a link that inevitably expires, here is a screenshot of what I purchased:
Ebay Listing
by
Monk Ratava
, on Flickr
The symptoms were leaking massive Oil, about a 1-2 quarts every gas fill-up. The leak would drip onto the oil filter housing and the lower coolant line attached to it.
Disassembly was straight forward. In order:
1. Drain both the coolant and oil
2. remove the lower Oil filter cap - 75.6mm Filter Wrench
3. remove the two coolant lines - Clamp style
4. disconnect the oil sending unit/remove the oil sending plug (green plug) - 15mm open end wrench
5. Loosen Oil Cooler Bolt - 15mm (May require impact wrench)
6. remove the 4 Oil Filter Housing Mounting bolts. - 10mm
6a. If you have the older "black" style oil cooler, one of the 4 bolts will require an open wrench due to clearance. New "silver" style is smaller.
Now comes in that YouTube tutorial I mentioned earlier; Not only does it not fix the oil leak as many people have commented, but it also sets the next owner up for failure when truly fixing the leak. I don't know how much it leaked when the previous owner had my 5, but I can confidently say that their "fix" leaked a whole lot under my ownership. Your jaw will now drop as much as mine did: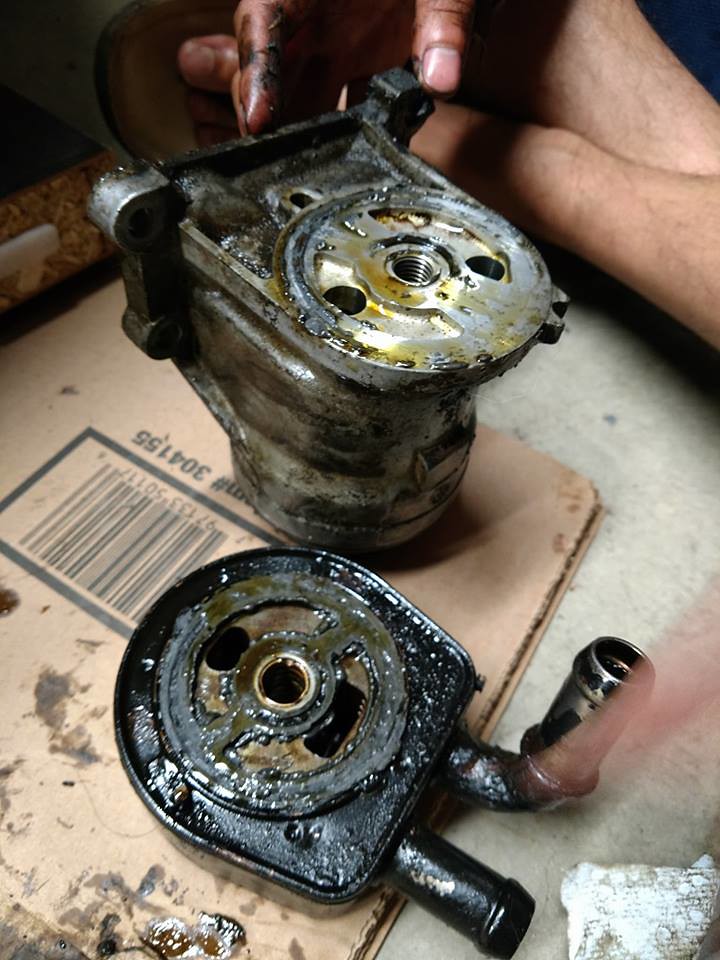 Shitty Seal
by
Monk Ratava
, on Flickr
Botched Seal
by
Monk Ratava
, on Flickr
Wow. Awful. Not only did this not fix the leak, but it took me 2 hours to carefully scrape off and not have a silicone shrapnel land in the oil filter housing. Judging by the photos too, I would wager the gasket material probably shot into the oil (I cringe thinking this happened to me). Another downside to this make-your-own-botched seal is the mating surface to the oil cooler is slightly corroded. I highly recommend getting a new Oil Filter if your previous owner attempted to fix this way. After 2 hours of scrubbing with PB Blaster and a hotel key card, I finally got the surface to look like this: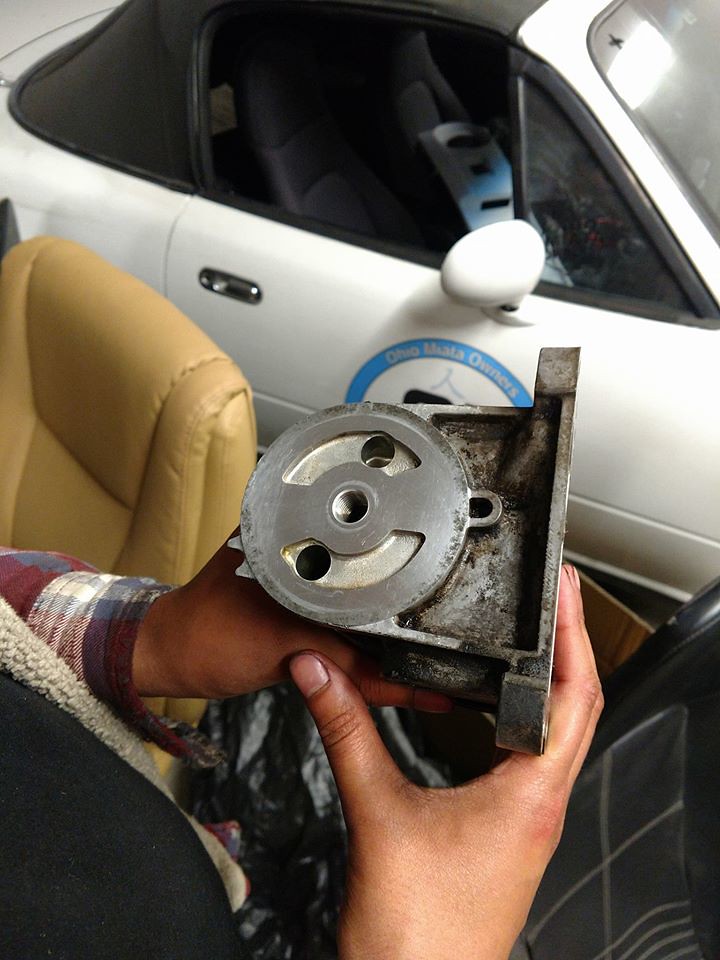 Cleaned Oil Cooler Surface
by
Monk Ratava
, on Flickr
Much better! Reinstallation was pretty straightforward. For the Engine Block Gasket, I made sure to use the reticle side and the opposite corner to line it up to the block as straight as I could:
Block Seal
by
Monk Ratava
, on Flickr
Be sure to torque down correctly and reconnect that oil sender plug:
Oil Cooler Top Bolt: 24-26ft/lbs
Oil Filter Housing bolts (4): 24ft/lbs
Oil Filter bottom cap: 7ft/lbs.
Reassembled
by
Monk Ratava
, on Flickr
And that's it! Fired it up and absolutely no leaks! Be sure to top up all fluids when you are complete and properly bleed your coolant system to avoid any overheating! Let me know if there's anything I should tweak in this post. I hope you learned a lot from it too! Do leave a post if you have any questions.
Cheers,
Nate
Last edited: