:

Oregon, USA
:

22v Protege5
Look at MSP springs, they do like .75 drop IIRC, and then there are Tein H-tech springs that lower 1.3 front and .9 in rear. Those might be something for you to chk out. There was a great thread from back in the day that had all the brands with spring rates and lowering amounts but that chart is gone from the thread. I just read thru 20 pgs of info to find out what I needed..........Espelir are 179/157 and 1.5 all around. Tein S-tech were 190/170 and front dropped 1.9 and rear 1.4

Thread................

-Updated August 8th 2006- This thread was created as a guide for the 3rd Generation Proteg Community. Enjoy and feel free to PM or eMail me with questions/comments/suggestions/complaints. *The Mazdaspeed Protg springs are manufactured by Racing Beat. The Mazdaspeed Protg spring rates are...

www.mazdas247.com
This is helpful, thanks.
What are you thoughts on sourcing MSP springs? I'm not sure how much these springs will have degrade over time and i'm no stranger to the junkyard but have never seen a MSP which isn't completely stripped. Can they be purchased new OEM at a reasonable price? I'm on a budget.
More likely option for me would be the Tein springs. I found Tein H-Tech's for the Protege5 on
Tein's website
for $325, but I also searched the part number on eBay and found
these
for $213 which appear to be the same ones. Thoughts?
Also, is this the chart you were talking about? Had it on my computer from reading that whole thread a while back.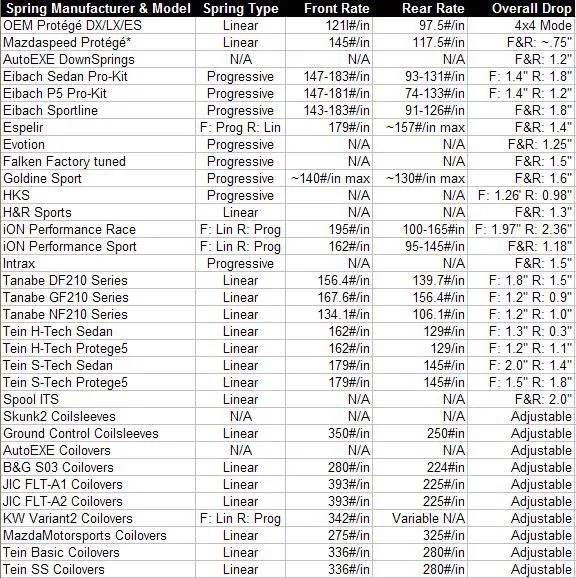 Thanks,
Benji
Last edited: