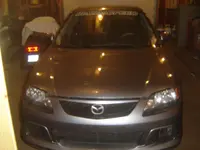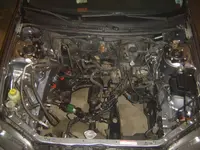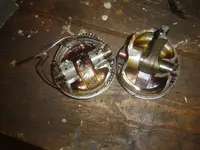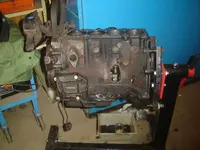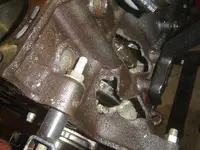 so i've seen many people saying about putting build threads so i thoght i would throw some out there to. im new to the msp club, previously owned a 01 protege lx first car, smashed it
, bought a 99 protege, went through a few transmissons, still running strong with 316xxxkms! my daily now and well be my winter car for when the msp is back,
my 03.5 msp was bought in nova scotia, for some random reason i've searched up in down for my production number even searched the vin and i cant find nothing, im almost postive its a true msp becasue i have the papers from when it was new and it says mazda protege speed on it,
but besides this, i bought it with 160,000 kms onto it, great shape bit of rust on hood, came with injen intake, and steedspeed manifold and upgraded motor mounts not sure what kind, i drove it for a week, and it blew some massive holes through the block, but that did not get me down, the amount of time i drove it i drove it alot lol, everynight all night, i love this car, and im building it an driving it untill i cannot anymore
i have pictures for you guys, i popped 2 pistions out of it through the holes in the block with a piece of bent iron
my plans for the car are listed as
PERFORMANCE
-k1 rods
-wiseco pistions
-act street clutch kit
- fidanza flywheel
-FMIC
-hks BOV
-3in custom exhaust
-head port and polish and 3 angle valve job
-welded lsd
-ARP head and main studs
-all new bearings, not sure what kind?
-cometic head gasket
-new wastegate.
-corksport DP, not sure how good these are, input on these would be nice. do they go to j pipe or past it?
others cant think of lol i know there is more, also have more pics.
everything else on car is stock for now, probably well, lower it, i also have a triple pod pillar on the way, boost gauge in my closet, getting a wideband and oil pressure gauge, if anyone has suggestions on what i should do, than please post,
Last edited: