FS: Corksport 60.5mm Catback, 2014+ Hatch, local DC/MD/VA only
'Read the rules - correct me if I missed anything. Pic upload is being dumb so see photos here:
https://imgur.com/a/BD9kxdd
Selling a full 304 stainless steel Corksport catback exhaust and race pipe for 2.5l Mazda 3 hatch (not sedan). 60.5mm piping, all mandrel bent, Tig welded, beautiful.
Has less than 2000mi on it. Sold the mazda3.
This setup sounds amazing - low rumble at takeoff and growl up until 2krpm or so. Resonator drops the tone down to barely noticeable above 3krpm, so no drone.
No shipping and not interested in separating muffler/midpipe. Located in Ashburn, VA - will easily fit into car (midpipe will separate into two sections). I'm willing to drive a reasonable amount to meet you part way. Reasonable.
PRICE DROP: $600
Paid over $825 to have this shipped from Corksport (West coast). Link to product below along with video.
Contact for more info.
https://corksport.com/2014-mazda-3-cat-back-exhaust-sedan-hatchback.html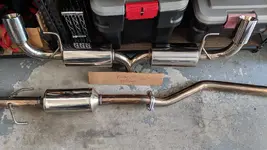 Last edited: