Hey everyone,
I got 72k miles on my Cx-9 sport. I'm the original owner. I never had the transmission fluid drained and filled. Nor have I ever had the transfer case fluid done. For the most part, I haven't really noted any issues at all. Again, I was just following the maintenance schedule and so I never really thought about changing out the fluids. Otherwise, I have just done oil changes every 5K miles with 5W-20 synthetic.
Anyway, the transmission drain and fill was fairly easy. The 2008 uses a 10mm hex bolt. I removed that and drained a little over 3 quarts out. I used a transmission fluid funnel down the dipstick tube and filled it with Mobil ATF 3309. I basically did the technique shown on this video
https://www.youtube.com/watch?v=n0qDo_yJ-74
. I filled a quart of fluid and then poured the old fluid into that used container. I got through about 3 quarts and then I filled the remainder into an old water bottle and estimated the volume to put in. Although this model has a dipstick for the transmission fluid, I had a hard time reading it. I think the dipstick tube got wet with the transmission fluid and it was hard to actually get a good reading. Anyway, here's to hoping that what I did was appropriate. I think I'm going to repeat the cycle in a few hundred miles.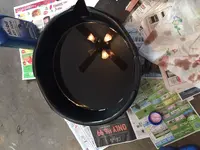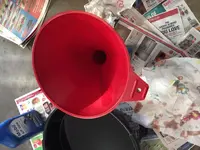 View attachment 215138
View attachment 215139
View attachment 215140
On to the transfer case fluid. This wasn't too bad, but the access is kind of annoying. I appreciate Avidien's write up. I bought the low profile ratchet, the fluid extractor and the hand pump. Getting the nut off wasn't too bad. Those three tools are really vital to doing this job and being patient. It was kind of a pain directing the tubing into the transfer case to extract and to add the oil. I sucked out what I could initially and then added oil until it started to drain out. I then sucked it out again and refilled. Getting the nut back on made me appreciate having that low profile ratchet. I had a ton of sludge on the nut when it was removed.
View attachment 215136
View attachment 215137
We shall see how it goes. I will probably repeat both in a few hundred miles.