Figured this would be an ok place to talk about building out the new-to-me race trailer.
With the kids getting to about the right age for it, we've added a Kart to the fleet, and very quickly realized we'd be able to take either the race car, or the kart, but not both. A buddy of mine had just got a new trailer, and his came up for sale.
The AC and canopy made it an easy sell to the wife, which'll mean we'll be able to camp out in it too. It's big enough to haul the entire fleet, as it were, small enough to still fit in my driveway, and not TOO much weight for the Armada to pull.
The trailer is, essentially, a great blank canvas at this point. A plain 20' box with an 11,000 BTU AC on the roof.
We're upgrading from a 16' 'home built' from an RV frame open trailer:
And we've now replaced that with a 20' Haulmark Race Hauler trailer: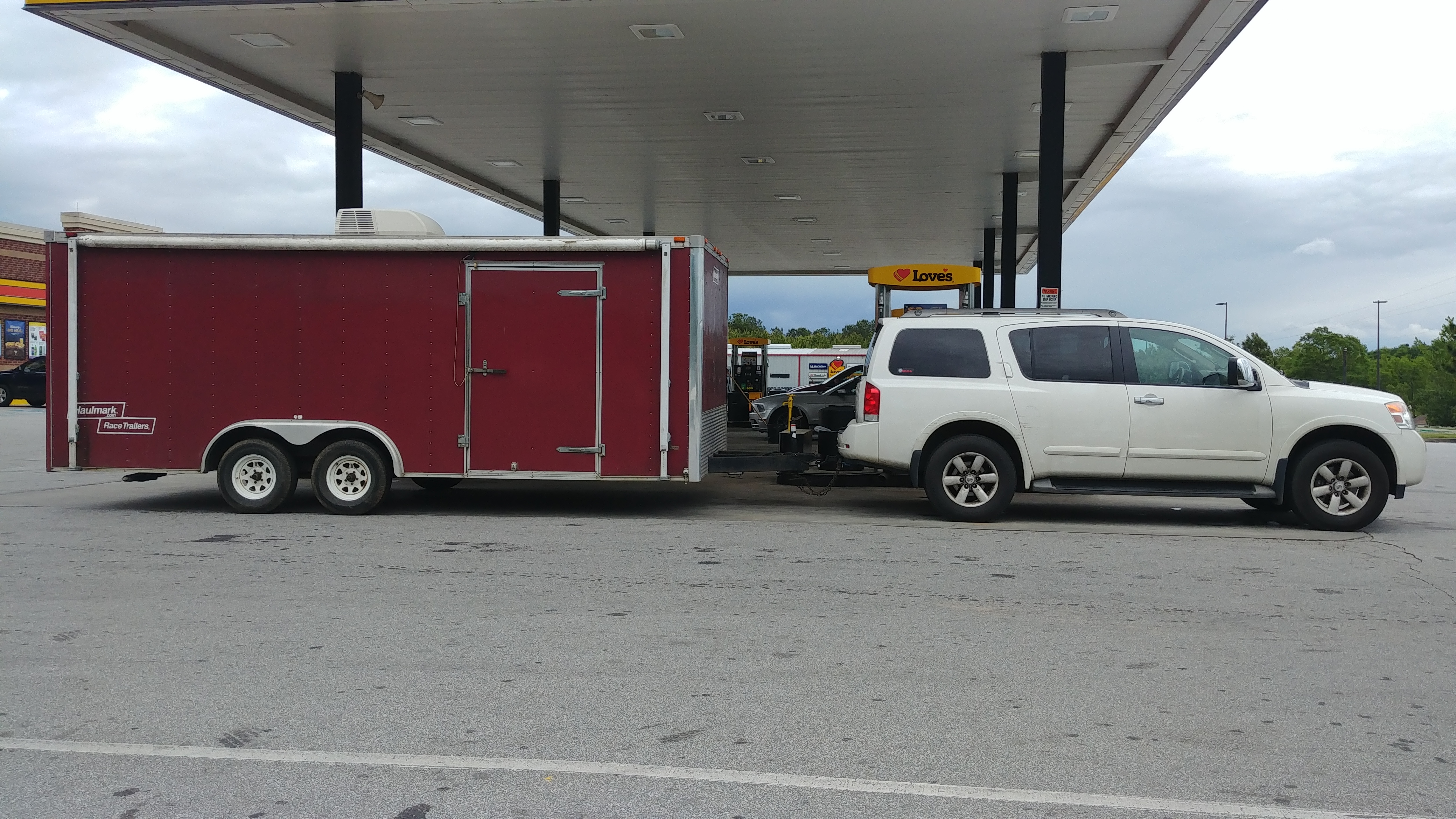 The interior has a few electrical outlets, and a couple of fluorescent fixtures.
Plans in approximate order
1. Electric tongue jack to replace the too-short jack who's handle broke immediately upon arriving home. I had to stack about 8" of lumber under the jack to get it off the ball on my hill (more on that later), and that just ain't gonna cut it. Since I need to replace the jack anyway, going electric is a no-brainer.
2. Paint the walls white. The plain wood is just dark and dreary. Just like with a garage or workshop, white walls help enhance any lighting that you do have.
3. WD hitch and shorter diff for the tow pig. It pulled it ok on the trip home from buying it, but it could use more gear. It'll need a WD hitch in order to pull this thing loaded.
4. E-Track, just, everywhere.
5. Electric winch, which will require welding a plate under the trailer floor to support it, and adding a tongue box to keep the battery.
6. Solar charger for the battery.
7. Tire rack / workbench.
8. LED lighting in the interior.