2016 Mazda CX-5 GT AWD w/Tech Pkg
Contributor
Since a member said he talked to his Mazda dealer and been told there's no tire pressure sensor with wheels for 2017 CX-5, I called my Mazda dealer from overseas trying to verify. Well, at least for US/NA market, there's tire pressure sensor with valve stem on each wheel for 2017 CX-5:
Part No.: BHA4-37-140 List $91.74 Each!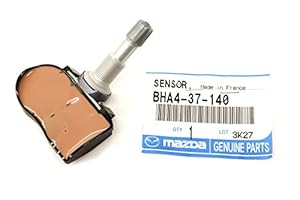 Now I'm really puzzled why Mazda made this change at least in US/NA market for 2nd-gen CX-5 as apparently in some areas the pressure sensors don't exist for their TPMS like the 1st-gen CX-5. There's no added benefit to have tire pressure sensors at current TPMS setup in 2nd-gen CX-5 without direct-read tire pressure display like Nissan Rogue other than expensive maintenance cost. Imagine how much more it'd cost for extra set of winter wheels with snow tire? And how much more it'd cost when we're getting a new set of tires?
Here's an example of direct-read tire pressure display TPMS utilizing tire pressure sensors on Nissan Rogue: