-Updated August 8th 2006-
This thread was created as a guide for the 3rd Generation Proteg Community. Enjoy and feel free to PM or eMail me with questions/comments/suggestions/complaints.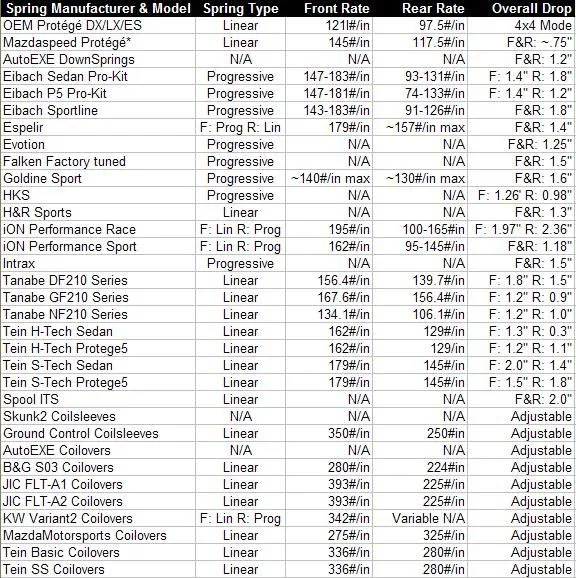 *The Mazdaspeed Protg springs are manufactured by Racing Beat. The Mazdaspeed Protg spring rates are slightly revised (stiffer) than the MP3's due to additional shock valving and a larger front sway bar(?).
Springs such as B&G, Goldline, Sprint, Progress Group, Tanabe, Evotion, Falken and Intrax, as well as coil-sleeves such as Skunk2 and Tom Motorsports should be considered "appearance springs" as the spring rates will not be performance oriented but allow for a fashionable drop height. Cornering performance will improve in most cases, but not nearly as much as the other springs offered.
What's the difference between linear and progressive springs?
-Linear
spring rates support a constant amount of force at all times regardless of how tightly compressed they become. ie. Tein S-Tech's provide 179 lbs/in of support up front during normal driving conditions and during hard cornering.
Linear springs tend to be more predictable during hard cornering, but can administer a jarring ride during normal conditions.
-Progressive
spring rates are able to support a varied force at different tensions as the coil compress. ie. During normal driving the Eibach Pro-Kit allows a softer 147 lbs/in up front to allow smoother dampening during normal driving, but when pushed to the limits (coils become compressed) they support a much stiffer applied force.
Progressive springs tend to be less predictable than linear springs in situations such as corner exit, but allow softer daily driving.
Due to the characteristic of different struts and suspension components, listed drop heights will not be exact per each application. MP3 & MSP owners will need to subtract ~0.75" from the listed drop height, for a more correct estimate.
What's the difference between coil-sleeves and coilovers?
-Coil-sleeves
act solely as springs that allow the bottom spring perch to be adjusted up and down. As the perch is adjusted, ride height is altered.
-Coilovers
consist of a spring and strut assembly. Both the springs and struts are adjustable to provide a lower ride height, without compromising the spring rate, and a custom dampening setting. Some entry level coilovers do not allow for shock dampening.
AutoEXE
manufactures both springs and coilovers for the BJ-chassis Protg, but require importing them from Japan and substantial information cannot be found regarding their spring rates.
SPOOL
brand springs provide a 2" F&R drop. Spring rates are lost in the great abyss.
H&R
spring rates are a general percentage which they claim as stiffer than the stock Protege springs. These are by no means official or correct rates. The percentage can be found on their website
Last edited by a moderator: