Tires: Pirelli P Zero All Season Plus
Category: Ultra-High-Performance All-Season Tires
Size: 225/45/18
Speed rating: Y
Cost: $162.50 each
Projected mileage as per Consumer Reports: 50,000 miles
Miles since new: 1000+
Rating summary: These tires are far better than any other tires (even ultra-high-performance Summer tires) I have had on any of my cars. While they were rated second (after Michelin Pilot Sport A/S 3+ = $183 each)) in this category by Consumer Reports, the Pirellis beat the Michelins in the hydroplaning resistance and noise categories. They tied the Michelins in the dry handling and were slightly under the dry braking rating, but still better than average.
I am amazed at how well they handle on both dry and wet roads, and the noise level reduction compared to the OEMs is significant. HIGHLY RECOMMENDED!
https://www.tirerack.com/tires/tire...8P0ASPXL&vehicleSearch=false&fromCompare1=yes
Suspension update:
Springs: Eibach Pro-Kit
https://www.tirerack.com/suspension...oor&autoYear=2014&autoModClar=s+Grand+Touring
Ride height reduction: 1.0" front, 1.3" rear
Shocks: Koni Sport Strut, front-adjustable
https://www.tirerack.com/suspension...oor&autoYear=2014&autoModClar=s+Grand+Touring
Number of miles on setup: >10,000 miles
Rating summary: The first thing I noticed when I had these components installed was the stiffer ride combined with less sway during sweeping and sharp cornering. If you are an aggressive driver at times (or all the time), you will really appreciate the handling, especially with the Pirelli tires. I recently rented a McLaren 570S Spyder which weighs about the same as my 3 and really, on the street, I never felt that the McLaren was significantly better in the handling department. I also drove a similar McLaren on the track (5 laps) in Las Vegas and of course, it came alive! (562 horsepower will do that!)
The McLaren's seats punished my lower back whereas the 3's seats have conformed to my back over time. When I first bought the 3, the seats were a bit uncomfortable. Now they feel like I can go on a long drive without discomfort.
Looks: The lowered stance of my 3 stands out compared to most other 3s on the road. The Enkei Racing wheels provide high contrast to the 3's deep blue color.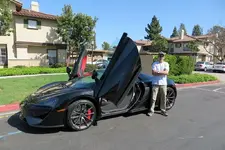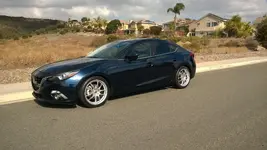 Please let me know if you have any questions.