If your A/C light is flickering (or doesn't even come on) on fan speeds 2 and/or 3 this is a simple solution that will hopefully fix it permanently. The
original solution
posted many years ago never really addressed the root cause of the problem. Almost 3 years later pasadena_commut came up with a
solution
which would definitely fix the problem, but I always thought it was much too complicated. The method I describe below is simple, cheap, and can be put together and installed in less than 30 minutes.
This is just a mirror of a how-to I posted
here
. If you'd like to know exactly why this problem occurs and how the solution works, click
here
.
Materials
The only thing you really need to do this are two resistors that are close to 470 Ohms (yellow-violet-brown) and 200 Ohms (red-black-brown). I'll list everything I used just for the sake of completeness.
Materials:
1x 470 Ohm resistor (1/4W or greater)
1x 200 Ohm resistor (1/4W or greater)
2x Small/Red crimp-type butt connectors
1x Small/Red solderless quick splice connector
3x 20cm length of hook-up wire
1x 10cm length of 1/4" heat-shrink tubing
Tools:
Soldering Iron
Wire cutters/strippers
Crimp tool
Small flat-head screwdriver
Radio removal tool (made from a coat hanger)
Instructions
These instructions are merely the process I used, feel free to get creative.
Prepare the resistors
Attach wires, solder, and trim
This is the colour code I used for my wires:
Black - Ground
White - Input
White/Blue - Output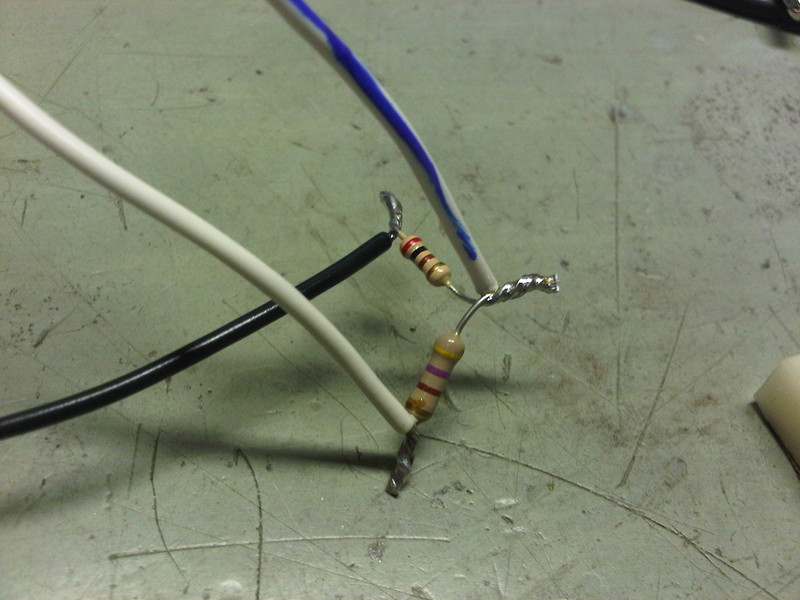 Add some heat-shrink to isolate everything
Tape works just as well...
I pre-crimped and labelled my connectors to make sure I don't mess up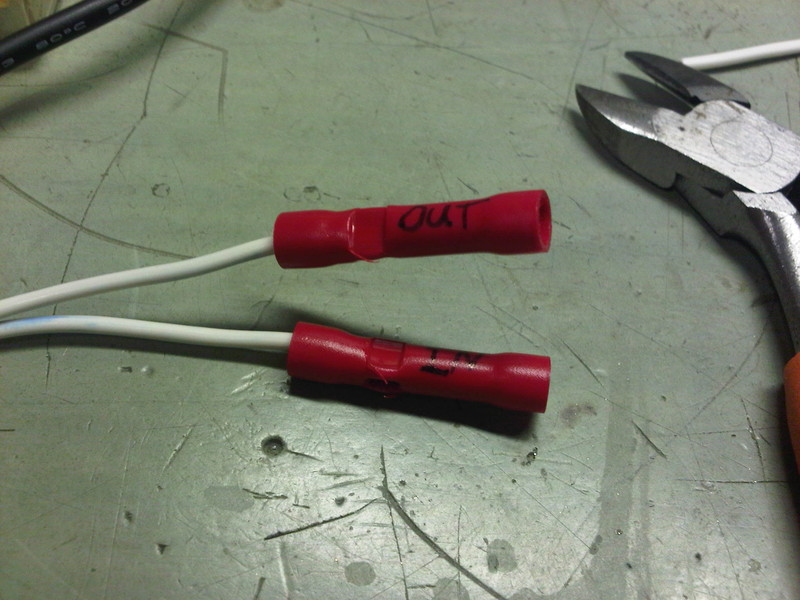 A quick primer on how to remove a stock Protege radio
Remove the plastic covers on either side of the radio.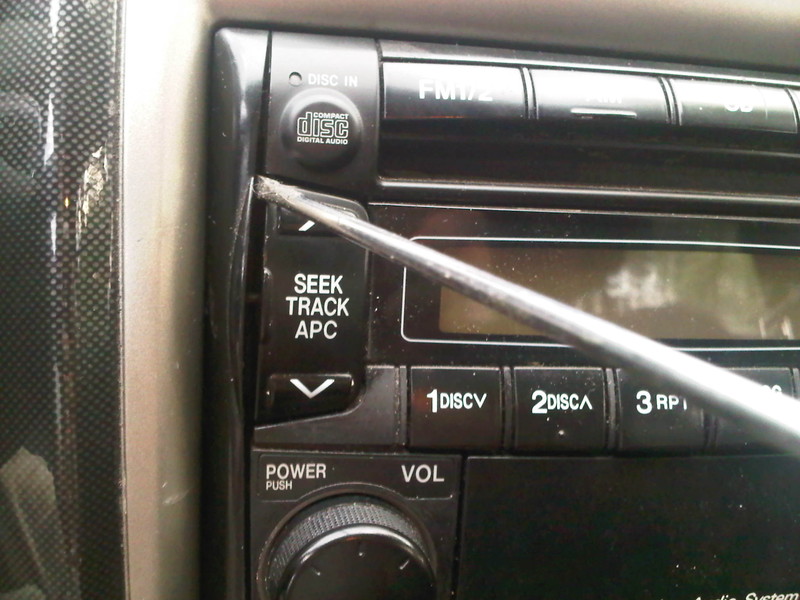 Insert two bent pieces of coat hanger wire into the holes as shown. You'll feel them lock in place when you get far enough (don't be afraid to force them in there). Push your tools towards the doors while pulling out and the radio should just slide out. You might not get it the first time, but when you do you'll be able to steal a stock radio in less than 15 seconds
Remember to remove the antenna and main radio harness connectors before proceeding.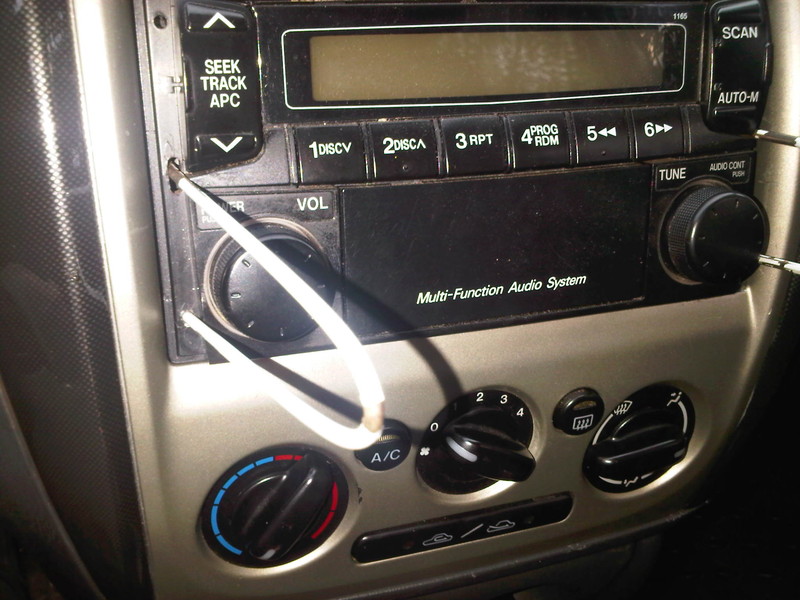 This is the wire you're going to cut (Blue/Yellow)
It's much easier if you remove the connector from the back of the climate control unit to give yourself more room to work.
Cut and strip the wire
Try to cut away from the connector ... just in case you make a mistake.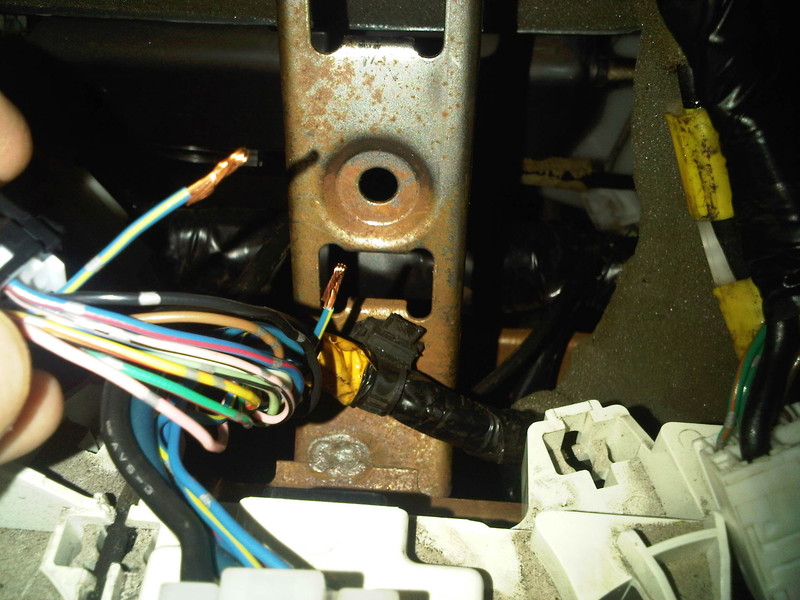 Connect the circuit you made previously
Connect the "output" to the wire that's still attached to the connector (the right butt connector).
Connect the "input" to the wire that's buried in the harness (the left butt connector).
Connect your ground
Not very surprisingly, the black wire in that harness is ground. Splice into it or use any other bare metal to make your ground connection. I used one of those fancy solderless quick splice connector's just because I had some handy.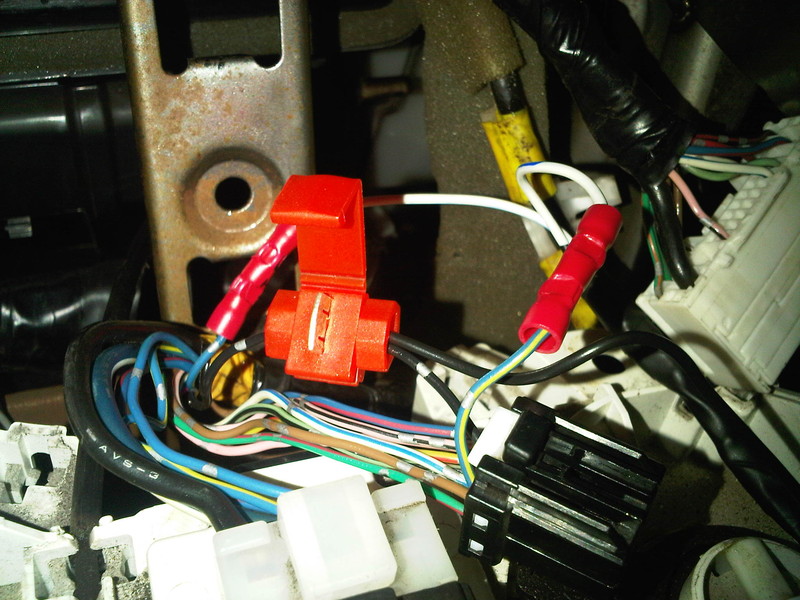 Enjoy some A/C at a proper fan speed
Seriously, 3 is the best speed.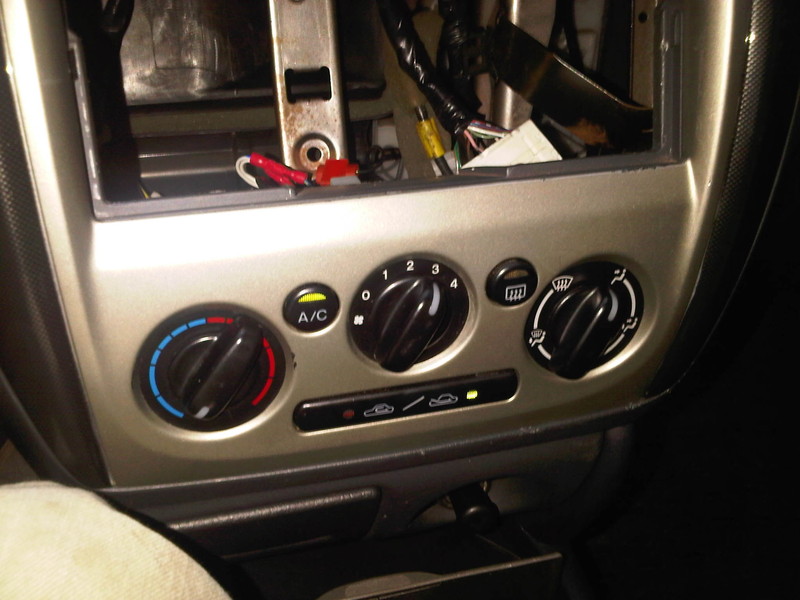 Last edited: