Whelp, this doesn't look right. Now I know where the phantom knocking sound was coming from!? It's been loose and knocking for a while but I didn't 'see' any issues with the strut mount and thought it was the FSB bushing. The rubber failed due to hard-knocking/damping from suspension impacts that ultimately fatigued the rubber and metal gasket to separate... I vividly recall a few HARD impacts over the years, a few instances where I swear the car was going to break apart
Ouch, a wasted Bilstein B4 (piston top is not suppose to be rounded). I wonder if it's worth getting the piston rebuilt (prob not due to S/H).
Shopped around and decided to try the Beck&Arnley kit (Rockauto), comes complete. Nice that the top hat has the L vs R dimple for alignment, which the really cheap generic ones don't have. Ultimately the quality of the rubber is what matters, which only time will tell. FWIW, B&A is not mfg but distributor. The bump stop and accordion boot feel nice, HOWEVER, the strut bearing is garbage. It grinds when you spin in, it is NOT smooth at all!
OE Top mount is done but the bearings is good, just dirty. BTW, OE bearings are stamped SKF, one of the best OEMs out there, which explains why OEM cost so much.
Brake cleaner and old toothbrush make quick work of the dirt around the housing, race, and cage. Put balls back in, regrease, close it up, and it spins freely and quietly, like it is gliding. Night and day diff compare to whoever mfg the B&A bearings. Opted to reuse OEM parts except for top hat.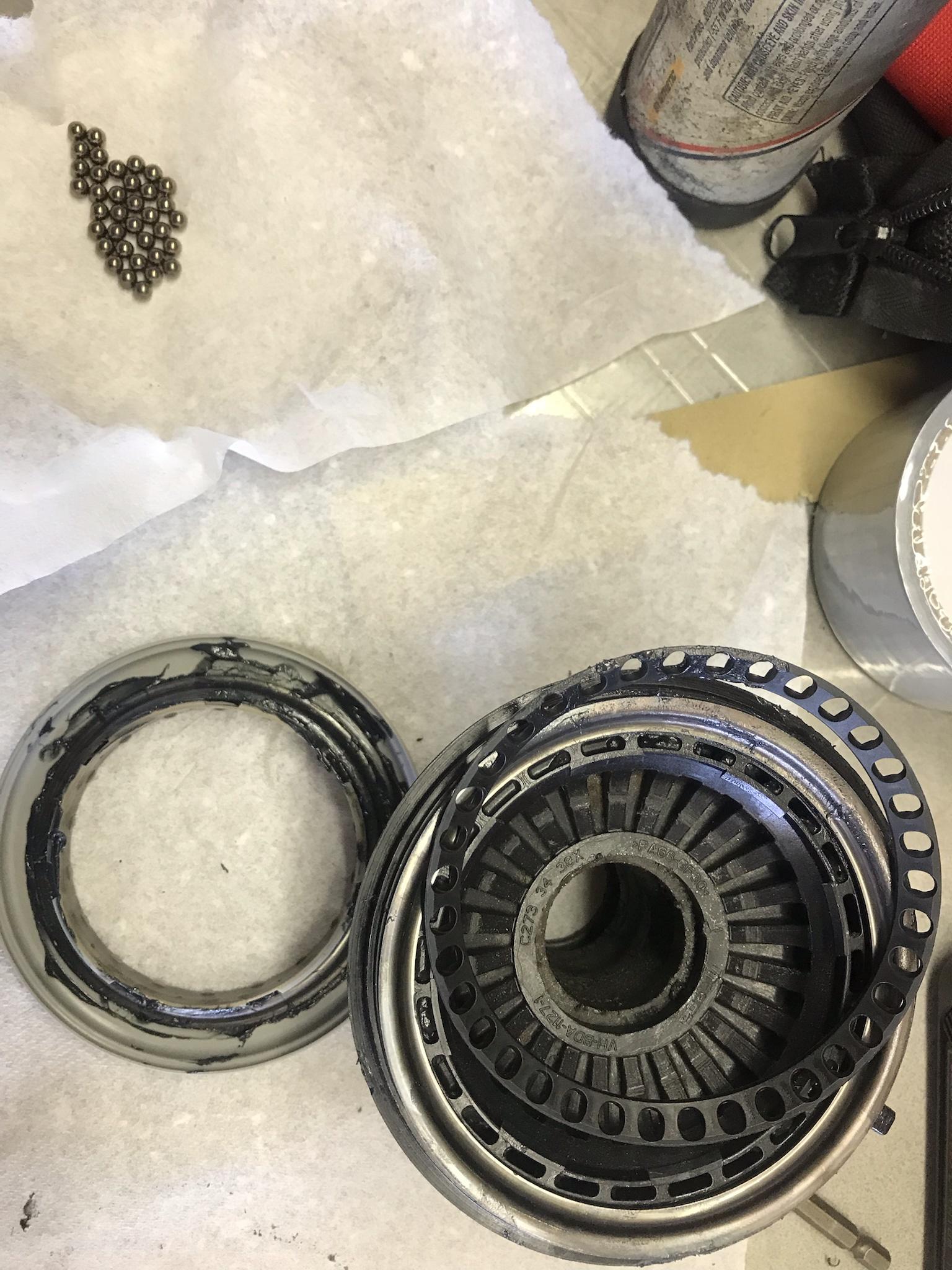 IMHO if you are replacing front struts, you really should consider:
1) replace the strut mount top hat if the car has over 100K or is just old due to age. Time ages rubber more so than mileage and the types of road conditions it has endured impacts too, YMMV. FWIW, 2008 with 143K.
2) rebuild or buy new the OE strut bearing. aftermarket bearings seem to be questionable.
made edits