Hey guys. I figured I would start a build log for my MS6 I said I wouldn't mod. haha.
Back story of how I bought the car; I bought this MS6 from a friend who owned it for about 6 months, who bought it from the original owner and was completely stock. My friend did some mods to it (has an MS3 as well) but needed something bigger for work so I bought it from him. I sold off my project P5 and now this is my DD. I've always really liked the MS6 but never thought I would be able to find one or afford one. But alas. I bought it with 139k miles for $8200 with the few mods my friend already did.
Motor was pulled with 153k miles on it and was running strong at 20psi of boost on original turbo. But was replaced with a OE 0 mile long block from Mazdaspeed.
Plans for this MS6 do
not
include a big turbo or more than 300hp. The car is plenty fast in it's current form for me. I plan on working on my driver mod in auto-x/track.
Dyno day 06/2014: 278awhp / 302 torque
Engine/trans
- Autotech HPFP
- CPe injector seals
- ATP 3" catless downpipe (DEI wrapped)
- CPe 3" catless dual exhaust
- Fidanza lightweight flywheel
- Luk OEM clutch
- JBR oil baffle and BSD kit
- JBR bypass tube
- JBR TB and IM thermal spacers
- JBR shifter weight
- JBR shifter bushings
- DM SS plate
- DM PS cooler
- DM Oil catch can
- HTP 3" intake w/ K&N filter
- NGK-6510 plugs
- Forge V1 bpv
- Kozmic EGR delete
- OE oil spin on conversion w/ Prosport sandwich plate
- NC Miata A/C bypass pulley/belt
- VTCS delete
- CX Racing FMIC w/ DEI reflective heat tape
- Cobb AP V2
- AWR motor mounts (all three)
- Turbine Tech rear diff bushings
- Turbine Tech front diff mount
- CorkSport polyurethane exhaust hangers
- CorkSport SS braided clutch line
- Redline hood props
- New OEM 0 mileage long block (installed 11/2013)
Suspension/wheels/brakes
- BC Racing coilovers
- Whiteline rear sway bar
- Moog endlinks all around
- SPC front ball joints (-2.3' negative camber all around)
- Enkei RPF1 (black) 17x9 +45 w/ 255/40-17 Hankook RS-3 (DD)
- Speed Circuit front strut bar
- Hawk HP+ pads (front) EBC Red Stuff (rear)
- Techna-Fit SS brakelines
- Wilwood 600 brake fluid
- Painted black calipers
Interior
- Sparco Evo2 drivers seat, side mounts and Corbeau bracket.
- Corbeau Forza (FIA rated) passenger seat, Corbeau bracket, Planted side mounts
- Sabelt 6-point harness (drivers side)
- G-force 6-point harness (pass side)
- AutoPower 4-point roll bar
- Dashhawk
- Innovate oil press/temp gauge in Block8head defrost gauge pod
- Cobb shift knob w/ TWM shifter extender
- Corksport LED interior bulbs
- 1/4" stereo plug for iPod
Exterior
- Matte white PlastiDip
- APR GTC-200 wing and risers
- Tint 35% front 15% rear
- eBay stubby antenna
- eBay taillights
Parts to be installed/on the way;
I buy 90% of my parts from
CR3 Motorsports
for the great prices and fast shipping.
Pics;
The day after I bought it from my friend. 02/2013
Auto-x; 06/2013
Mid-Ohio track day; 06/2013
Plastidipped it white after the rust repair; 07/2013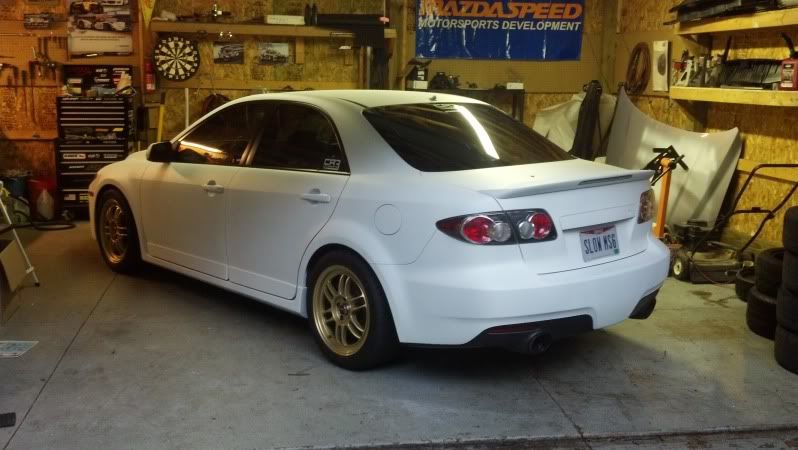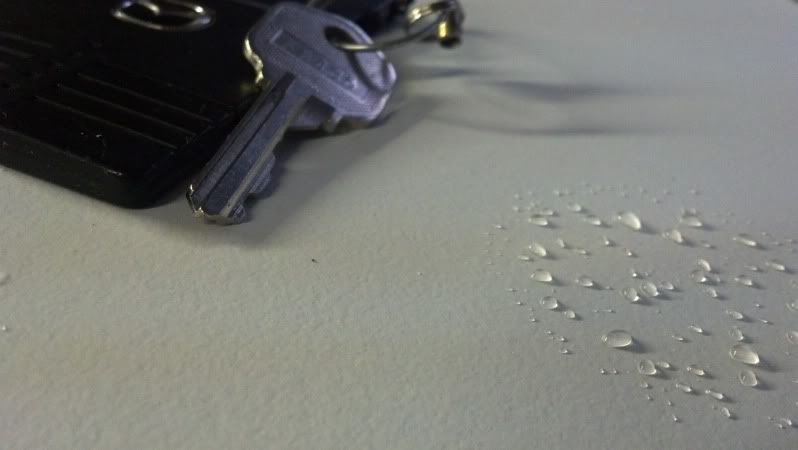 C-bus Mazda meet and new tails (07/2013)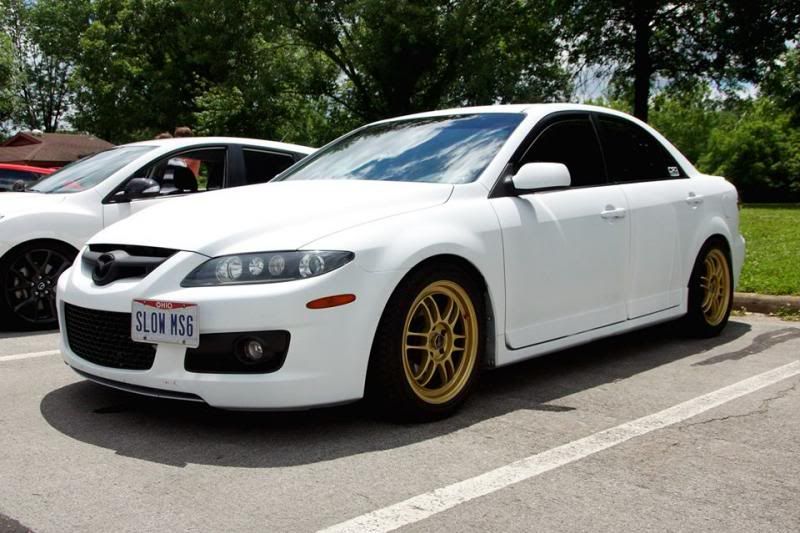 Motor swap (11/2013)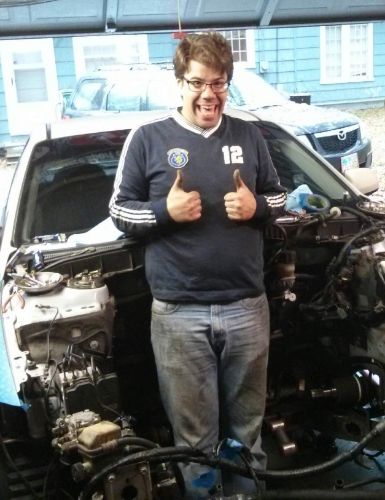 [/URL]
The 17x9 +35 5Zigen track wheels w/ 235/45-17 Hoosiers;
Street wheels: 17x9 Enkei RPF1 w/ Hankook RS-3 255/40-17
Mid-Ohio track day 07/07/2014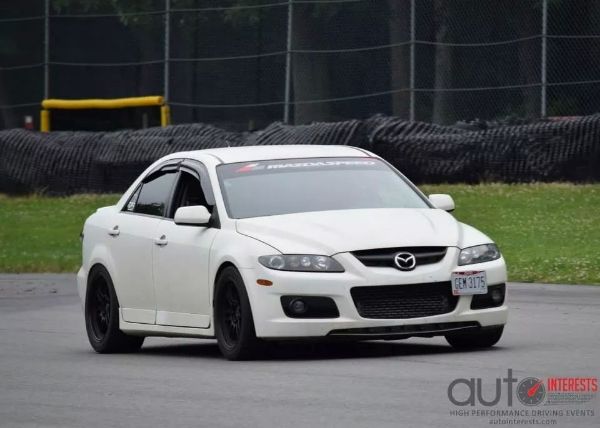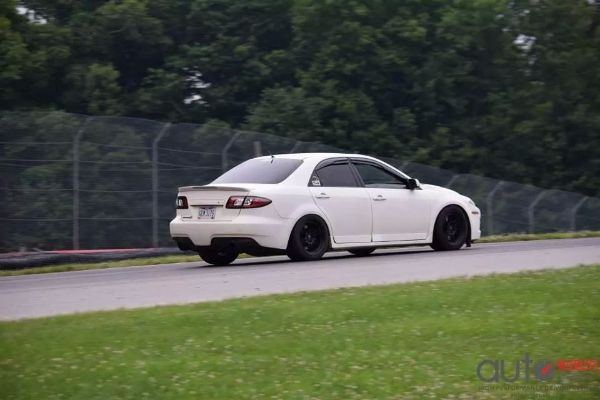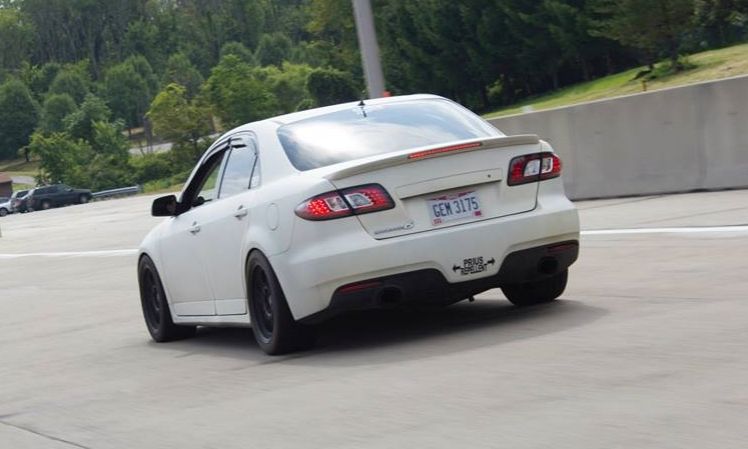 Mid-Ohio: 09/01/2014
Bondage system. Kinky. (05/2015)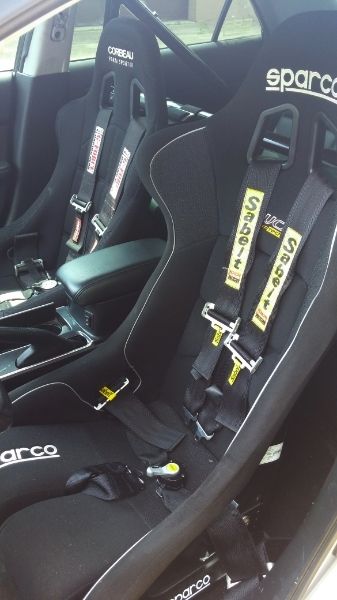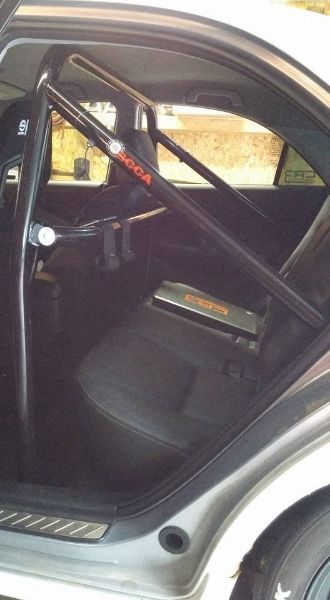 06/01/2015 - Mid-Ohio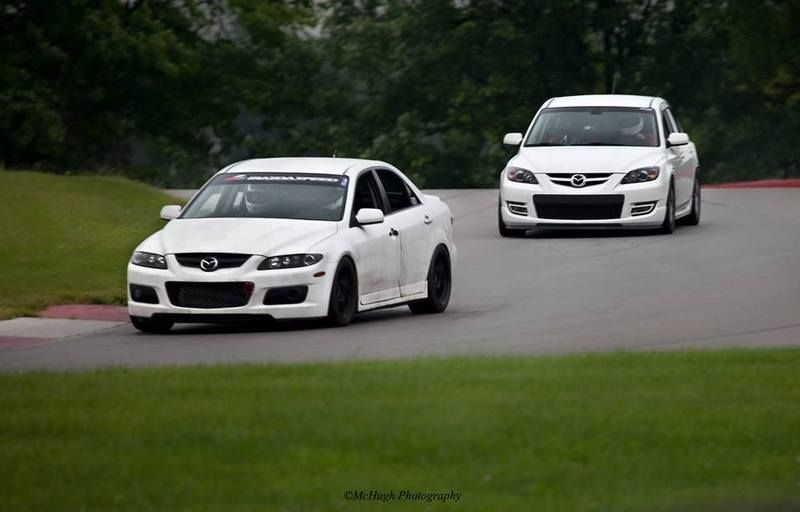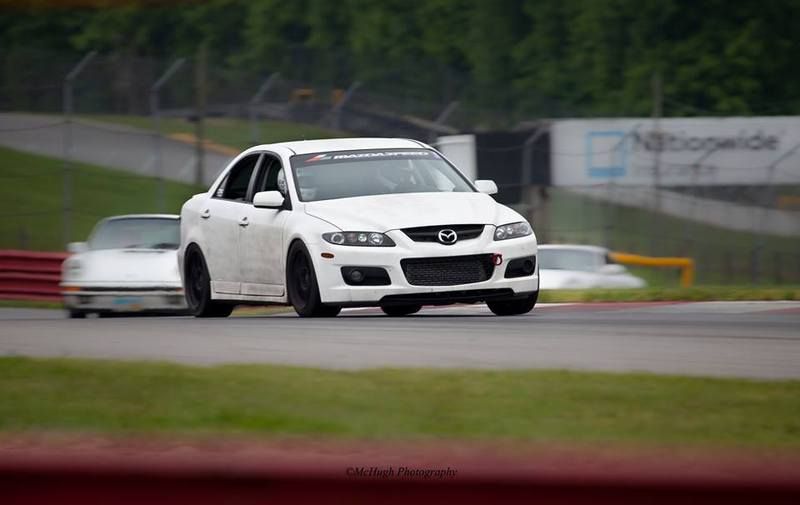 02/20/2016 after paint: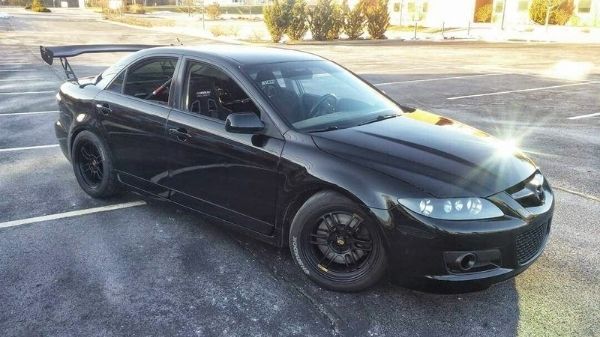 Auto-x video from 8/25/2013;
<iframe width="420" height="315" src="//www.youtube.com/embed/3M1Brub8aTM" frameborder="0" allowfullscreen></iframe>
Track Day video @ Mid-Ohio from May 5th 2014
<iframe width="560" height="315" src="//www.youtube.com/embed/foRjpOHIhMo" frameborder="0" allowfullscreen></iframe>
Auto-x from 06/4/2014
<iframe width="560" height="315" src="//www.youtube.com/embed/-SyL4WRrQtk" frameborder="0" allowfullscreen></iframe>
Track-x @ PittRace 08/2014
<iframe width="560" height="315" src="https://www.youtube.com/embed/oWh2WkG8lzU" frameborder="0" allowfullscreen></iframe>
Mid-Ohio 06/01/2015; Camera car is a friends modded MS3;
<iframe width="560" height="315" src="https://www.youtube.com/embed/bajkkigMay8" frameborder="0" allowfullscreen></iframe>
Last edited: