A lot of young people commonly state "1st new car, not sure what to pay" so maybe this will help out in todays market...
I was at Costco, and of course the car outside says "ignore MSRP" as see on the Costco display car. But I found it interesting, though not surprising, to see this addendum sticker. Other than the VW guards, the rest is near useless and all profit. - Window tint should be less than $300 depending on quality, One Armor Protection Pkg is almost 100% profit, and the the GPS protection has some associated cost, but hundreds less than the $800 they want. - so even before whatever Costco they give you, they've already added $2,450 to the price. I don't need to mention dealer doc because while those can be be m=negotiated in the deal, they can't really be removed from the contract.
So, under normal circumstances us old timer would say "I'll pay X for the car, but not a penny for those things you added after the car got to your lot - and we would often win.
I'm curious, have any of you had any success in the last year negotiating MSRP (or whatever), and said "take off those add-ons"? - I know, they always say "oh, we can't deduct those because they are already on the car"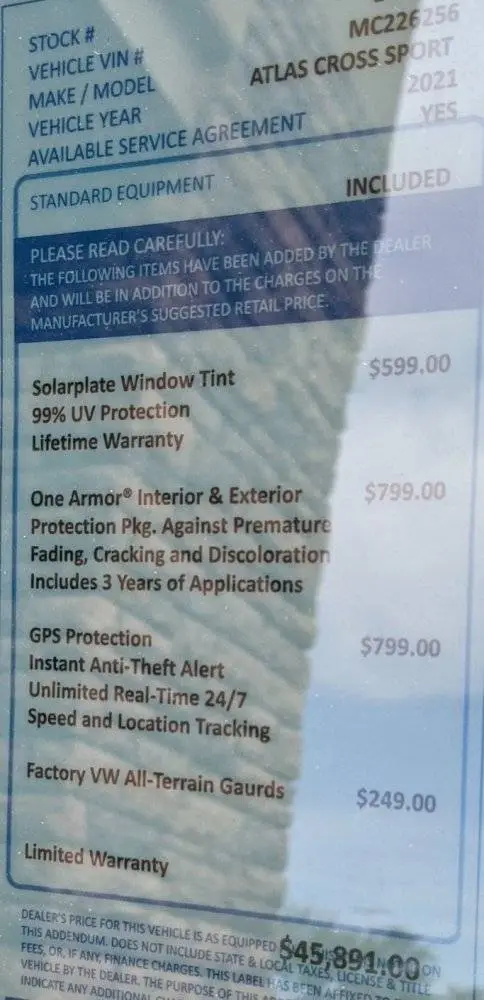 Last edited: