I have a 2014 CX-5 2.5L with 158k miles. All four of the cylinders appear to have a handful of misfires (live data in pic below).
One of the coils is bad. There is a DTC: "P2311:00-2F Secondary Circuit Of Ignition Coil D". It also looks like it was a replacement coil, as it looks different than the other 3.
The misfires were present when I bought the car. I just replaced the spark plugs with Denso 3532 aka ZC20HPR11 today, and still get these minor misfires.
The defective coil I will replace but does anyone have experience with aftermarket coils? I would replace the other 3 coils as well, but NGK's are $85 each.
I assume the gas in the tank is regular unleaded, and the intake valves have never been cleaned. The condition of the fuel injectors is unknown. The engine appears to be healthy otherwise. Steady idle and decent acceleration with no hiccups. The onboard computer showed 24 mpg overall in mixed city/highway driving in suburban Connecticut when I bought the car.
Should I be concerned with just a handful of misfires that don't appear to increase as I'm driving?
Maybe it's something related to engine startup and it goes away?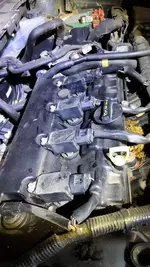 Last edited: